Imogen Thomas Sticks It To 'Haters' As She Tweets Bikini Shot Of Herself On Thailand Holiday
When we share our holiday snaps, no-one really seems very interested to see pictures of us looking burnt and resembling a beached whale while trying our best to climb aboard a lilo.
But when you're a schleb, suddenly you believe the world and his wife wants to see what you're up to on your hols.
Take Imogen Thomas for example - she clearly thinks we all need to see her parading about an exotic location in her bikini as she tweeted a pic of her on her getaway - yeah, like we've not seen her flashing the flesh a thousand times before.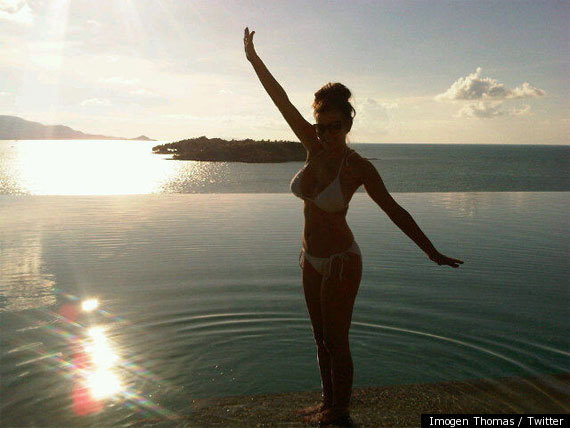 But she's not bothered if you don't want to see it either, as she sent out a message to jealous non-fans asking them how work is going.
Well, we're having a lovely time Imogen, thanks for asking. We've even got a box of mini muffins in the office today so we're not remotely jelz, ok?
She tweeted: "My fans here u go ;-) love ya! and haters...how's work? ;-) xx."
The former Big Brother contestant is in Thailand, taking a break from, errrrm, being a personality.
The other day she tweeted a picture of herself on board the plane, where she was accompanied with boyfriend of five months, Adam Horsley.
But clearly the work offers have dried up for poor Imo, as she had to travel cattle class.
Oh the shame!
> ENTER OUR COMPETITION TO WIN A GHOST HUNTING EXPERIENCE
CELEB PICS OF THE DAY