Cats Protection Feline Oscars: Will Your Cat Steal The Moggy Midwife's Crown?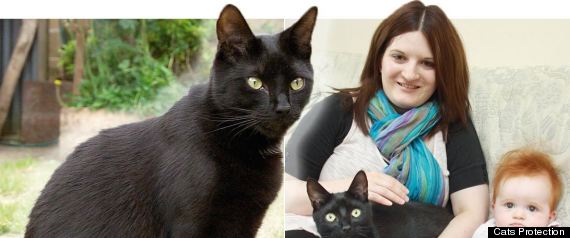 The feline equivalent of the Oscars launches today and organisers are on the prowl for nominations.
Previously known as the Rescue Cats Award, the newly-branded National Cat Awards 2012 celebrate real life stories of companionship, bravery and heroism in the cat world.
Last year's winner was one-year-old Marmite, who has become known as the Moggy Midwife for his efforts to console his heavily pregnant owner after she went into labour while home alone.
He was also honoured by Cats Protection for the vital support he gave Lindsey during her difficult pregnancy and for the affection he shows towards baby Ruby.
Peter Hepburn, Cats Protection's Chief Executive, said: "These awards highlight how cats make wonderful pets and enhance people's quality of life so it was important they were opened up to honour all the nation's cats.
"The stories we hear on a daily basis never fail to demonstrate the benefits cats bring to their owners and with around 6,000 fabulous cats in our care at any one time, Cats Protection can help you find your perfect companion."

Owners who want to nominate their cats have until 31 May to enter one of four categories:
Hero cats – for felines who save the day
Best friends – where cats have radically improved the quality of human life
Most incredible story – belief-defying, true stories from around the cat world
Outstanding rescue cat – for fabulous felines adopted from animal welfare organisations

A new Celebrity Cat category has also been added to recognise superstar cats in the public eye. Cats Protection will be asking for suggestions on its Facebook page, which will be followed by an online poll on the site to determine the winner.

To enter your cat's story, please visit Cats Protection or email helpline@cats.org.uk to request an entry form. Alternatively you can call the helpline on 03000 12 12 12 and select option five.

To nominate a Celebrity Cat visit Cats Protection's Facebook page and post your suggestion on the wall referencing the National Cat Awards.
The charity will host an awards ceremony in London this summer and celebrity judges will pay tribute to the nation's top cats.
Cats Protection recently helped celebrate National Sleep Awareness Week by releasing its top ten pictures of slumbering kitties.

Huffington Post UK will also feature your entries - email us your stories and pictures using the hashtag #feline to ukpicturedesk@teamaol.com
Scroll down for a slideshow of ginger kittens slumbering in slippers and snaps of a Siamese with his paws clasped over his face.