Tulisa Contostavlos Dating 'Skins' Star Jack O'Connell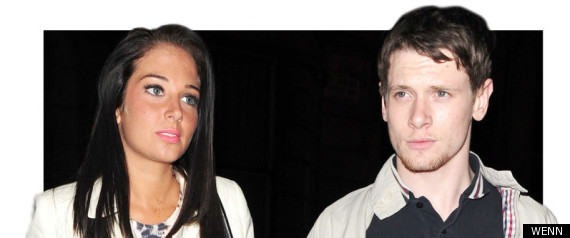 Tulisa Contostavlos' new man has been revealed as Skins star Jack O'connell.
Jack, who plays bad boy James Cook in the drama, has won over the X Factor judge after a handful of dates, including a night out clubbing at Aura in Mayfair last week.
They were introduced by Tulisa's personal assistant Gareth Varey and hit it off instantly.
A source told The Mirror: "It's early days but Jack is very much Tulisa's type - edgy and cool. He's a really funny guy and makes her laugh a lot.
"They have quite a few mutual friends. It's been a smooth transition from mates to something more."
Tulisa hinted about her new boyfriend when she took to Twitter on Sunday to blast reports she had a holiday fling with former The Only Way is Essex hunk Mark Wright.
She wrote: "Guess what... I am seeing some1!! Cus I'm a bloody human being! & it gets better!... He is not Mark Wright! & 4 the record Mark is not my type & nor me his... (I) like my men a bit ruff around the edges!"
Jack used to date his Skins co-star Kaya Scodelario, while Tulisa split from her N-Dubz bandmate Richard 'Fazer' Rawson in January.
> ENTER OUR COMPETITION TO WIN A GHOST HUNTING EXPERIENCE
CAUGHT ON CAMERA

Loading Slideshow
Caught On Camera

Yep, it looks like Joan Rivers has finally had one nip and tuck too many (Pic: WENN)

Caught On Camera

Never mind falling <em>out </em>of a car, Goldie Hawn has fallen<em> into </em>hers. And the wrong way round too! (Pic: WENN)

Caught On Camera

Not impressed with the latest hopefuls on <em>Britain's Got Talent</em> then Dec?(Pic: WENN)

Caught On Camera

Olly Murs still hasn't quite mastered <em>I'm A Little Teapot </em>(Pic: WENN)

Caught On Camera

Even with a fake yellow moustache, Zac Efron is still cute. Danny DeVito less so (Pic: WENN)

Caught On Camera

<em>Downton Abbey</em> stars Sophie McShera and Laura Carmichael get caught up in the excitement of the red carpet (Pic: WENN)

Caught On Camera

Imogen Thomas proudly shows off the adult version of a milk moustache (Pic: WENN)

Caught On Camera

'Are they me?' Sorry Jessie J, but we can't quite see these catching on (Pic: WENN)

Caught On Camera

Looks like Katy Perry just caught sight of her own hair (Pic: WENN)

Caught On Camera

Christine Bleakley proves there really is another side to her tried and tested smiley/happy face (Pic: WENN)

Caught On Camera

And the winner of Celebrity Gurner of the Year is... Mr Olly Murs(Pic: WENN)

Caught On Camera

Errrm, please stop Dougie Poynter. You're scaring us (Pic: WENN)

Caught On Camera

Easy tiger. Looks like Meryl Streep really, REALLY likes her Oscar (Pic: WENN)

Caught On Camera

Prince Harry meets the lesser-spotted guards of the swamp (Pic: WENN)

Caught On Camera

Russell Brand still hasn't quite got the hang of driving Stateside (Pic: WENN)

Caught On Camera

Girls Aloud's Sarah Harding has a spot of dog trouble. Well those leaves DO look rather interesting (Pic: WENN)

Caught On Camera

Good to see Simon Cowell acting his 52 years (Pic: WENN)

Caught On Camera

Looks like it's been a hard day's night for Stella McCartney (Pic: WENN)

Caught On Camera

'Hair or bag? Hair or bag?' The Saturdays' Vanessa White opts for a wet designer bag instead of wet designer locks (Pic: WENN)
Also on HuffPost: