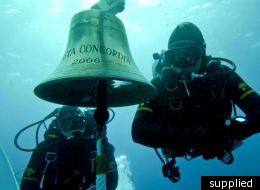 The stretch of water where the Costa Concordia sank two months ago has become the most supervised and inspected area of the Mediterranean.
Somehow it has also become the scene of a theft.
The ship's 40kg bronze bell was stolen from the ocean floor, eight metres down.
It disappeared a few days ago, in the exact same spot where divers dip for their daily control and research.

Their investigation is taking place in the highest possible security. Police forces are patrolling the area on a 24-hour watch and a laser system has been installed to monitor the slightest movement of the ship.
The only divers allowed around the ship are rescuers, investigators and technicians working on the fuel recovery and who were also the only ones allowed to film and photograph the golden bell.
The Italian authorities report anyone not involved in the case needs to request a specific authorisation and has to be accompanied by authorised personnel to approach the ship.
Investigators in charge of the case indicated that thre culprit couldn't possibly have acted alone. The weight of the belt and the unbolting of its original support required more than two hands.
Their primary interrogation is how it went unnoticed when it reached the mainland.
The bell was to remain on the Island of Giglio to remember the tragedy and commemorate the engagement of the rescuers and the commitment of the inhabitants of the island. For them, the disappearance of the bell has a very bitter significance.
"I can only imagine that someone took it to keep it as a morbid souvenir," said Sergio Ortelli, the mayor of the island.