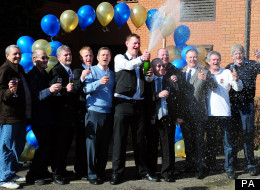 The mother who missed out a sharing a £38m EuroMillions jackpot win after leaving a bus drivers' syndicate said she would have given them £1m if the situation were reversed.
Speaking to The Sun newspaper, single mother Hazel Loveday, 26, revealed she had been in hospital when she found out her colleagues had won the jackpot - and were each entitled to a £3.1m share.
"They all know that I was in hospital because I was in work when I collapsed but they haven't sent a card or any flowers.
"I don't know why they haven't been in touch yet — they must be caught up with their win."
Loveday, who dropped out of the syndicate six months before they hit the jackpot, said it had been a "week from hell": "If I won I'd definitely give the lads at the depot a million or more.
"I'd have been in touch with them if it was the other way round. We were like one big happy family in work."
Tweeters, however, weren't so sympathetic
@Paul_Herbert

Paul Herbert
@Mrslingshot2

G.cole
If you left a lottery syndicate 6 mths b4 a large win why are you expecting them to sort you out with a million? Hazel loveday.COME ON SON!
@amalum

Amanda Lumley
driver who missed out on EuroMillions win speaks out in The Sun. Don't think she deserves anything now
#sourgrapes
Previously the drivers had commented on Loveday saying: "We all feel sorry for Hazel but what can you do? You've got to be in it to win it."
On Wednesday the 12 winners in the syndicate of bus drivers celebrated their EuroMillions jackpot haul of £38m.
But the drivers declined to comment on Loveday, concluding that; "We all like Hazel, she's a good friend."
Chris Smith, who led the dozen-strong syndicate, said: "Times have been very tough for everyone - we were facing up to shifts being cut, which can really hit you in the pocket.
"This win means so much and is life-changing for everybody - people can live their dreams and help out their families."
The group of twelve had been running their syndicate for almost three years, without yielding any major results. Colleague Hazel Loveday had dropped out only six months before the jackpot win, missing out on a multi-million pound share.

Each will take home just over £3million, meaning they may not have to work again. Some have already acknowledged they will not be behind the wheel of a Stagecoach bus again. One, David Mead, resigned the morning after discovering he'd won.

The morning following Friday's draw, when the group discovered their win, they immediately called Camelot to hand in their claim. None of the syndicate then turned up for work that day - claiming they weren't thinking clearly enough.

The group's win is the fifth for a UK-bought ticket so far in 2012, following Cassey Carrington and Matt Topham's £45m haul in February, two anonymous wins of £22.1m and £46.4m and January's £41m jackpot won by Mansfield couple Gareth and Catherine Bull.