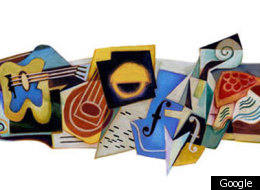 Juan Gris, the Spanish cubist painter, is honoured in the Google doodle of the day.
Gris was a contemporary of Modigiliani, Matisse and Picasso and was renowned for his angular paintings. Many featured distorted musical instruments painted in his own unique style.
The cubist was born José Victoriano Carmelo Carlos González-Pérez in Spain, and then moved to Paris following his art studies.
His work Portrait of Picasso, painted in 1912, hangs in the Art Institute of Chicago. The highest prices received for a Gris at auction was £16,380,000 for the work "Violon et guitare" which sold at a Christies modernist and impressionist sale in 2010.
See more Google doodles of the day below.