The latest issue of the Manchester United fanzine Red Issue is under fire for apparently mocking the outpouring of support for Fabrice Muamba following his near-fatal collapse last week.
Scroll down for the cover in full
Under the headline Grief Junkies Run Riot, it features the harrowing scene after he slumped to the ground as concerned teammates gathered around him.
Look out for the Ad just below here
Private Eye-style speech bubbles asking, "Is he dead?", "I've tweeted my condolences just in case" and "Good mourning!" hover above.
Twitter commentators are already up in arms about the Red Issue cover, branding it "poor taste" and "sickening".
Red Issue has responded via the same medium with: "It's not mocking Muamba you simpleton" and labelling the complainers as "gobsh*tes".
@RedIssue

Red Issue
@RedIssue

Red Issue
FAO all Twitter gobshites: it's not like you don't know where to find us. Come and say hello after 5pm.
#cyberhoolies
Thousands of football fans clapped and cheered in a show of support for Muamba as his Bolton Wanderers side returned to the pitch on Saturday.
The 23-year-old player remains in a "serious but stable" condition at the London Chest Hospital, where he was admitted last Saturday after suffering a cardiac arrest during his club's FA Cup quarter-final with Tottenham at White Hart Lane.
At the Reebok Stadium, his team-mates took on Blackburn Rovers in a local derby as Wanderers resumed their Premier League campaign.
Players from both sides completed their warm-up with T-shirts emblazoned with "Muamba 6" in tribute to the midfielder as fans chanted his name.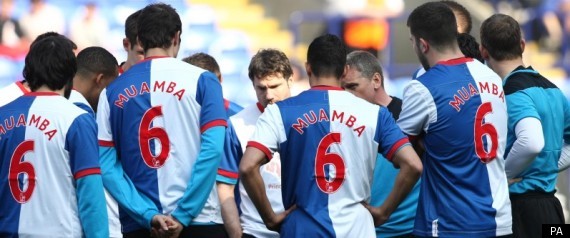 Blackburn Rovers' players wear Muamba on the backs of their shirts
Shortly before kick-off a video was shown on the big screen featuring images of support that have been received during the week.
Today doctors said Muamba was making "encouraging progress" in his recovery and had been able to "sit out of bed" and watch television.
Bolton manager Owen Coyle revealed that Muamba watched his team-mates' 2-1 victory over Blackburn on Match Of The Day yesterday morning - but fell asleep when the score was 2-0.
Coyle also confirmed that a small delegation of Bolton players will visit Muamba in hospital ahead of tomorrow's rearranged FA Cup quarter-final at Tottenham.
Is it all a bit of harmless banter or has Red Issue crossed line?
@Richard_Buxton_

Richard Buxton
#MUFC
fanzine Red Issue sinking to new depths with sickening cover on latest edition. Even United fans are outraged:
http://t.co/yihe3ob0
@mike_rawlins

Mike Rawlins
@rambo_mufc

Ramy 'mufc'
@AdamArsenal

Adam Arsenal
Just seen the front cover of that new Red Issue edition.... Disgusting... I'm so proud we have a decent Fanzine!!!!
@GoonerFanzine
@RedIssue

Red Issue
No wonder the Twitterati aren't happy with the cover - it's them who are being lampooned
#griefjunkies