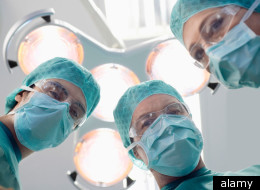 Playing music to patients when they go under the knife reduces their anxiety during surgery and could even aid their recovery, according to a new study.
Easy listening, chart and classical music can all have a calming effect on patients who are awake for surgery under local anaesthetic, the researchers found.
Surgeons from the plastic and reconstructive department at the John Radcliffe Hospital, Oxford, studied 96 elective and emergency patients, who were divided into two groups.
Half the patients were played music – broadcast by a radio station or from a selection of tunes on a CD chosen by the surgical staff – while the other half had their operation with no music.
The particpants had their breathing rates measured and following the surgery were asked to rate their feelings of anxiety on a scale.
The music ranged from easy listening, such as Frank Sinatra to classical music from Beethoven, Vivaldi and Bach as well as a selection of chart hits.
The study published in Annals of the Royal College of Surgeons, found that the anxiety levels of those who had listened to the music were a third lower than those who hadn't.
They also had more relaxed breathing patterns during the surgery – an average of 11 breaths per minute compared to 13 breaths per minute in the non-music group.
Hazim Sadideen, a plastic surgical registrar who led the study, said: "Undergoing surgery can be a stressful experience for patients and finding ways of making them more comfortable should be our goal as clinicians.
"There are also good medical reasons - calmer patients may cope better with pain and recover quicker."
He added: "This small scale work is the first time an attempt has been made to measure the impact music has in this specific group of patients and hints at the need for bigger multi-centre research to establish whether this should become part of standard practice."
5 Health Benefits Of Music
Synching the beats per minute of a song with your exercise pace, increases your efficiency, according to research. A study, published in the Journal of Sport and Exercise Psychology, found that those who cycled in time to music found that they required 7% less oxygen to do the same work compared to music playing in the background. Research also shows that music can block out the inner voice that tells us to quit, resulting in a 10% reduction in perceived effort during treadmill running at a moderate intensity.

Numerous studies have found that playing music to babies in the womb and in the early years helps build the neural bridges along which thoughts and information travel. Research suggests it can stimulate the brain's alpha waves, creating a feeling of calm; a recent study of premature infants found that they were soothed by music.

Music therapy can reduce psychological stress among pregnant women, according to research published in a special complementary and alternative therapy medicine issue of the UK-based Journal of Clinical Nursing.

According to the Harvard Health Publications, music lowers blood pressure, slows the heart rate and lessens anxiety in people hospitalised for heart ailments.

Researchers have found that music releases the feel-good chemical dopamine in the brain. It was also found that dopamine levels increased by 9% when volunteers listened to music they enjoyed.