Diamond Jubilee: Prince Philip Asks Disabled Man 'How Many People Have You Knocked Over In Your Scooter?' He might have faced some health problems recently, but Prince Philip has lost none of his confrontational sense of humour.
Now the gaffe-prone 'Duke of Hazard' has put his foot in his mouth again - while on a Royal visit to Redbridge.
Touring an exhibition of art at the 17th-century Valentine Mansion, the prince saw a disabled man in a mobility scooter.
Boldly the royal strode up to David Miller, 60, and gesturing to the four-wheeled vehicle he was sitting on, and asked him "how many people have you knocked over this morning on that thing?"
Miller is a trustee of a charitable trust that runs Redbridge's Valentine mansion, which the Queen and Duke were visiting.
The 60-year-old and those standing around him in the crowd, who had all been patiently waiting to see the Monarch, erupted in laughter.
Luckily for the duke, Miller did not take offence.
The trustee, who has difficulties walking, due to a spinal problem, said after Philip had moved on: "That is just typical from the Duke. He is renowned for his humour but no offence was taken, it was all in good humour.
"I told him no, your Royal Highness, I had not knocked anyone down."
The prince has often received a cooler reception after one of his 'jokes'. In 2002 the prince asked a successful Aboriginal businessman in Australia "do you still throw spears at each other?"
"No, we don't do that any more," replied the man.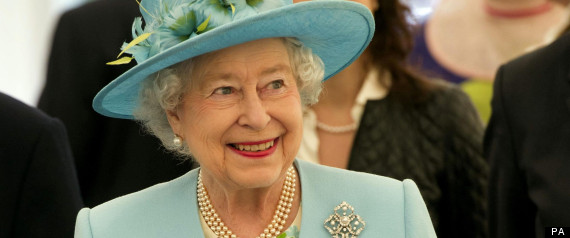 Above: the Queen on her visit to Redbridge, earlier on Thursday.
The Queen had received a rapturous welcome from thousands of cheering residents who greeted the monarch as she celebrated her Diamond Jubilee in Redbridge.
Hundreds of Union flag-waving school children, parents and pensioners lined the route taken by the monarch and Duke of Edinburgh through the park.
On display for the royal couple in the 17th-century Valentine Mansion was a portrait by Lucian Freud of his mother, a striking image of a man shouting or screaming from 1952 by Francis Bacon, called Head of a Man, and a David Hockney piece titled A Walk Around the Hotel Courtyard, Acatlan.
In the grounds was a contemporary artwork by Damien Hirst - a Mini covered in coloured spots - and nearby was a marquee containing design classics like a Dyson cleaner and even a preserved plastic bag celebrating the Queen's 1977 Silver Jubilee.
Some residents welcomed the Queen by decorating their houses with large union flags and bunting and added pictures of the monarch, which were hung from rooftops.
The Queen also toured a marquee filled with design exhibits from the past six decades of her reign. Domestic appliances from the first few decades of the sovereign's reign caught her eye.
Pausing to look at a tiny 1950s television that could have been used to watch her coronation in 1953 she told the curator Gerard Greene "how things have changed."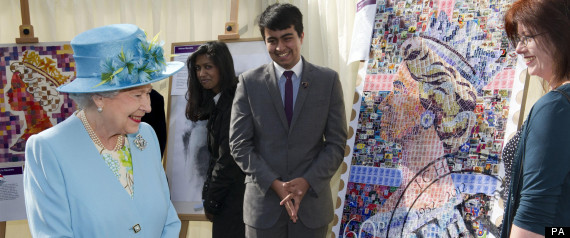 Above: Queen Elizabeth II visits Valentines Park and Mansion, Redbridge, for the London Pride Art and Design exhibition as part of the Diamond Jubilee regional tour.
As the Queen left the building, she came across artist Jason Rose painting a portrait of his 14-year-old son Alex in a lobby area.
She asked if he had a day off school and when he said he did, she asked: "Why are you wearing your school uniform?"
The teenager made her laugh when he said: "I managed to get the day off because I told them I would wear my uniform."