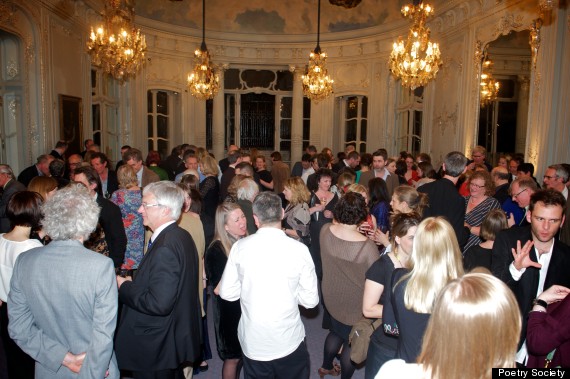 Guests gather at the Saville Club

HuffPost UK Culture attends the National Poetry Competition, to find out the winners of this year's prizes and chat to all involved.
Being poetic about it, last night's National Poetry Competition was like a family party. As the blue spring skies above Mayfair merged into the Rococo sky mural in the Saville Club's ballroom, poets and literary types are hugging and catching up - even though many of them are each others' rivals this evening.
I'm told by Helen Taylor, Laureate Projects Coordinator, that there is usually a family element to these events. "The poetry world is a very small one," she says "and there's usually some upset or row to be expected." Not dissimilar, in fact, to a family wedding.
If tonight sees a marriage of anything, it would be of poetry with the other arts: music, sculpture and performance. The Ted Hughes Award for New Work in Poetry is the only literary award in the UK to acknowledge the wide range of collaborative work being created by poets who are taking verses beyond the page.
It's a prize partly conjured by Poet Laureate Carol Ann Duffy. "The connection between poetry and the other arts has been there for ever - Bob Dylan changed his name to honour a poet, artists, filmmakers. There's been a dialogue between poetry and the arts for ever," she explains. And yet, the fact that it doesn't celebrate the traditional written collection makes it unique.
Audio prevails over this year's six-strong shortlist, with five of the entries involving sound and four being radio pieces. Simon Armitage's Black Roses: The Killing of Sophie Lancaster is one of them. A drama documentary for Radio 4, reflecting on the murder of a 20-year-old student of the same name, Armitage tells me his motivations for writing it.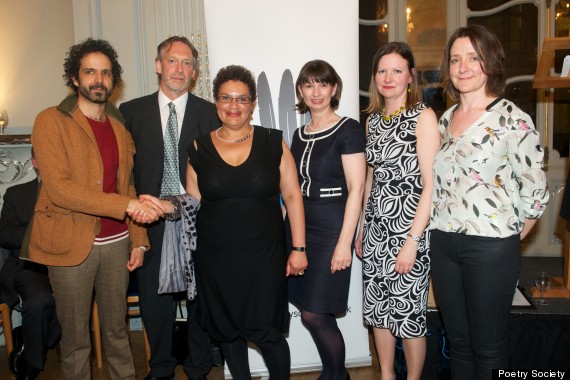 Zaffar Kunial, John Glenday, Jackie Kay, Allison McVety, Samantha Wynne-Rhydderch and Colette Bryce

"I never approach poetry as issue-based", Armitage says, "But this girl had her life, her voice taken away from her - so I decided to try and give her it back for 45 minutes."
The impact of radio on tonight's award is a testament to the BBC's support of radio, something both Duffy and Armitage speak positively about. "We're still very lucky that the BBC give air time to poets and, essentially, oxygen." Armitage says, "I know we think we're hard done by, but thanks to the BBC, poetry can exist."
It's Lavinia Greenlaw's Audio Obscura that wins the Ted Hughes prize, something she says "feels extraordinary." The entry is not so much a poem as a work of sound, which offered visitors to Manchester's Piccadilly station and St Pancras station in London to opportunity to listen to the poetic interior lives and thoughts of those around them.
"When we did this, we didn't know what we were doing", Greenlaw confesses. I wanted it to have this powerful effect. As a poet, I'm interested in sound, and things at the edge of perception, and the power of voices."
"The thing is, daily, we look at and we listen to people but we forget we are looked at and listened to - we think, when we have these very intimate conversations on the phone, that we're in a bubble. But we're not - I wanted to sensitise people to that. Sometimes you hear things you wouldn't necessarily want to hear."
Moving on to the National Poetry Competition itself, then - and this year saw the three judges, Jackie Kay, John Glenday (who was celebrating his birthday at the event) and Colette Bryce, reading 11,663 poems - all of which were anonymous - for a prize of £8,800.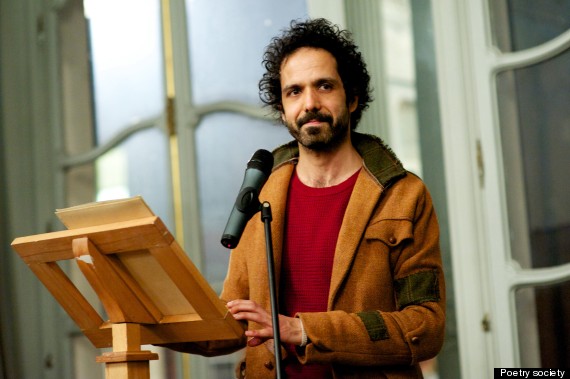 Zaffar Kunial recites his poem 'Hill Speak'

Zaffar Kunial is first onto the podium to claim third prize and read his entry, 'Hill Speak', for the first ever time - it's also the first poem he has submitted anywhere for publication, writing greeting cards as a day job. It's a beautiful poem, one which discusses the local dialects of his Father's homeland.
Next up, Samantha Wynne-Rhydderch's 'Ponting', wins second prize in timely fashion - the competition occurs on the same date as the centenary of Captain Scott's death, the subject of her new collection Banjo.
Allison McVety is awarded first prize for her poem, 'To The Lighthouse', one which Kay introduces as describing the feeling of "returning to a book years later to find it altered, only to realise that it's not the book that has changed, but you."
McVety's poem is stunning: a three-part exploration of time, nostalgia, suicide and perceptions on life, tagged to Virginia Woolf's novel and the poet's own life.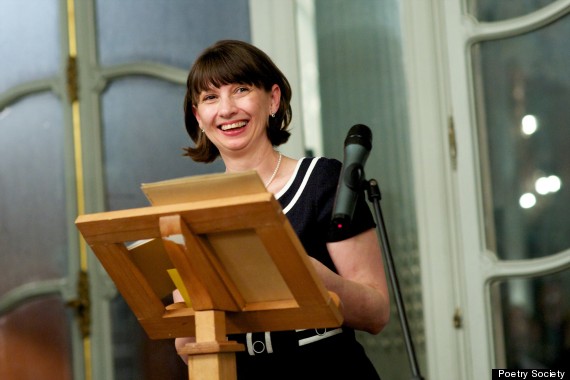 Allison McVety collects her prize

McVety says winning the accolade is 'unreal'. "Every year you read the nominated poets, and you wouldn't even aspire to be up there, they're so good. I'm just so overjoyed," she said, before explaining the story of the poem.
"I hadn't read the book for my A-Level exam, and all the other girls have. I just walked into the exam room and I knew my result was going to be awful. But it's that thing, at 18, the future is so cut-and-dried. You think a failed exam result will ruin everything."
"I wanted it to be a positive poem, even though it ends on suicide. I wanted it to show you can triumph out of adversity, and... I suppose, tonight that's what I've done!"
Poetic justice indeed.