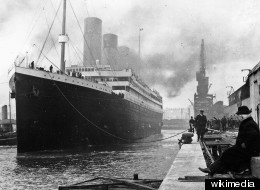 Passengers and crew of the Titanic ignored a number of maritime superstitions when the ship made its ill-fated maiden voyage, new data analysis has found.
Sailing myths, including the negative presence of women, priests and barbers on board the ship, were ignored, according to family history website findmypast.co.uk.
Superstitious sailors would have been horrified to discover there were 353 female passengers, three barbers, four priests and a monk on board.
Website historian Debra Chatfield said: "The records indicate sailor superstitions were wholly ignored on the Titanic's doomed departure from Southampton.
"Throughout history sailors have been proverbially superstitious, but I bet few ever believed the 'unsinkable' Titanic would succumb to superstition.
"It leaves you wondering whether the cumulative effect of women, priests, dogs, barbers, flowers and red-heads on board - all commonly held superstitions among sailors - angered the sea so much it steered her towards her ill fate."
BLOG: What Happened To My Grandfather After The Titanic Sank

The website is showing the White Star Line officers' books and maritime birth, marriage and death records, alongside other documents from the ship, from next Tuesday.
April 15 will mark the 100th anniversary of the day that the cruiser sank in the north Atlantic following a collision with an iceberg.
Its sinking caused the death of more than 1,500 men, women and children, making it one of the deadliest peacetime maritime disasters in history.
Bow railing of R.M.S. Titanic is illuminated by Mir 1 submersible behind the forward anchor crane.

Mir 2 lights expose deck features on the foredeck showing the port anchor winch of the R.M.S. Titanic.

Another view of Titantic.

A model of the Titanic.

A model of the Titanic.

A model of Titanic.

An item from the exhibition.

Recreated artifacts from R.M.S Titanic.

A lifeboat used in the film "Titanic."

This model of the wreck site is scientifically accurate and was created for the film "Titanic" with data from more than 30 expeditions that filmmaker James Cameron made to the actual Titanic wreck site.