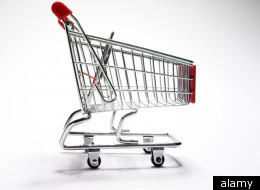 Shopping at Lidl may provide fat discounts but is also associated with pounds that are better shed than saved, a study has shown.
Customers of cut price supermarkets are likely to be heavier and fatter than those who shop at expensive city centre stores, say researchers.
The French study, which named Lidl as an example of a "hard discount" supermarket, found a similar trend among people who visited stores far from where they lived.
Discount shopping was associated with higher body mass index (BMI) and waist circumference (WC) even after adjusting for social background and distance from the store. However, the link was stronger among shoppers with a poorer education.
Efforts to improve eating habits, such as promoting healthy foods, should target specific supermarkets, the scientists suggest.
The study, published in the online journal Public Library of Science ONE, was conducted in Paris between 2007 an d 2008.
A total of 7,131 people shopping in more than 1,000 different supermarkets were surveyed.
Researchers compared customers from a range of Parisian supermarkets, including the upmarket Monoprix chain, large "hypermarkets" such as Cora, and the "hard discount" stores Aldi, Ed and Lidl.
The team led by Dr Basile Chaix, from the INSERM research institute in Paris, wrote: "After controlling for individual and residential neighbourhood SES (socio-economic status) and distance to the supermarket, and using the Monoprix brand (expensive citymarkets located in city centres) as the referent, participants shopping in certain supermarket brands, especially hypermarkets such as Cora or in hard discount supermarkets such as Ed or Lidl, had greater BMI and WC."
There was a "strong interaction" between education levels and discount shopping. The association between shopping in a hard discount store and greater body weight was "markedly stronger for lower education levels" said the researchers.
Conversely, people who shopped in organic stores were much more likely to have a lower BMI and slimmer waists.
The study also found that just 11.4% of participants went food shopping mainly in their own neighbourhood.
This was significant because previous research on shopping habits tended to assume people bought food near where they lived.
The researchers added: "Causal effects of supermarket brand, type, and SES (in support of which our observational data do not provide solid evidence) may stem from the differential availability of healthy foods such as fruits/vegetables or fish, from the availability of low-cost energy-dense foods in hard discount supermarkets, or from the differential advertisement, showcasing, or nutritional labelling of these products in the different supermarkets, all of which may constrain or influence individual purchasing behaviour".
Strategies targeting food-buying behaviour in specific supermarkets may be an "efficient strategy" because supermarkets "are the very place where dietary preferences are concretely materialised and translated into a definite set of purchased foods", they said.
Dried fruits are a great tasting snack, but beware they are often sprayed with a sugar solution before being packaged.

Sushi can come packed with mayonnaise (or mayo based sauces) as well as other sauces full of hidden calories.

Not all smoothies have potential fat traps - ones made entirely from wholefood ingredients and fresh fruit, are packed with nutrients and vitamins. However, don't be fooled into thinking that all smoothies make a healthy drink. Many processed smoothies are so full of added sugars, syrup, additives and full-fat milk (and sometimes ice cream), that you'd be better off having a large milkshake from your local takeaway.

It may seem like the healthier alternative to a packet of salt and vinegar crisps, but veggie crisps have the same fat content as ordinary crisps.

Frozen yoghurt is usually low in calories - but the sugar content can be sky high.

A tortilla wrap may contain carbohydrate than a slice of bread, but most pre-packed wraps are packed full of hidden fat traps, such as processed meat, mayonnaise and butter.

Many cereals contain a host of different sweeteners to make them more tasty, so make sure you check the sugar content before piling it into your breakfast bowl.

Choosing a low-fat muffin over a full fut version may seem like a clever move, but in reality, the snack can contain more sugar. This means that not only could your 'healthier' muffin contain more calories, it may be less filling too.

Gluten-free aren't necessarily more healthy. Many gluten-free foods are processed and packaged, meaning they still have the fat traps other foods have.

Rice cakes can be a low calorie snack - as long as you stick to plain and don't pile on the toppings.