27 Hilarious Detention Slips (PHOTOS)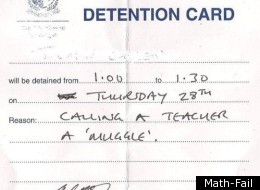 Everybody gets in trouble at school at least once. Sometimes, though, a pupil earns detention for something so bizarre or hilarious that it's worth sharing with the rest of the world. Such as committing "on-going nonsense" or declaring oneself to be Superman.
Yes, those are just two of the reasons given in the 27 detention notes below. Enjoy, rate - and if your detention story is even weirder, do share it with us in the comments...
The Most Ridiculous Detention Notes Of All Time(CLONED)
What, no pop culture references allowed in school anymore? (Via Tumblr: Always The Hero Of Time Real Or Not)

Thankfully, kids never change. (Via Pleated Jeans)

Maybe if the review wasn't so boring he wouldn't have had to fly his juice box. (Via Smosh)

Well at least he didn't call the teacher a mudblood. (Via Math-Fail)

It always starts with chair squeaking... (Via Smosh)

"On-going nonsense" is a pretty vague offense, but you can tell by that handwriting this teacher is a no-nonsense kind of guy [Editor's note: we first identified the detention-giver as a woman. Sorry Father!] (Via peterga)

The lesson: Don't mess with the hammer and you won't feel its wrath. (Via Pleated Jeans)

Have to sit out recess after a comment like that. (Via Smosh)

This substitute teacher couldn't really give this out but wished that he could. An "infinity" detention for a hair cut is pretty harsh. (Via Life In The 802)

Taking the Occupy movement to a whole new level. (Via Reddit)

Richard and the other "That's What She Said" kid should get together. Maybe one of them can be the "Dwight". (Via Funny Detention Slips)

Kids have to learn about funny cat pictures somehow. (Via Pleated Jeans)

Maybe he just wanted the rest of the class to know they were protected? (Via Notes Of A Defeatist)

What's next, extra credit for cheating? (Via wendymass)

Since this happened in guitar class, the teacher obviously hasn't heard the new hit single "Show Me Your Booty Hole" yet. (Via Zero Out Of Five)

The logic is sound. (Via Pleated Jeans)

Three days out-of-school suspension for making a silly Internet meme joke? Good thing the "That's What She Said" boys weren't in class that day. (Zero Out Of Five)

No idea what this means, but it was probably worth a detention. (Via Smosh)

Isn't volunteering supposed to be a good thing? (Via Pleated Jeans)

If bros can't get along in school, what hope does anyone else have? (Via Tumblr: Tastefully Offensive)

He was just stating the facts. (Via Smosh)

This is too perfect. We think the "innocent comment" was intentionally said to set up a hilarious T.W.S.S. moment. (Via Flickr: Lay-Luh)

This one is pretty deserved. (Via Chump-Style)

"While involved in an elimination basketball game with Mr. Edward's class, Brandon grabbed his crotch as if to say 'right here' to some of Mr. Edwards students." Hey, maybe he just had an itch? (Via Zero Out Of Five)

Um...what? (Via Smosh)

While this boy did act like a miniature Joe Wilson, perhaps the teacher should have let it go when he realized the kid was actually correct. (He Was My Math Teacher)

It's really sad when students are more informed about technology than their teachers, but in the teacher's defense, "Firefox.exe" does sound like a scary application. (Via Linux Newb)