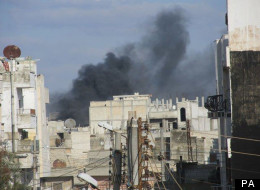 UPDATE: The Syrian Network for Human Rights has claimed fifteen people were killed in Syria on Friday, among them three defected soldiers and a casualty who was tortured to death.
The United Nations security council has unanimously voted for the first wave of Syria cease-fire observers to be deployed to the war-stricken country.
The news follows claims from activists and Syria's government forces of both sides being guilty of breaching the fragile UN-brokered truce. On Thursday it was reported an "uneasy ceasefire" was in places after a week of intense violence which saw hundreds killed by government troops.
But despite the truce, which was organised by the UN and Arab League envoy Kofi Annan, the city of Homs was shelled by Syrian forces late Friday night and into the early hours of Saturday morning.
State news agency Sana reported six members of the security forces and civilians had been killed by alleged terrorist groups on Saturday.
A team of 30 unarmed observers will initially be sent, although UN-Arab envoy Annan is seeking a total of 250 monitors to be deployed.
The decision comes on the third day of wrangling over Syria's future. Russia had previously vetoed two previous security council resolutions on Syria, with the country's UN ambassador Vitaly Churkin announcing he was "not completely satisfied" with the talks held on Friday.
But in a turn of events, Russia has called on both sides in Syria to "strictly obey" Amman's peace plan, according to Sky News reports.
Britain's foreign secretary William Hague welcomed the monitoring missiondescribing it as a "vital step" in supporting the Syrian truce.
"It is essential that it begins its work urgently and without impediment," he said in a statment.
"The Syrian government must ensure the team has freedom of movement and access and it must not obstruct communication.
"I again urge the Syrian regime to comply with Kofi Annan's plan in full. It must stop troop movements towards population centres; end the use of heavy weapons in civilian areas; and withdraw the military to their barracks."