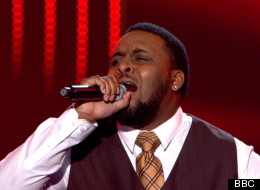 Tonight saw a magical conclusion to the final round of spinning chairs on The Voice, as the judges completed their line-ups.
There was only one place left in the competition when Jaz Ellington, a London singing teacher, took to the stage, and Will.i.am was the only coach with a place left on his team.
His emotional gamble ("you always listen to your gut, and my gut was telling me to hang on") paid off when Ellington cranked out Ed Sheeran's A Team. Even Will.i.am was left giggling at his good fortune. He said, "As a lesson to every single person on the planet, follow your gut."
WATCH Jaz's Stunning Performance Below...
But then, Jessie J suggested he try something else, and he sang Ordinary People, Will.i.am's own song that had moved him earlier. This time saw the panellist wiping away a tear, with Jessie J also moist-eyed.
Will.i.am could hardly look at him afterwards, while the rest of the panel congratulated him. Danny, an articulate Irishman, was able to speak for all the other panellists when he said, "We musicians live for moments like that."
Jaz said afterwards while embracing his pregnant wife, "That was the best experience I've ever had on stage."
"How long have you been singing?" he was asked.
"All my life."
When he could speak, Will.iam described him as a "little angel with wings".
Previously, Becky Hill, only 17, had sounded a lot mature than her years with her rendition of Ordinary People. Will.i.am was visibly moved by the sound of someone singing "something that's dear to my heart, and you took it and sang it your way, and that's beautiful".
Click through our slideshow for a round-up on what happened to the other contestants on this week's show - have any of them got what it takes to match Jaz's knockout performance? And you can see the effect he had on Will.i.am and the other panellists below...
Meet this week's Voice contestants...
Jenny Jones - A singing barlady who had previously overcome meningitis, she sang 'Mercy', much to Will.i.am's and Danny's delight. She opted to go with Will.i.am, but their battle raised the question of which panellist was following whom, when it came to making their team choices.

Teenagers India and Pixie - An incredibly sweet pair, they said no one liked them so they had to stick together, and they couldn't imagine how anyone does this on their own. All four judges wanted them on board, they opted for Jessie's influence. All pictures: BBC

John James Newman - brother's in Waterloo Road, father's in Marmalade... after his rendition of Don't Worry Be Happy, Danny's his coach now.

Sophie Griffin - From Northern Ireland, seemed more anxious about impressing her hero Danny O'Donoghue than getting through with her rendition of American Boy, a song whose original version was produced by Will.i.am. "I've queued for hours to see you, and here you are front for me," she told Danny. "I love you so much, I think you're amazing... wow" ... It wasn't Danny who turned round, though, but Will.i.am.

Ben Lake - Got his (first) big break on Jerry Springer The Opera. Channelled his inner Shirley Bassey to belt out a theatrical version of I Who Have Nothing, but sadly nothing that impressed the coaches. "I thought you were a female to start with" said Jessie. He appreciated the warmth of the audience, though, and said he'd keep going.

Emmy J Mac - Children's dance instructor, sang Put Your Record On. Although Will.i.am and Tom both wanted her, she opted to go with Danny, after a strange Cilla Black 'Blind Date' round-up from Jessie.

Harriet Whitehead - The hippy in her class, she belted out The Non Blondes' What's Up like her life depended on it, but the chairs stayed still. Danny was tempted, but he told the others, "I already have one like her."

Jaz Ellington - He's going to take some beating, after the performance he gave moved the judges to tears.

Lindsey Butler - Said The Voice was the first thing she thought about in the morning, and the last thing at night. Tom Jones responded to the Elkie Brooks-like lilt in her voice on I Don't Walk To Talk About It, and she was on board.

Ruth Brown - Choir singer from London, with a big-voiced rendition of When Love Takes Over. Ruth had previously explained how she was singing for her father who died only a few months ago, and Tom was sufficiently moved to bang the button as she hit her big note.