English Defence League Leader Tommy Robinson Inadvertently Starts Comedy Twitter Hash Tag
An attempt to whip up anti-Islamic sentiment by the leader of the English Defence League spectacularly backfired on Twitter on Monday.
On Sunday night, EDL leader Stephen Yaxley-Lennon, also known as Tommy Robinson, tweeted a complaint about a picture of a "mosque" on the Twitter front page (it was actually the Taj Mahal), highlighting the image as another example of #creepingsharia.
@EDLTrobinson

Tommy Robinson EDL
welcome to twitter homepage has a picture of a mosque. what a joke
#creepingsharia
However, rather than stoke far-right feeling, the Luton-based activist unintentionally started a comedy twitter trend.
Amid traffic about the start of Anders Breivik's trial in Oslo, the Twitterati hijacked the tag, with #creepingsharia being blamed for everything from "algebra on the curriculum" to "no ham left in the fridge".
The trend was encouraged by stand-up comedian Richard Coughlan, who posted a video on YouTube encouraging users to "f*ck with the EDL" by turning the hash tag to a comedy bent.
You can watch Coughlan's video here (WARNING: Strong language throughout).
Here are some of the best tweets:
@knownasbowman

Adam Bowman
@CesKay

Francesca Kay
I take my shoes off when I go into my house. Been doing it for years. Didn't even make the connection.
#creepingsharia
@akkasistan

Akkas Al-Ali
@RobbieGibbo

Robbie Gibbo
@graceewood

Grace Wood
Many varieties of smokey bacon crisps don't actually have bacon in
#creepingsharia
PICTURES: Scroll down for a gallery of more #creepingsharia tweets.
Earlier, the official English Defence League Twitter account tried to publically distance the far-right group from the Norwegian mass killer.
In reply to Islamic commentator Mohammed Ansar, the EDL account responded:
@Official_EDL

EnglishDefenceLeague
The Twitter fun comes a day after the more staid publication of a report by campaign group Hope not Hate, which highlighted the growing reach and influence of an international network of right wing "counter-jihadist" groups, which it suggests may have inspired Breivik's attacks.
According to the report, more than 190 anti-Islamic groups now exist in Europe and the US, all showing a greater unity in pushing their anti-Islamic agenda.
The publication also states that since the killings in Norway, the groups – made up of organisations, bloggers and activists – have become more active, and are rapidly being brought under the umbrella of a group called Stop Islamisation Of Nations (SION).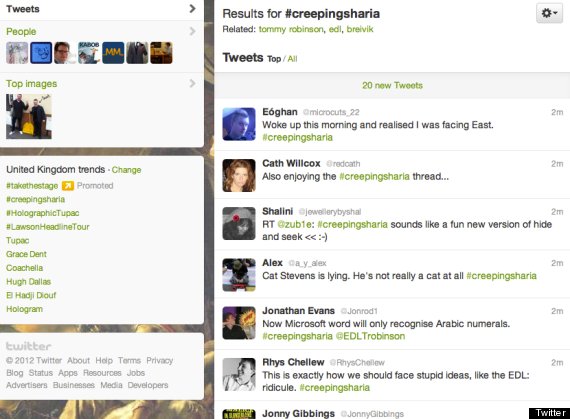 Robinson's hash tag became a comedy trend
The report also suggests a link between the EDL and Breivik via the British Freedom Party, led by Paul Weston, who recently signed a pact with the EDL. Weston was cited in Breivik's final blog before the killing spree.
Although director of Hope Not Hate, Nick Lowles, makes clear that "Breivik acted alone", he said that it was "the 'counter-Jihadist' ideology that inspired him and gave him the reasoning to carry out these atrocious attacks".
In a recent interview with the Norwegian Dagbladet newspaper, EDL leader Robinson praised the "truth" of Breivik's blogs, adding they are "full of facts".
OPINION: Scroll down to leave your comments.
"You may find the truth hurts, but it is still the truth. I read the blogs themselves – they contain facts about Islam," he said.
He added that the crimes would be easier to justify were they perpetrated "against Muslims".
"Whether you like it or not, that guy was pretty smart... What he did is despicable, but he managed to make people curious."
Following the interview, the EDL leader attempted to contextualise his comments, telling The Independent:
"The comments were not in support of Breivik. I was saying that it is bad we are all playing out what he wants us to. Everything that is happening, he thought about. He has planned all of this; it is disturbing to give him what he wants.
"What I said was if it was Muslims, he would have been swept aside as a Muslim-hater. The man is a monster, he took kids away from their families. But the blogs are the truth."
Links between the EDL and far-right European groups have long been suspected, with a 2011 Norwegian Intelligence Agency report citing "the largest right wing threat in Norway is a subsidiary of the English Defence League, the Norwegian Defence League".
According to the Hope Not Hate report, the UK is one of Europe's most active "anti-jihadists" states, with 22 operational groups.
On entering the courtroom on Monday, the self-confessed mass killer made a Nazi salute, and subsequently pleaded "not guilty" to the charges as he acted "in self defence".
Here are some of the best tweets on #creepingsharia: