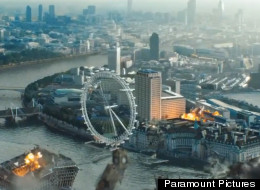 Ahead of the release of G.I. Joe: Retaliation this summer, we've got our hands on the film's trailer - expect gruff voices, snappy one-liners and plenty of explosions.
A sequel to G.I. Joe: The Rise of Cobra, the film follows the Joe team as they come into conflict with Cobra's Zartan. Disguised as the President of the United States, Zartan succeeds at exterminating most of them, leaving only a handful of Joes left.
Led by a distinctly beefed-up Dwayne 'The Rock' Johnson, the remaining Joes set off on a revenge mission.
Fellow muscle men Bruce Willis and Channing Tatum also star, alongside Adrianne Pallicki, Ray Stevenson and Ray Park.
G.I. Joe: Retaliation will open in the UK on August 3.
See the photos of London burning in the film below...