A kitten born with his legs back to front has been given a new lease of life after pioneering surgery.
Corky was found by little boy dragging himself along a pavement in Fargo, North Dakota, and was brought into an animal shelter, where he was due to be put down.
But Gail Ventzke and Carol Stefonek, co-founders and directors of CATS Cradle Shelter, heard about the brave moggy and were intent on saving his life.
Corky, seven months, suffers from a congenital deformity called 'Bilateral Arthrogryposis', meaning his back legs were the wrong way round, and also crisscrossed like a corkscrew.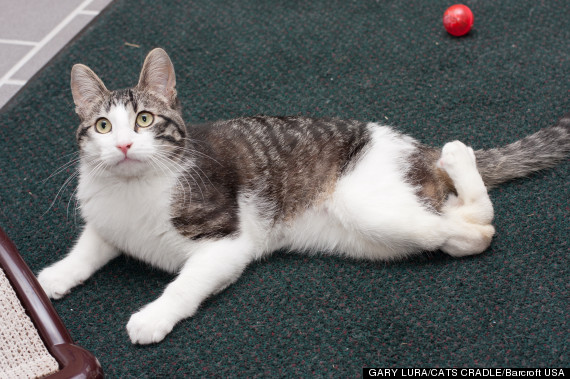 Corky's back legs were crossed, leaving him to drag himself along with his front paws
Staff decided to name the courageous kitty Corky in honour of his determination to drag himself around on his two front paws and corkscrew legs.
Dr Burchill consulted with another orthopaedic veterinarian in Montana. Neither had seen a case like Corky's but had treated similar conditions in dogs.
During the five-hour operation, Dr Burchill also cut Corky's achilles tendons, so his toes would uncurl, allowing him to walk.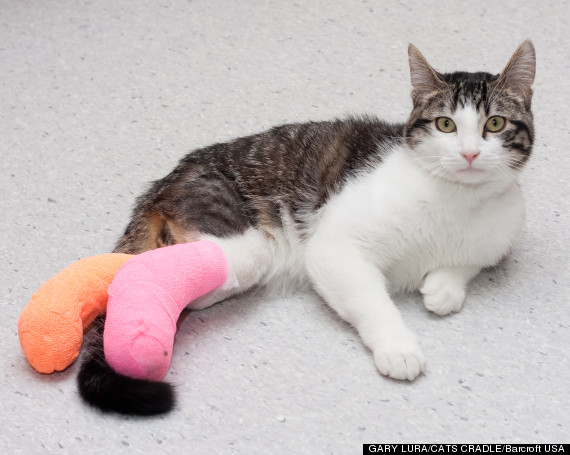 He's still in bandages for now, but Corky is on the road to recovery
Corky recovered slowly on heavy pain medication and remains in hospital, following the surgery on 5 April.
He underwent hydrotherapy, acupuncture, physical therapy and laser therapy several times a day to try to get his back legs working.
Now, Corky is still in brightly-coloured bandages, but he is on the mend, thanks to intensive physical therapy.
He already has 6,500 fans on a Facebook page in his honour.
Gail said: "Dr Burchill is our hero. He basically invented this surgery for Corky. He's fallen for Corky, too. He comes in on his days off to personally change Corky's bandages because he doesn't want anyone else to touch him.
"I don't think there's anything I've done in the last four years of rescuing that's been more worth it. This little guy is amazing."
Watch video of Corky here

SUBSCRIBE TO & FOLLOW UK DAILY BRIEF