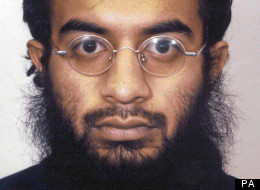 A British man dubbed "supergrass" has told a court Osama Bin Laden boasted of a planned attack which would cause the US economy to collapse.
Saajid Badat gave a testimony to a New York trial detailing how he intented to kill hundreds of passengers by with a bomb hidden in his shoe, the BBC reported. But the 33-year-old, who was previously convicted of plotting to blow up an aeroplane in 2005, pulled out at the last minute.
In exchange for co-operating with prosecutors at the Brooklyn trial of Adis Medunjanin, Badat's jail sentence was reduced from 13 years to 11. Bosnian-born US citizen Medunjanin stands trial accused of a New York subway suicide bomb plot.
On Monday, the court heard how Badat's lifestyle had been funded by the British taxpayer after his deal with Scotland Yard - who even paid for his phone and internet bills.
Badat's evidence was pre-recorded in the UK more than a week ago as the convicted bomb plotter refused to travel to the US over fears of being arrested.