Michael Fassbender wasn't a name that conjured up any particular images five short years ago. Now, however, after a breakthrough role in Hunger, and some striking turns in films from Inglourious Basterds to X Men: First Class, Jane Eyre and A Dangerous Method, never mind the controversy of Shame - he's become one of the most talked-about actors of this current wave, swinging happily between art-house bohemian and bona fide movie star.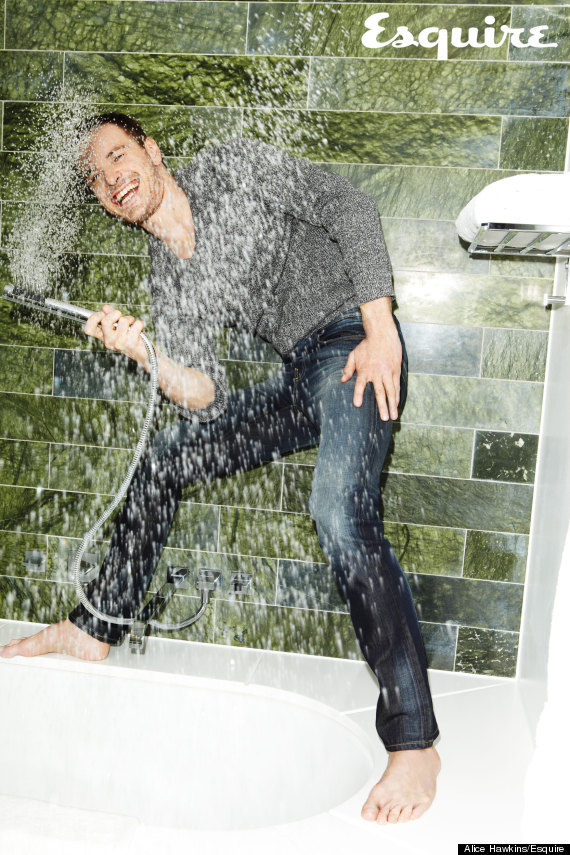 Michael Fassbender - a self-described "sociable person"
On the eve of his face becoming even more famous with a lead role in Ridley Scott's forthcoming sci-fi blockbuster Prometheus, Fassbender tells Esquire magazine about enjoying a good drink, dancing, AC/DC being a secret hangover cure, being seduced by the trapping of fame and his next challenge as a scriptwriter. Here are some titbits...

On his love of socialising:
"I like to go out. I wouldn't say I don't enjoy a drink. As I say, I'm a sociable person."

On his love of dancing:
"I like to dance. Ha! You know, I enjoy myself when I go out. When we were in Berlin and I went out with my parents, we were out till three in the morning, we were all out dancing."

On his secret hangover cure:
"I still listen to Slayer, man! I just put them on the other day, still listen to Metallica. AC/DC brilliant...If you're a little bit hungover, put on AC/DC, it's like there's no room for [the hangover] any more, the anxiety's all gone."

On now having to consider his behaviour since becoming famous:
"The thing is I don't like to filter my behaviour, but I have a feeling that might be the case now...I don't want to be in the newspapers. I just want to keep what I do on screen and that's it."

On being seduced by the trappings of fame:
"It would be wrong of me to say that I don't get seduced by certain things. That things don't become tempting."

On his temptations:
"Well, you know, sort of, money! How much money does one need? Let's start with that, that's a pretty good one. Greed, things like that. Vanity, believing the hype. You have to keep an eye on those things."

On keeping grounded:
"There's another side of me that's very simple. I keep my lifestyle pretty simple and my possessions are pretty simple."

On his self-imposed hiatus:
"You have to see it clearly as looking after yourself. There is the danger of burning out here and getting lost and just becoming uninterested."

On his next challenge as a scriptwriter:
"The next thing is to develop, make your own stories with writers, gather a pool of creative people and develop stuff. So it's not the fact that I'm waiting for someone else to hire me or I'm waiting for a really good script to arrive, I'm actually trying to make that script."

Read the full Michael Fassbender interview in the Esquire June issue - on sale Thursday 3 May
SUBSCRIBE AND FOLLOW
Get top stories and blog posts emailed to me each day. Newsletters may offer personalized content or advertisements.
Learn more