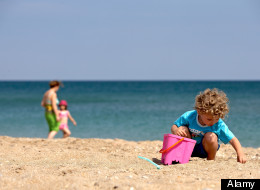 It's officially May. So despite the puddles, floods and rapidly more ridiculous-sounding drought warnings, let's put thoughts of April showers behind us and remember how beautiful Britain looks when the sun comes out!
With the Olympics and Queens Jubilee on the way this summer, 2012 is not the year to be jetting off to foreign lands.
Santorini, Sardinia and the Seychelles are making way for Scotland, St Ives and Saunton Sands, this year, as people jump on board the 'staycation', according to The Pure Package, who deliver freshly prepared, delicious, ethically sourced meals to make sure their customers are bikini-ready.
Need some holiday inspiration on a wet day? Click no further...
Rhossili Bay on the western tip of the Gower Peninsular in South Wales was recently voted the best beach in Britain. With views across the Bristol Channel and all the way to South Devon, the bay was made famous by Dylan Thomas who wrote about it in his story An Extraordinary Little Cough.

Porthcurno is considered one of the UK's most beautiful bays with white sands and clear blue water set against a dramatic backdrop of steep granite cliffs. At low tide it's possible to walk to several other equally perfect beaches within the bay.

When visiting Pentle Bay at Tresco it can be easy to forget that you're still in Britain. Bright white sand, azure blue waters and (often) brilliant blue skies make it feel more like a tropical island. The Isles of Scilly get some of Britain's best weather making it a great choice for your 'staycation' destination.