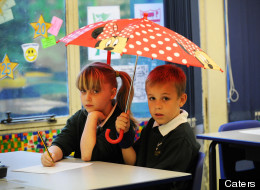 Schools minister Nick Gibb was horrified to learn children at one of the UK's most dilapidated schools are forced to shelter under umbrellas during lessons due to a lack of funding.
The minister visited Richard Lee Primary School in Coventry on Tuesday - one of seven in the area waiting to find out if they will receive government funding for much-needed repairs. Gibb said children had been "failed" and if he was a parent at the school he would be "very cross".
"There's no question the school is in a very bad condition but the decision about how we allocate taxpayers' money to the Priority Schools Building Programme is taken in a very scientific and objective way based on an assessment of all the schools that have applied."
Look out for the Ad just below here
Pupils at the primary, which caters for more than 500 children, wrote to Gibb urging he come and visit the crumbling school. In February last year, the pupils were being taught in the corridor a boiler burst and last June saw the roof collapse.
Children are now being taught under umbrellas due to leaks in the ceiling.
Bob Ainsworth, MP for Coventry North East, has raised the issue in parliament and said he hoped the minister's visit would put the school at the forefront of the agenda.
"We made sure he was aware of the really shocking state of the building and he said it was the worst that he had seen. I knew that if he came he would be shocked."
Headteacher Nicola Harwood said: "I am happy Mr Gibb came to visit the school and feel positive that people are listening.
"He was very open with his comments, although he didn't make any promises, so we will wait for a decision on funding from the Priority Schools Building Programme and hope that our school will be on the list.
"For now we'll have to keep patching up the school and continue to make sure Richard Lee is fit for purpose."