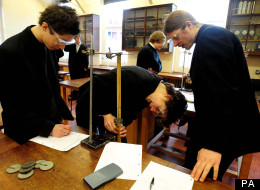 Grammar schools have been accused of failing to challenge brighter pupils and not setting targets high enough at GCSE levels.
A report released on Thursday also showed considerable regional variance in the performance of grammar schools.
It claims the current benchmark of five A*-Cs, including English and maths, is too low and should be set at five As or A*s for brighter students.
Look out for the Ad just below here
The report's author, Professor David Jesson, of the University of York, advocates increasing the bar and potentially extending this to other schools as a way of assessing their impact on the most able youngsters.
"Grammar schools should expect to achieve high levels of performance for their pupils and most do," Prof Jesson said.
"There are, however, substantial differences between grammar schools' outcomes which tend to go unnoticed in the standard performance tables.
"If we are genuinely committed to the idea of excellence for all, we need a new way of measuring the performance of these schools and making sure that every pupil reaches their full potential."
In his Great Expectations report, he observes "coasting" or under-performance could have gone undetected. He also suggests standards could be pushed up across the board.
While changes in expectations could raise the bar "substantially" in some schools, he argues many would be offered a "fresh challenge to match the best that others have shown to be possible".
"In this way, grammar schools can play a full part in the relentless search for excellence which is the focus of much government policy," he writes.
"The beneficiaries will be their pupils and the nation as a whole if these pupils are challenged, encouraged and inspired to achieve the very best that others like them have shown to be possible."
His report forms part of a debate on school performance measures launched by The Schools Network, an independent, not-for-profit organisation which represents more than 5,000 schools and academies.
Jesson, associate director of The Schools Network, based his conclusions on a fresh analysis of grammar school performance.
Sue Williamson, the organisation's chief executive, said: "Schools are always looking to raise the bar and to push all of their pupils further.
"Our members recognise that every pupil is different and that every child has talent which schools must strive to make the most of."
Hailing the "groundbreaking" study, she added: "We look forward to the opportunity of developing this research further and ensuring that every young person is given the chance to achieve their full potential."
A Department for Education spokesman said: "No school can ever afford to rest on its laurels.
"We want to make sure that all schools are stretching their brightest pupils and that schools with very able intakes are helping students reach their full potential rather than allowing them to coast along.
"The tables now show expected and actual performance for low, middle and high-attaining pupils so that schools can be judged on whether they are improving all their students."
Grammar schools have long come under fire for the exam system which divides pupils at the age of 10 or 11. Critics claim the 11 plus separates children according to intellectual ability at too young an age and has a detrimental impact on their self-confidence.
A controversial plan in Sevenoaks, Kent, to build an annex to an existing grammar school was recently approved by the council, despite widespread opposition.

Pictures Of The Day: 3 May 2012
Palestinian youths lower their heads as a fellow protester throws back a tear gas canister at Israeli troops during clashes outside Ofer military prison near the West Bank city of Ramallah on May 2, 2012, following a demonstration in solidarity with prisoners held in Israeli jails. Clashes erupted for the second day in a row between stone-throwing youths and the Israeli army near the military jail in the occupied West Bank. TOPSHOTS AFP PHOTO/ABBAS MOMANIABBAS MOMANI/AFP/GettyImages

A vendor covers his head with a basket from the sunlight in Bangkok, Thailand, Thursday, May 3, 2012. (AP Photo/Sakchai Lalit)

2012 Formula One Mugello Test Day, Autodromo Internazionale del Mugello, Mugello, Italy. Formel 1 Testfahrten - F1 - Michael SCHUMACHER, Germany, D, Mercedes GP F1 Team, red light, rain - Copyright: © ATP Jerry ANDRE

A model wearing designs by Jenny Lee stands in a display made of natural props including leaves and branches from native Australian trees, during Australian Fashion Week in Sydney, Thursday, May 3, 2012. (AP Photo/Rob Griffith)

Artist Henry Bruce looks up at his largest, possibly most controversial art project to date, in the grounds of the Delamore Estate. As part of the art and sculpture exhibition at Delamore Henry has painted a massive skeletal 21 metre high oak tree fluorescent pink to celebrate the beauty of nature and the evolving life of trees. Picture date: Wednesday May, 2, 2012. Photo credit should read: Ben Birchall/PA Wire

File photo dated 12/04/12 of Sotheby's staff members hanging The Scream, by Norwegian painter Edvard Munch at the auction house's central London offices. The only privately-owned version of the masterpiece fetched a record-breaking 119.9 million US dollars (£74 million) at auction. Issue date: Thursday May 3, 2012. The famous image, which features a haunted figure in front of a red backdrop, surpassed estimates to become the most expensive work of art to be sold at auction following the sale in New York. See PA story SALE Scream. Photo credit should read: Lewis Whyld/PA Wire

Monkey Swimmers A group of monkeys cool down in the heat by taking a swim in the water in Guiyang, China. They enjoy hanging from the trees and playing around by leaping into the water. China - May 2012 Credit: WENN.com

Fabrice Muamba of Bolton Wanderers shows his emotion after being introduced to the crowd prior to the Barclays Premier League match between Bolton Wanderers and Tottenham Hotspur at the Reebok Stadium on May 2, 2012 in Bolton, England. (Photo by Michael Regan/Getty Images)

A tern feeds on a marsh near the village of Smolichi, 160 km (100 miles) south of Minsk, Belarus, early Thursday, May 3, 2012. (AP Photo/ Sergei Grits)

Newcastle Unied's Papiss Cisse celebrates his goal during the Barclays Premier League match at Stamford Bridge, London. Picture date: Wednesday May 2, 2012. See PA story SOCCER Chelsea. Photo credit should read: Rebecca Naden/PA Wire.