A premonition of fatigue hit me. It seems a rather strange thing to say about the woman whose face passes through our fingers tips ever day, but we're about to see a lot more of the Queen.
Has the Jubilee made planning this summer's exhibitions a tad too easy for our art institutions? Everywhere from the British Library to the V&A has taken a cue from what already beginning to feel like an exhausting festival of patriotism and national navel gazing.
Shouldn't art be talking about something different to the confectionary and lager industries?
Perhaps. But for all that, the NPG's collection of photographs and artwork inspired by Queen Elizabeth II is charming contribution to Jubilee-mania, mercifully succinct and boasting a handful of disarming gems.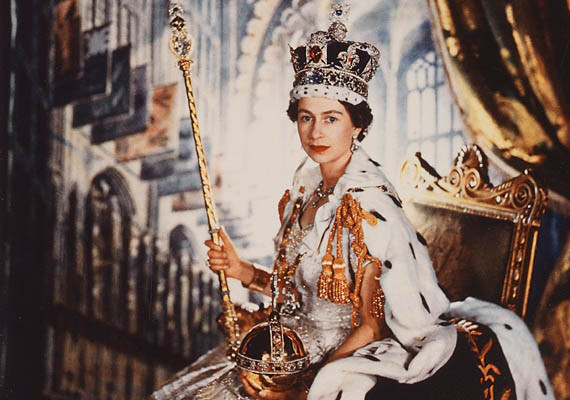 Queen Elizabeth II, Cecil Beaton, 2 June 1953
It opens, appropriately enough, with Cecil Beaton's 1953 portrait of HRH, aged just 27, on the day of her Coronation. Sat in all her absurd finery, she looks both defiant and a little scared. We know now what she can't be sure of at this point: that she'll rise to the challenge, and sixty years later, still be broadly loved her people.
It hangs beside footage of the same event - the first televised Royal occasion of all time.
There's both a naïve and oddly ominous air about this first collision between ancient traditions and the modern media that - above all else - was destined to reshape the monarchy, for better and worse.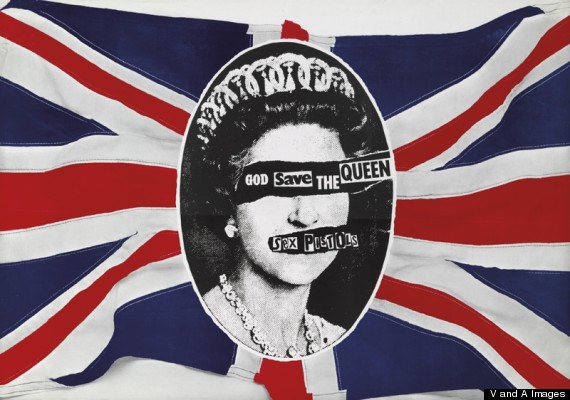 God Save The Queen, Jamie Reid, 1977
The rest of the exhibition goes through the decades of Elizabeth II's rule, examining less about the great enigma herself and more about how, as British life changed, so did the ways in which we thought of our monarch - and how she was presented to us.
There are the deliberate attempts in the swinging sixties and seventies by photographers like Eve Arnold and Patrick Lichfield to humanize The Queen's image, as Jamie Reid and The Sex Pistols ushered in an era where reverence for the Royal Family would no longer be considered fashionable.
A great selection of newspaper shots from the 80s capture the growing national obsession with Dianna, and the way in which the Queen began to feel frustrated by this explosion in media attention.
In fact, it is one of these photographs, from 1982, that is perhaps my favourite in the collection. Taken on the day of the State Opening of Parliament, it shows the Queen prowling into the ceremony like a boxer on the way to the ring, scowling as Charles and Dianna follow like naughty school children in her wake.
What is remarkable about it is not that she looks under strain (the Falklands and various newspaper scandals were all taking their toll), but that, in all these years, she has so rarely been caught showing any negative emotions whatsoever.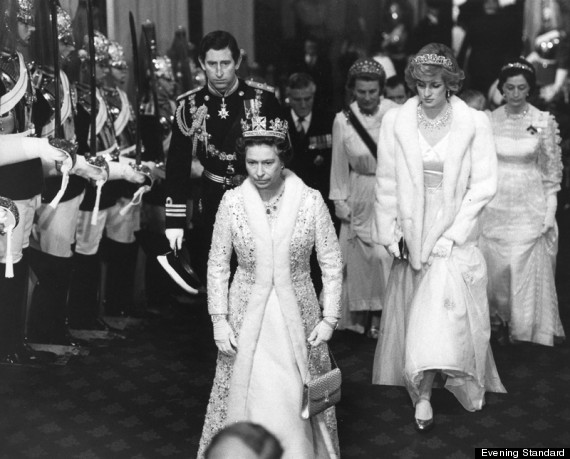 The Queen performs the State Opening of Parliament with the Prince and Princess of Wales, 23 November 1982
The artworks inspired by the Queen add colour, but are far less interesting than the photos.
Lucian Freud's famously brutal portrait is there, but the photograph from 1997 in which the five loudest and most famous women in the world – I think they were called the Spice Girls – stand utterly memorized as The Queen takes their hand, seems to say more about her imposing aura than even Freud's brush could muster.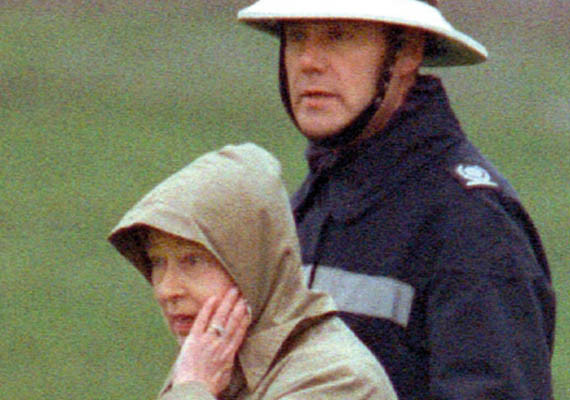 The Queen with a fireman at Windsor Castle, Dylan Martinez, 21 November 1992
Similarly both Gilbert & George and Andy Warhol made dull attempts to mock the Queen's public facade, but a small photo of her caught off guard standing next a fireman in 1992, watching part of the palace burn in an accidental fire, is far more insightful.
In it, she looks like any elderly lady caught in a moment of deep distress - and really, isn't that where our enduring fascination with her highness comes from? Trying to figure out where the national emblem ends and the real person begins.
In an age of relentless self-exposure, Queen Elizabeth II remains the same mystery she was half a century ago. This exhibition, in small bursts, allows us to glimpse a little of the person behind the crown. God knows, we're going to enough of glossy picture books in the weeks to come.
SUBSCRIBE AND FOLLOW
Get top stories and blog posts emailed to me each day. Newsletters may offer personalized content or advertisements.
Learn more