She was pregnant for what seemed like an eternity, and only gave birth two weeks ago, so you'd think Jessica Simpson would want to put her feet up, right?
But the new mum returned to work last night, seen for the first time since giving birth to daughter Maxwell Drew on 1 May.
We barely recognised her without that heeeeuuuuge baby bump.
Jess was appearing on US style show Fashion Star for a runway show of her collection, and afterwards she posed for this snap with her mum backstage, which she posted to Twitter with the caption, "Mommy we did it!!!!"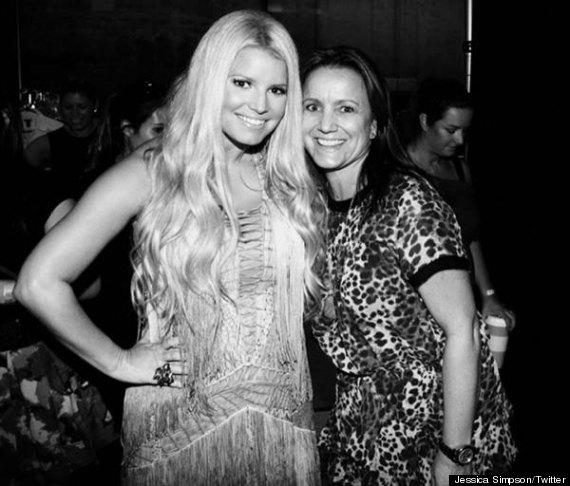 But if you were hoping to see pictures of the little one too, you're going to have to wait a bit longer as Jessica and fiance Eric Johnson have reportedly sold the first snaps to American magazine People for nearly half a million pounds ($800,000).
Jessica seems to have taken to motherhood like a duck to water, telling her Twitter followers last week: "I am so in love with baby Maxwell. I want to cry every time I look at her.
SEE ALSO: Aishwarya Rai, Bollywood Star Criticised For Baby Weight Gain (PICTURES, VIDEO)
She added: "Motherhood is by far the best thing I've ever experienced."
Despite having her hands full at the moment, she's continuing her foray into fashion with a new maternity collection. Jessica - who gained 40 pounds during her own pregnancy - is designing a line of maxi dresses, printed tops, knits, sweaters, blazers, jackets and denims for the "modern mum-to-be who wants to maintain her fashion edge throughout her pregnancy".
Jessica Simpson Maternity will be sold at Destination Maternity, Motherhood Maternity and Macy's stores in the US from this autumn.
> IN PICS: NEW CELEB MUMS
Actress Marion Cotillard welcomed a son, Marcel, with her French beau, Guillaume Canet, on May 19, 2011.

Singer Pink and her hubby, Carey Hart, welcomed a daughter, Willow Sage, on June 2, 2011. "I sing 'You Are My Sunshine' and I make up songs for her because I'm goofy," Pink told E! in November, adding, "We want a basketball team ... We want lots and lots and lots [of kids.]"

Following her Academy Award win, Natalie Portman and her now-husband Benjamin Millepied welcomed a baby boy, Aleph, on June 14, 2011. She revealed to iVillage before her son's birth that becoming a mom "feels very natural."

Tia Mowry and her husband, Cory Hardrict, became parents to baby Cree on June 28, 2011. "I feel blessed to be able to bring my son to work and to share with him what mommy does at such a young age," Mowry told People in May 2012, adding, "He always puts a smile on my face, keeps me at ease."

Singer Jewel and husband Ty Murray became parents for the first time when they welcomed their son, Kase, on July 11, 2011. "He's so, so sweet," she told Celebrity Baby Scoop about Kase in March 2012. "He says 'mama' a lot. He loves being outside. We're outside, I think, almost all the time. He's really great -- we got really lucky. He's such a sweet boy."

Selma Blair and boyfriend Jason Bleick welcomed son Arthur Saint Bleick on July 25, 2011. "It's amazing," Blair said about mommyhood in March 2012. "I'm so in love with him."

Kimberly Stewart -- daughter of Rod Stewart -- and actor Benicio del Toro welcomed daughter Delilah on August 21, 2011. "Delilah is starting to smile; she's the perfect little angel," Stewart told Hello! magazine in October. "She definitely looks like her dad, but she has my legs and eye color."

Actress Alyssa Milano and husband David Bugliari welcomed son Milo Thomas Bugliari on August 31, 2011. "Thank you for all the well wishes for my son Milo. My heart has tripled in size. I love him more than all the leaves on all the trees," she tweeted after welcoming Milo into the world.

January Jones became a mom for the first time when she gave birth to son Xander Dane Jones on September 13, 2011. "I am [enjoying motherhood,]" the actress told "Access Hollywood" in March 2012. "I adore it."

"Bones" actress Emily Deschanel and husband David Hornsby welcomed a baby boy named Henry Hornsby on September 21, 2011. "I don't get a lot of sleep, but I love it," Deschanel said in March 2012. "Henry's awesome!"

"The Office" star Jenna Fischer and husband Lee Kirk became welcomed son Weston Lee Kirk on Sept. 24, 2011. Fischer told Us Weekly in April 2012 that Weston was "just starting to crawl, so that is really fun. He's laughing a lot. I feel like making your son laugh is the greatest feeling in the world."

Viola Davis and husband Julian Tennon adopted a baby girl, named Genesis, in October 2011.

Actress Connie Britton became a first-time mom when she adopted a baby boy, named Eyob "Yoby," from Ethopia in November 2011.

Actress Lindsay Price and chef Curtis Stone are new parents! The couple welcomed son Hudson Stone on Nov. 6, 2011. "There's a reason they give you nine months to be pregnant," Price told Us Weekly after giving birth. "You go through a physical, emotional and spiritual process. Then, the second he was born, it's all unconditional love."

British singer Lily Allen and husband Sam Cooper welcomed a daughter, Ethel Mary Cooper, on Nov. 25, 2011. Though we haven't heard much from the new mom, she did write, "Totes Amaze," on Twitter after welcoming her daughter.

Beyonce became a mom in 2012 when she and her husband, Jay-Z, welcomed daughter Blue Ivy on Jan. 7, 2011. "I feel more beautiful than I've ever felt because I've given birth ... I have never felt so connected, never felt like I had such a purpose on this earth," Beyonce told People in April 2012.

"Grey's Anatomy" actress Sarah Drew and her husband Peter Lanfer welcomed their first baby, a boy named Micah Emmanuel, on Jan. 18, 2012. "Micah's a really easy baby," Drew told Life & Style. "He's pretty chill!"

Lindsay Sloane and husband Dar Rollins became parents to daughter Maxwell Lue on January 19, 2012. "We thought we knew what love was until we met her," the couple told People.

Actress Marla Sokoloff and husband Alec Puro welcomed their first child, a baby girl named Elliotte Anne, on Feb. 8, 2011. "Mom, dad and baby are happy as can be and completely in love with each other," Sokoloff told People when announcing the good news.

Linda Cardellini and her boyfriend, Steve Rodriguez, welcomed a daughter, Lilah-Rose, on Leap Day (Feb. 29, 2012)

Hilary Duff and her husband, Mike Comrie, welcomed their first son, Luca Cruz, on March 20, 2012. "I felt my heart grew the second I met him," Duff told Parade about having Luca. "You feel so protective right away. You feel loving and nurturing right away. Everybody always talks about it, about how you don't know love until you meet your baby, and you really feel that. There are no words."(Jennifer Wilson)

Charlize Theron surprised everyone when she announced in March 2012 that she had adopted a baby boy named Jackson. "I didn't think I would be a fan of the swaddling, but the swaddling is pretty amazing," she said on Ryan Seacrest's radio show in March 2012. "It looks a bit like a straitjacket, but for some reason they just love it."

Jessica Simpson and her fiance, Eric Johnson, welcomed their first daughter, Maxwell Drew Johnson, on May 1, 2012. "I am so in love with baby Maxwell. I want to cry every time I look at her. Motherhood is by far the best thing I've ever experienced," Simpson tweeted on May 8 about her baby girl.