Kenny Dalglish has been sacked as Liverpool manager after less than 18 months in charge.
The Scot departs Anfield after flying to Massachusetts for talks with the Fenway Sports Group, who own the club.
Dalglish said in a statement: "It has been an honour and a privilege to have had the chance to come back to Liverpool Football Club as Manager.
"Of course I am disappointed with results in the league, but I would not have swapped the Carling Cup win for anything as I know how much it meant to our fans and the Club to be back winning trophies.
"Whilst I am obviously disappointed to be leaving the football club, I can say that the matter has been handled by the owners and all concerned in an honourable, respectful and dignified way and reflects on the quality of the people involved and their continued desire to move the football club forward in the same way as when they arrived here.
"Finally, I want to put on record my heartfelt gratitude to Liverpool's fans, who have always given me and the Club their unwavering support. Without them neither the Club nor I would have achieved anything."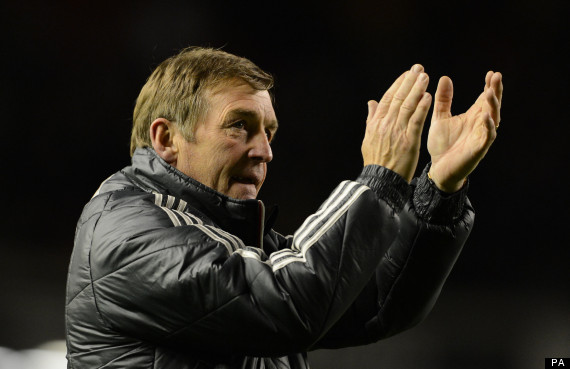 Dalglish bids farewell to fans at his last home game
Principal owner John W Henry said: "Kenny will always be more than a championship winning manager, more than a championship winning star player. He is in many ways the heart and soul of the club. He personifies everything that is good about Liverpool Football Club. He has always put the Club and its supporters first. Kenny will always be a part of the family at Anfield.
"Our job now is to identify and recruit the right person to take this Club forward and build on the strong foundations put in place during the last 18 months."
Liverpool Chairman Tom Werner said it was a tough decision, but ultimately one the club needed to make.
"Kenny came into the Club as Manager at our request at a time when Liverpool Football Club really needed him. He didn't ask to be Manager; he was asked to assume the role," Werner stated.
"He did so because he knew the Club needed him. He did more than anyone else to stabilize Liverpool over the past year-and-a-half and to get us once again looking forward. We owe him a great debt of gratitude.
Dalglish's daughter tweeted her feelings
"However, results in the Premier League have been disappointing and we believe to build on the progress that has already been made, we need to make a change.
"We are committed to delivering success for our supporters and our ambition remains resolute to return this great Club to the elite of England and Europe, where it belongs."
Liverpool refused to comment on the position of the Kop idol on Tuesday, fuelling speculation he was set to lose his job.
And on the day Roy Hodgson announced his England squad to nationwide disapproval, John W Henry and Tom Werner have announced the departure of one of the club's most successful players and managers.
Liverpool finished eighth in the Premier League, as the Reds lost 14 games and won just six at home.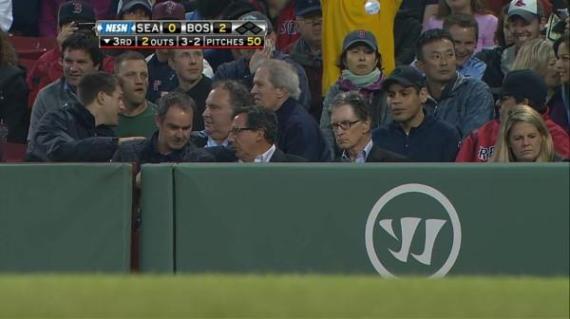 Liverpool assistant Steve Clarke (left), with owners Tom Werner and John W Henry at a Boston Red Sox baseball game on Monday night. Dalglish had already departed the States
Under Dalglish's second tenure as manager, the club spent £114.2m on seven players, with most underperforming.
Director of football Damien Comolli was sacked in February, while it was announced last week director of communications Ian Cotton is to leave the club.
Dalglish, 61, did steer the club to their first piece of silverware since 2006 as they won the League Cup, but they also lost the FA Cup final to Chelsea.
Just as damaging as the club's on-pitch decline has been their fallen reputation off the pitch, amidst the Luis Suarez affair.
Suarez was banned for eight matches and fined £40,000 for racially abusing Manchester United left-back Patrice Evra, yet the Liverpool squad - and Dalglish - wore T-shirts in support of the Uruguayan after the punishment was announced by the Football Association.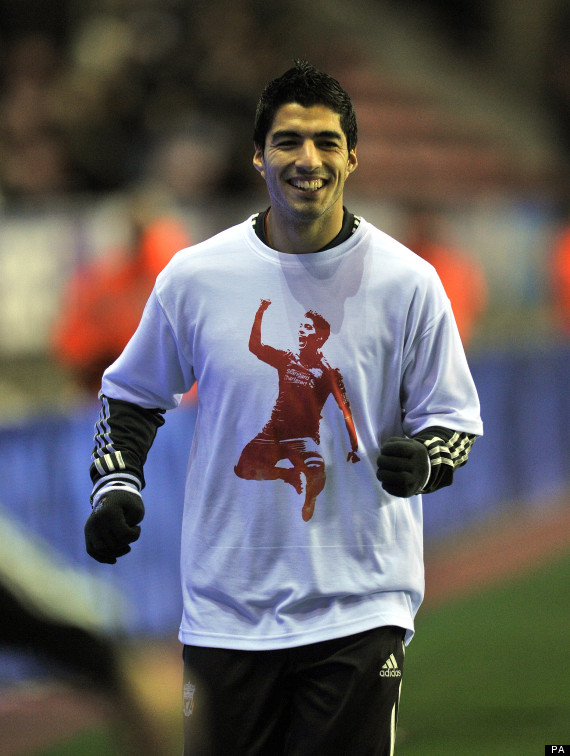 The club was condemned for the Suarez T-shirts
When Evra and Suarez faced one another for the first time since the October incident, the racial abuser refused to shake the hand of the racially abused during the pre-match handshakes routine.
Dalglish - whose behaviour with the media has been bizarre all season - told Sky Sports Geoff Shreeves after the match he had been told otherwise, as to Suarez's conduct.
DALGLISH ACCUSES GEOFF SHREEVES

The following day, even the New York Times implored Henry and Werner to intervene amidst the Reds' PR mess, and Dalglish was forced to apologise for his post-match conduct.
Dalglish returned to manage the club he quit from coaching in 1991 after Roy Hodgson was sacked in January 2011.
Initially appointed on an interim basis, Dalglish was promoted to first-team manager at the end of the 2010/11 season.
DALGLISH ALOOFLY RESPONDS AFTER BLACKBURN WIN

William Hill odds on next Liverpool manager:
2/1 Rafael Benitez; 5/2 Roberto Martinez; 9/2 Frank Rijkaard; 8/1 Steve Clarke; 10/1 Paul Lambert; 11/1 Brendan Rogers; 12/1 Fabio Capello; 14/1 Andre Villas-Boas; 16/1 Martin O'Neill; 16/1 Jose Mourinho; 16/1 Carlo Ancelotti; 20/1 Didier Deschamps; 20/1 Marcelo Lippi; 20/1 Jurgen Klinsmann, 25/1 Guus Hiddink; 25/1 Martin Jol; 25/1 Gus Poyet; 25/1 Pep Guardiola, 25/1 Claudio Ranieri; 25/1 Lauren Blanc; 25/1 Louis van Gaal; 33/1 joachim Low; 40/1 Owen Coyle, 40/1 Sven Goran Eriksson; 40/1 David Moyesm 50/1 Jamie Carragher; 150/1 Steven Gerrard
SUBSCRIBE AND FOLLOW
Get top stories and blog posts emailed to me each day. Newsletters may offer personalized content or advertisements.
Learn more