Preparations for London 2012 appeared to be another step closer to completion on Wednesday when one of the first Olympic lanes appeared just outside the capital.
While the hype centres around the Olympic torch relay, preparations for this summer's Games are still underway around London, with the specially-designated lanes one of the final touches to be added.
This lane, outside the Surrey town of Egham, appears to be one of the first road in the complex network that will run through London.
The lanes will be used exclusively by Olympics officials, athletes and sponsors of the Games, between 7am and 7pm during the three-week event, held from 27 July to 12 August, as well as during the Paralympic Games between 29 August and 9 September.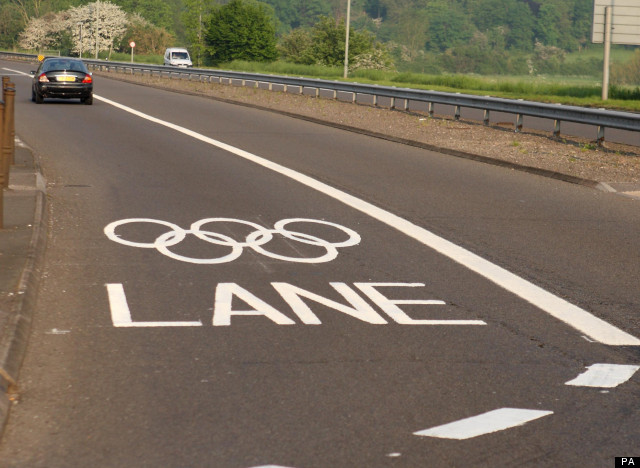 Transport for London (TfL) says the lanes are a "fundamental part of London's Host City Contract," and will try and ensure that athletes and staff arrive on time to their events.
The lanes form part of the Olympic Road Network (ORN), which includes roads with the special Olympic lanes, as well as changes to traffic signals, suspension of certain parking areas and the removal of pedestrian crossings in some places.
You can find out more about how the lanes and the Olympic Road Network will affect your journey on the TfL website.

Loading Slideshow
News Pictures Of The Day: 23 May

An Egyptian soldier helps an elderly man at a polling station in Cairo on May 23, 2012, during the country's historic presidential election, the first since a popular uprising toppled Hosni Mubarak. (Photo credit: MARCO LONGARI/AFP/GettyImages)

News Pictures Of The Day: 23 May

Israel's Nimrod Shapira swims his Men's 200 meter Butterly heat at the European Swimming Championships in Debrecen, Hungary, Wednesday, May 23, 2012. (Photo credit: AP Photo/ Michael Sohn)

News Pictures Of The Day: 23 May

Norway's Sindri Thor Jakobsson,wearing a black swim cap with inscription ADO, the initials of late World Champion Alexander Dale Oen, takes the start of the heats of the men's 200-metre butterfly swimming event in the 31st European Swimming Championships in Debrecen on May 23, 2012. The death of Dale Oen, who collapsed and died of unknown causes in the showers at the Norwegian team's American training base on April 30, has overshadowed the championships with a moving dedication to him by the organisers on May 21 which would have been his 27th birthday. (Photo credit: ATTILA KISBENEDEK/AFP/GettyImages)

News Pictures Of The Day: 23 May

Ireland's Jedward perform during the 1st semifinal 2012 Eurovision Song Contest at the Baku Crystal Hall in Baku, Tuesday, May 22, 2012. The finals of the 2012 Eurovision Song Contest will be held at the stadium on May 26, 2012. (Photo credit: AP Photo/Sergey Ponomarev)

News Pictures Of The Day: 23 May

Afghanistan-unrest-NATO-civilians,FOCUS by Lawrence Bartlett This photo taken on May 21, 2012 shows an internally displaced girl from Helmand province laughing at the Charhi Qambar refugee camp on the outskirts of Kabul. The number of internal refugees in 2011 hit nearly half a million, the highest for about a decade, part of what Amnesty International has called 'a largely hidden but horrific humanitarian and human rights crisis'. (Photo credit: SHAH MARAI/AFP/GettyImages)

News Pictures Of The Day: 23 May

Indian youths perform karate moves during a summer training camp in Hyderabad on May 23, 2012. (Photo credit: NOAH SEELAM/AFP/GettyImages)

News Pictures Of The Day: 23 May

Indian Bollywood actress Seema Rahmani poses during a special screening of the forthcoming film 'Love, Wrinkle-Free' directed by Sandeep Mohan in Mumbai on May 22, 2012. (Photo credit: STRDEL/AFP/GettyImages)