The death of a teenager in the Thames prompted a warning today of the dangers of cooling off in rivers as the UK's mini-heatwave continued.
The entire nation was bathed in sunshine as the mercury rose to almost 28C in places - bringing hotter temperatures than in popular Greek resorts.
The safety plea was issued after a 15-year-old boy drowned when he jumped from a bridge into the River Thames in Oxford on Friday night.
The body of the teenager, named locally as Hussain Mohammed, was not recovered for two hours after he was seen plunging into the water.
Detective Inspector Rob France, the officer in charge of the case, said the circumstances leading up to his death were still being investigated, but added: "We would also like to emphasise that while it might be tempting to jump into the river during this hot weather, there are hidden dangers under the water and so we would advise against doing so."
A young man also died today in Glasgow after getting into difficulty near a waterfall. The 23-year-old jumped into the water in temperatures of 23C (73.4F).
Scotland saw the highest temperatures of the day, reaching 27.9C (82.2F) in Kinlochewe in the Highlands. That made it warmer than the Greek islands of Kefalonia, which could only manage 21C (69.8F), Corfu, at 22C (71.6F), and Crete, at 23C (73.4F).
Around the UK, temperatures did not quite reach the highs achieved yesterday, but were still above average for the time of year, sending crowds flocking to seaside resorts.
One of the warmest areas in the UK was South Wales - fortuitously, where the Olympic torch relay was taking place today.
Forecaster Matt Dobson of MeteoGroup, the weather division of the Press Association, said: "Temperatures have been a little bit down from yesterday, by about 1C, but we really can't complain at all.
"It's quite unusual in that it's been sunny everywhere.
"It seems strange that somewhere in North West Scotland recorded the highest temperature, but it's in a very sheltered place.
"It's been glorious in London as well, with highs of 25.3C (77.54F) recorded at Heathrow. One of the best places, if you were looking for a seaside resort, was Pembrey Sands in South West Wales, where it reached 26.7C (80F). And it was a cracking day for the Olympic Torch relay."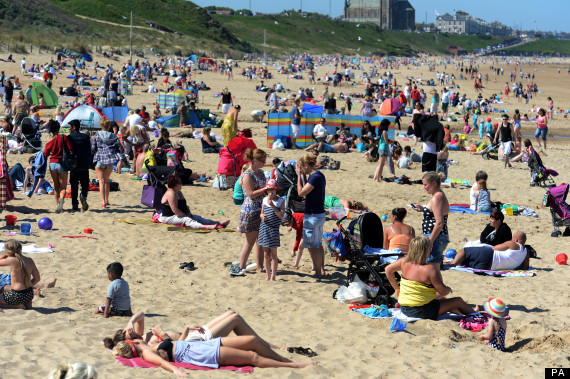 The hot weather saw people enjoying Longsands beach at Tynemouth, Tyne and Wear
The sunny weather may have peaked slightly too soon though - with cooler temperatures forecast for the Diamond Jubilee weekend.
"It's not going to be anywhere near as warm as it has been this weekend," Mr Dobson said. "It will be fairly dry, but considerably cooler, with temperatures around the average. Eastern areas, including London, might have some showers as well."
The rain is coming even sooner for those in the south west of England and Wales, with possible thunder and lightning tonight.
Average maximum temperatures for England in May are 14C to 17C (57.2F to 62.6F) while Scotland would normally be between 13C and 15C (55.4F to 59F). Last week was the driest since the end of March, according to the Environment Agency.
SUBSCRIBE AND FOLLOW
Get top stories and blog posts emailed to me each day. Newsletters may offer personalized content or advertisements.
Learn more