The Olympic torch has landed! After a star-studded plane trip from Athens to Land's End with the likes of Sebastian Coe, Princess Anne and Boris Johnson, the torch has began to make its journey to London for the start of the 2012 Olympic Games.
An estimated 8,000 people will assist the flame in making its way around the UK until it reaches its final resting place and the games begin.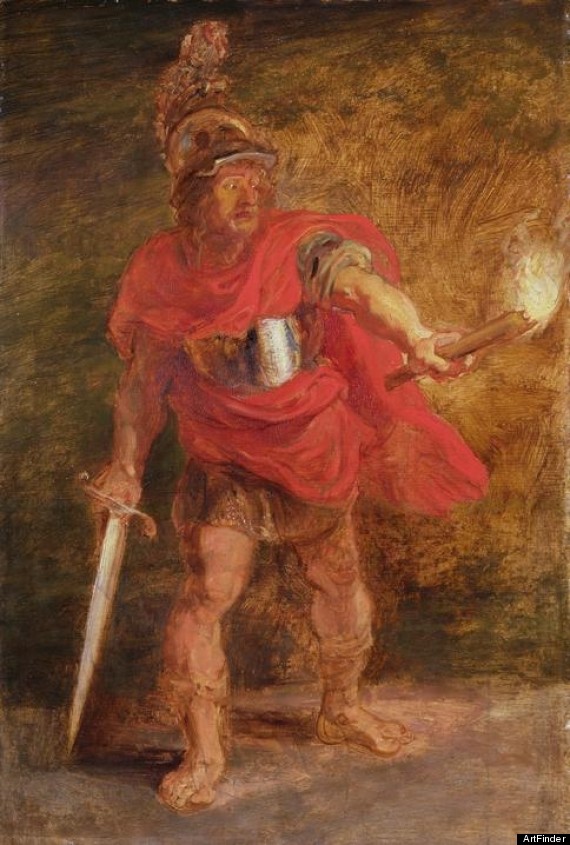 Peter Paul Rubens, Aeneas in the Underworld, Oil on Panel, © Bridgeman Art Library / © National Museum Wales
To celebrate, for this week's Artwork of the Week we've chosen Flemish Baroque painter Peter Paul Ruben's 17th century oil painting Aeneas in the Underworld.
The work depicts the Trojan hero Aeneas, armed with a torch and sword, searching the Underworld for his dead father Anchises. It's a painting based on a scene from Virgil's Aeneid, where Aeneas is struck by a sudden terror and uses his torch to see those approaching and his sword to defend himself.
Aeneas, the torch holder in Rubens' work, has some truly blessed genes being the son of Anchises, the Prince of Dardania, and Aphrodite, the Goddess of Love.
Not unlike how each torchbearer works together to complete a larger journey, Rubens' work was originally a sketch intended to work out the dominant accents of light, tone and colour for a larger painting.
Artyfacts:

Rubens' most acclaimed work Samson And Delilah was bought by the National Gallery in 1980 for a hefty sum - but is it the original painting? The work features a sleeping Samson with no toes - a mistake, critics claim.
Rubens was knighted by both Philip IV, King of Spain, and Charles I, King of England.
Rubens was a successful diplomat: between 1627 and 1630 he worked to negotiate peace between the Spanish Netherlands and the United Provinces, travelling between the courts in England and in Spain.