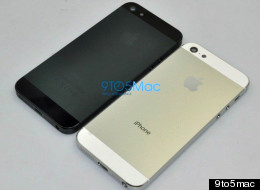 Don't hold us to this, but the Internet is buzzing with the news that the next iPhone may have been leaked.
Two websites have published photographs of new, unidentified and similar looking parts of a longer iPhone featuring a smaller dock connector.
Apple blog 9to5mac.com posted the first images of what it said was the back plate of the next-generation iPhone.
Later on Tuesday they also published hi-resolution shots of the front plate of the black and white versions of a device, which again they said was the new iPhone.
The devices appear to be longer and thinner than previous phones, and built with a 'unibody' design which would allow designers to fit in an even larger battery.
The phones also feature a smaller dock connector, a redesigned and larger speaker grille, a moved earphone jack and a redesigned second microphone.
The screen resolution is said to be around 1136 x 640, and the screen size about 4 inches.
The new phone is also thought to have an improved processor and 4G capabilities - though 9to5mac could not discern this from the parts they saw.
Engadget also posted pictures of a new or unidentified Apple device, which it said showed a longer and thinner design.
However the site also acknowledge the photos may be of an elaborate fake or unofficial product, and that the new iPhone could still look quite different to the supposedly leaked images.