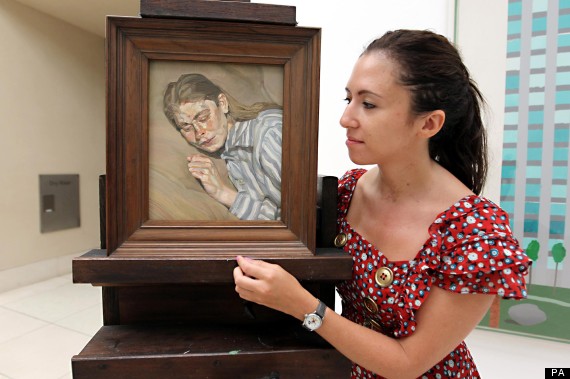 Mercedes and Ian Stoutzker have donated a collection to the Tate

A collection of modern art has been given to the nation by a pair of prominent philanthropists.
The art, which includes work by David Hockney, Jacob Epstein and Lucian Freud, was presented to the Tate by Mercedes and Ian Stoutzker.
Tate director Sir Nicholas Serota said the gift "greatly enriched the national collection of art".
The couple, who now live in Austria, are well-known collectors and supporters of UK art.
Last year Mr Stoutzker gave £500,000 for a new concert hall at the Royal Welsh College of Music and Drama named after his mother who grew up in Tredegar, South Wales.
Two of the pieces have a connection to Freud, including Epstein's bronze bust that shows the painter in 1947 - the year before he married the sculptor's daughter Kitty.
Freud's painting Girl In A Striped Nightdress, or Celia, dates from the early 1980s and shows his lover Celia Paul lying on a bed.
The Hockney work, Savings And Loan Building, is one of a series of paintings he made of the towering glass building in his early years in Los Angeles.
Also included is a scale model of Rachel Whiteread's 1999 work for the empty Trafalgar Square plinth - a resin cast of the plinth itself turned upside down.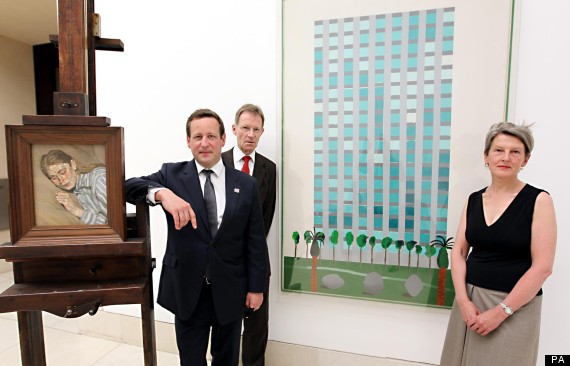 Culture Secretary Ed Vaizey (left), Tate Director Nicholas Serota and Tate Britain Penelope Curtis

The nine works will be exhibited together at Tate Britain, in Pimlico, central London, in October before going to the gallery permanently over the next few years.
They will also go on show across the country.
Sir Nicholas said: "Ian has a particular connection with Wales and some of them perhaps might be seen in Cardiff at some point in the not too distant future."
He said the donation had been planned for a while, with the couple proposing to give "eight or 10" works from their own collection.
He said: "I went to see Ian and he said I've been looking through the Tate website and we've got a number of works in this collection that I think could really fill some gaps in your collection."
Sir Nicholas said the couple's decision had not been affected by the announcement in the Budget of a cap on tax relief for charitable giving.
He said: "The conversation began well before the announcements but it would not have been affected by the announcement because they are not receiving any tax benefit from making this gift, it's pure philanthropy on their part.
"They did feel if they make this gift now, it's encouraging to others who would be affected."
The tax proposal has been criticised by charities and David Cameron has hinted he is ready to water it down.
Speaking at a Tate press conference today, Culture Minister Ed Vaizey said: "There is a generous giving culture in this country and I'm sure that, as the Chancellor has said, he will listen to representations."
Loading Slideshow