Cat Deeley and Patrick Kielty have kept us guessing about the status of their relationship for months now but last night the couple made their romance official at the Glamour Awards.
The TV presenters have been linked since February this year but this is the first time they've stepped out as an item to an event.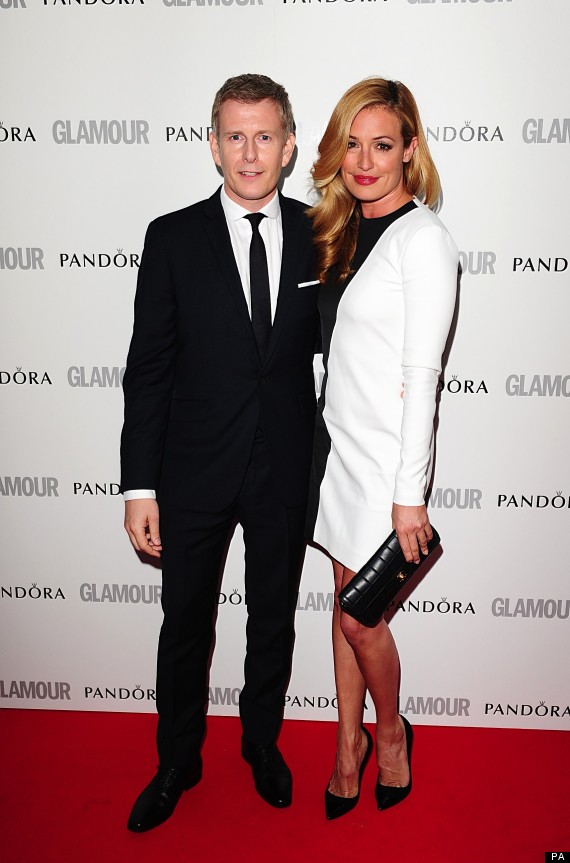 Aaaah, and don't they look lovely together?
CatPat (as they will forever now be known) have known each other for ten years after meeting on the BBC talent show Fame Academy, which they both presented.
The pair have now reportedly shacked up together in Cat's £1.7m Beverly Hills mansion. Could wedding bells be next on the cards for the couple? Patrick's certainly keen to tie the knot in 2012 after admitting in an interview last year that it was his New Year's resolution.
Right, we're off to buy our hat.
> ENTER OUR COMPETITION TO WIN ONE DIRECTION GOODIES
> IN PICS: THE GLAMOUR WOMEN OF THE YEAR AWARDS

Loading Slideshow
Glamour Women Of the Year Awards 2012

Kylie Minogue

Glamour Women Of the Year Awards 2012

Jessica Alba and Jeremy Piven

Glamour Women Of the Year Awards 2012

Abby Clancy

Glamour Women Of the Year Awards 2012

Alice Dellal

Glamour Women Of the Year Awards 2012

Lily Allen

Glamour Women Of the Year Awards 2012

Jameela Jamil

Glamour Women Of the Year Awards 2012

Claudia Winkleman

Glamour Women Of the Year Awards 2012

Jessica Alba

Glamour Women Of the Year Awards 2012

Lea Michele

Glamour Women Of the Year Awards 2012

will.i.am

Glamour Women Of the Year Awards 2012

David Gandy

Glamour Women Of the Year Awards 2012

Caitlin Moran and Lily Allen

Glamour Women Of the Year Awards 2012

Fearne Cotton

Glamour Women Of the Year Awards 2012

Paloma Faith

Glamour Women Of the Year Awards 2012

Kelly Rowland

Glamour Women Of the Year Awards 2012

Kelly Rowland

Glamour Women Of the Year Awards 2012

Eva Longoria

Glamour Women Of the Year Awards 2012

Lily Collins and Douglas Booth

Glamour Women Of the Year Awards 2012

Viola Davis

Glamour Women Of the Year Awards 2012

Cat Deeley

Glamour Women Of the Year Awards 2012

Michelle Dockery

Glamour Women Of the Year Awards 2012

Dionne Warwick

Glamour Women Of the Year Awards 2012

Kylie Minogue and Jake Shears

Glamour Women Of the Year Awards 2012

Jessie J

Glamour Women Of the Year Awards 2012

Hayley Turner

Glamour Women Of the Year Awards 2012

Amanda Holden and will.i.am

Glamour Women Of the Year Awards 2012

Jessie J and will.i.am

Glamour Women Of the Year Awards 2012

Holly Willoughby

Glamour Women Of the Year Awards 2012

Kylie Minogue

Glamour Women Of the Year Awards 2012

Tom Hiddleston

Glamour Women Of the Year Awards 2012

Eva Longoria and Cuba Gooding Jnr

Glamour Women Of the Year Awards 2012

Laura Whitmore

Glamour Women Of the Year Awards 2012

Sophia Vergara

Glamour Women Of the Year Awards 2012

Alex Jones

Glamour Women Of the Year Awards 2012

Katherine Jenkins

Glamour Women Of the Year Awards 2012

Lily Allen

Glamour Women Of the Year Awards 2012

Allegra and Donatella Versace

Glamour Women Of the Year Awards 2012

Yasmin Le Bon

Glamour Women Of the Year Awards 2012

Alexandra Burke

Glamour Women Of the Year Awards 2012

Amanda Holden

Glamour Women Of the Year Awards 2012

Tess Daly

Glamour Women Of the Year Awards 2012

Myleene Klass

Glamour Women Of the Year Awards 2012

Rizzle Kicks

Glamour Women Of the Year Awards 2012

Jessica Alba

Glamour Women Of the Year Awards 2012

Natalia Vodianova

Glamour Women Of the Year Awards 2012

David Furnish and Naomi Watts

Glamour Women Of the Year Awards 2012

Alesha Dixon

Glamour Women Of the Year Awards 2012

Kelly Brook

Glamour Women Of the Year Awards 2012

Naomi Watts

Glamour Women Of the Year Awards 2012

Little Mix
Also on HuffPost: