Michael Jackson signed a note to his then-wife Lisa Marie Presley with the less than charming epithet "Love Turd", it has emerged.
The handwritten note, believed to have been composed sometime between 1993 and 1996 was set to be auctioned at Juliene's Auction, in Beverly Hills, but was apparently pulled at the request of Presley.
It makes reference to Jackson's insomnia, which came to be treated with Propofol, a drug that would eventually kill him.
Scroll down to see the letter in full and other Jackson memorabilia that will be auctioned in December
SEE ALSO:
It says: ""Smell here [arrow with box] Lisa I truly need this rest I haven't slept litterally [sic] in 4 days now. I need to be away from phones and Business people. I must take care of my health first Im' [sic] crazy for you Love Turd."
The couple were married in 1994, with Presley filing for divorce in 1996.
A selection of Jackson's glittery gloves, spangled jackets and stage wear will go under the hammer at the auction house in December.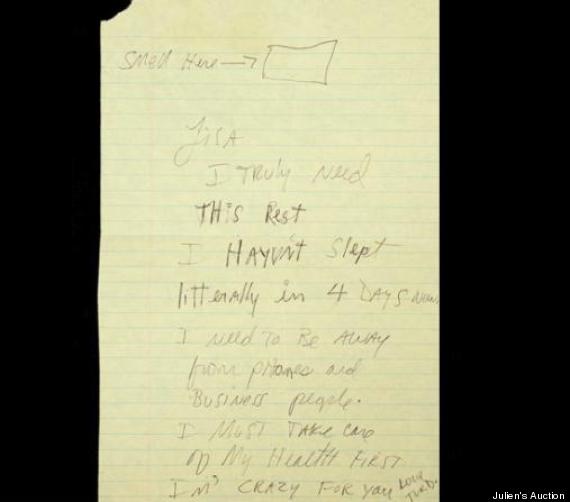 SUBSCRIBE TO & FOLLOW UK DAILY BRIEF