Thirteen bodies have been found in Syria on Wednesday, according to UN inspectors.
Reuters is quoting General Mood, the lead observer for the UN, as saying the bodies were found bound and shot in the head.
They were discovered in Assukar, eastern Syria, just east of the city of Deirez-Zor. All the victims are reported to be male.
On Friday, 108 civilians were killed in the town of Houla, Homs Province sparking outrage around the globe. Following the massacre, a number of countries, including the UK, expelled senior Syrian diplomatic staff. UN-Arab League Joint Special Envoy for Syria Kofi Annan
The killing has also increased pressure on China and Russia, the two nations currently stalling moves to increase UN sanctions on the Assad regime.
The UN observer report, published on Wednesday, made clear that Kofi Annan's peace plan is not working, failing to either stop the killing or to bring about negotiations between the government and opposition forces.
On the discovery of the 13 bodies, the UN statement read: "General Mood is deeply disturbed by this appalling and inexcusable act. He calls on all parties to exercise restraint and end the cycle of violence for the sake of Syria and the Syrian people."
Video posted on YouTube by Syrian activists shows bodies strewn across the ground, the victims' hands tied behind their backs and gags around their mouths. The pools of blood suggest that they were shot in the head. The footage remains unverified due to reporting restrictions within Syria.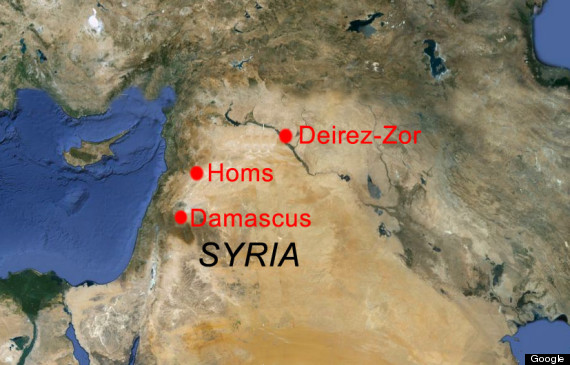 The bodies were found in just east of the city of Deirez-Zor
Earlier on Wednesday, Russia called the expulsion of Syria's diplomats "counterproductive" and reaffirmed their reluctance to sanction further UN Security Council action in the restive state.
According to The Guardian, state media in Syria is reporting that a terrorist group has destroyed an oil pipeline in the Deir Ezzor province, in the same part of the country as the 13 bodies were discovered.
WARNING: The video posted below features graphic scenes
Russia says international envoy Kofi Annan will visit Moscow on Monday to discuss the ongoing crisis in Syria. Russia also called for an inquiry into an alleged massacre that took place in the village of Tramseh on Thursday. "We have no doubt that this wrongdoing serves the interests of those powers that are not seeking peace but persistently seek to sow the seeds of interconfessional and civilian conflict on Syrian soil," Russia's foreign ministry said in a statement, according to Reuters. Moscow did not apportion blame for the killings.
Read more on Reuters.com.