The finishing touches are being put on the spectacular royal barge for Sunday's Diamond Jubilee river pageant.
The Spirit of Chartwell has been transformed into a vessel "fit for a queen" for the extravaganza, at the centre of the 1,000-strong flotilla as it makes its way down the Thames.
The Spirit of Chartwell is a luxury Thames river cruiser donated for the event by owner Philip Morrell and transformed in a project led by award-winning production designer Joseph Bennett.
Decorated with replica carvings and sporting a majestic red, gold and purple colour scheme, the vessel's design will echo the richly decorated royal barges of the 17th and 18th centuries.
It now sports an ornate, gilded prow sculpture featuring Old Father Thames, a pair of scaly, sharp-toothed classical dolphins - a symbol of the Thames - and the royal cipher at the centre.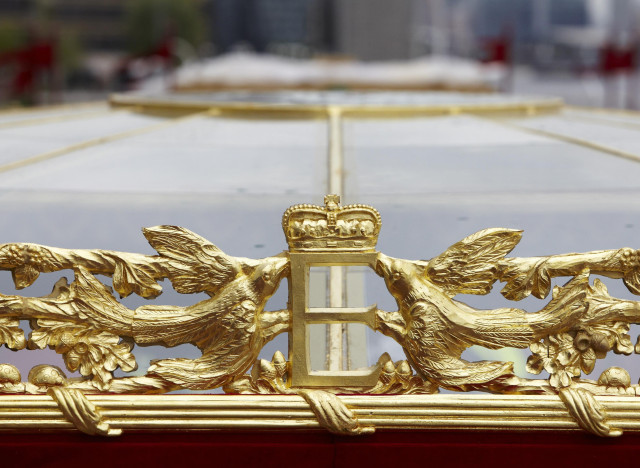 The barge has been fitted with numerous ornate carvings and decorations
A red velvet banner decorated with a version of the royal coat-of-arms made from more than half a million gold-coloured buttons hangs from the stern.
The Queen and Duke will be seated on the vessel's top deck in ornate chairs under a gold-coloured canopy.
Flowers from the Queen's gardens will adorn the barge and take as their theme the Commonwealth, the Queen's 1953 Coronation and the Gold State Coach.
Havengore, the vessel that carried Sir Winston Churchill's coffin during his state funeral in 1965, will be used in the pageant by the Duke of York and his daughters Princess Beatrice and Princess Eugenie, the Earl and Countess of Wessex, the Duke and Duchess of Gloucester and Prince and Princess Michael of Kent.
Read more:

Loading Slideshow
Small boats participate in the Diamond Jubilee River Pageant on June 3, 2012 in London, England. For only the second time in its history the UK celebrates the Diamond Jubilee of a monarch. Her Majesty Queen Elizabeth II celebrates the 60th anniversary of her ascension to the throne. Thousands of well-wishers from around the world have flocked to London to witness the spectacle of the weekend's celebrations. The Queen along with all members of the royal family will participate in a River Pageant with a flotilla of a 1,000 boats accompanying them down The Thames. (Photo by Oli Scarff/Getty Images)

Paddle boats participate in Thames Diamond Jubilee River Pageant on June 3, 2012 in London, England. For only the second time in its history the UK celebrates the Diamond Jubilee of a monarch. Her Majesty Queen Elizabeth II celebrates the 60th anniversary of her ascension to the throne. Thousands of well-wishers from around the world have flocked to London to witness the spectacle of the weekend's celebrations. The Queen along with all members of the royal family will participate in a River Pageant with a flotilla of a 1,000 boats accompanying them down The Thames. (Photo by Ian Gavan/Getty Images)

Queen Elizabeth smiles during a pageant commemorating her Diamond Jubilee in London. Picture date: Sunday June 3, 2012. See PA story ROYAL Jubilee. Photo credit should read: Dylan Martinez/PA Wire

Fireworks are fired from Tower Bridge, London, marking the end of the Diamond Jubilee River Pageant. Picture date: Sunday June 3, 2012. See PA story ROYAL Jubilee. Photo credit should read: Peter Macdiarmid/PA Wire

The Queen's launch makes its way down the river on June 3, 2012 in London, England. For only the second time in its history the UK celebrates the Diamond Jubilee of a monarch. Her Majesty Queen Elizabeth II celebrates the 60th anniversary of her ascension to the throne. Thousands of well-wishers from around the world have flocked to London to witness the spectacle of the weekend's celebrations. The Queen along with all members of the royal family will participate in a River Pageant with a flotilla of a 1,000 boats accompanying them down The Thames. (Photo by Harry Engels/Getty Images)

The Queen's launch makes its way down the river on June 3, 2012 in London, England. For only the second time in its history the UK celebrates the Diamond Jubilee of a monarch. Her Majesty Queen Elizabeth II celebrates the 60th anniversary of her ascension to the throne. Thousands of well-wishers from around the world have flocked to London to witness the spectacle of the weekend's celebrations. The Queen along with all members of the royal family will participate in a River Pageant with a flotilla of a 1,000 boats accompanying them down The Thames. (Photo by Harry Engels/Getty Images)

Queen Elizabeth II is greeted by Chelsea pensioners at Chelsea Pier on June 3, 2012 in London, England. For only the second time in its history the UK celebrates the Diamond Jubilee of a monarch. Her Majesty Queen Elizabeth II celebrates the 60th anniversary of her ascension to the throne. Thousands of well-wishers from around the world have flocked to London to witness the spectacle of the weekend's celebrations. The Queen along with all members of the royal family will participate in a River Pageant with a flotilla of a 1,000 boats accompanying them down The Thames, the star studded free concert at Buckingham Palace, and a carriage procession and a service of thanksgiving at St Paul's Cathedral. (Photo by Bethany Clarke - WPA Pool /Getty Images)

Atmosphere The Queen's Diamond Jubilee River Pageant Flotilla London, England - 03.06.12 Mandatory Credit: WENN.com

Queen Elizabeth II is greeted by Chelsea pensioners at Chelsea Pier on June 3, 2012 in London, England. For only the second time in its history the UK celebrates the Diamond Jubilee of a monarch. Her Majesty Queen Elizabeth II celebrates the 60th anniversary of her ascension to the throne. Thousands of well-wishers from around the world have flocked to London to witness the spectacle of the weekend's celebrations. The Queen along with all members of the royal family will participate in a River Pageant with a flotilla of a 1,000 boats accompanying them down The Thames, the star studded free concert at Buckingham Palace, and a carriage procession and a service of thanksgiving at St Paul's Cathedral. (Photo by Bethany Clarke - WPA Pool /Getty Images)

Catherine, Duchess of Cambridge, aka Kate Middleton The Queen's Diamond Jubilee River Pageant Flotilla London, England - 03.06.12 Mandatory Credit: WENN.com

Queen Elizabeth II and Prince Philip, Duke of Edinburgh arrive at Chelsea Pier on June 3, 2012 in London, England. For only the second time in its history the UK celebrates the Diamond Jubilee of a monarch. Her Majesty Queen Elizabeth II celebrates the 60th anniversary of her ascension to the throne. Thousands of well-wishers from around the world have flocked to London to witness the spectacle of the weekend's celebrations. The Queen along with all members of the royal family will participate in a River Pageant with a flotilla of a 1,000 boats accompanying them down The Thames, the star studded free concert at Buckingham Palace, and a carriage procession and a service of thanksgiving at St Paul's Cathedral. (Photo by Bethany Clarke - WPA Pool /Getty Images)

The man powered boats make their way down the river on June 3, 2012 in London, England. For only the second time in its history the UK celebrates the Diamond Jubilee of a monarch. Her Majesty Queen Elizabeth II celebrates the 60th anniversary of her ascension to the throne. Thousands of well-wishers from around the world have flocked to London to witness the spectacle of the weekend's celebrations. The Queen along with all members of the royal family will participate in a River Pageant with a flotilla of a 1,000 boats accompanying them down The Thames. (Photo by Harry Engels/Getty Images)

Atmosphere The Queen's Diamond Jubilee River Pageant Flotilla London, England - 03.06.12 Mandatory Credit: WENN.com

The man powered boats make their way down the river on June 3, 2012 in London, England. For only the second time in its history the UK celebrates the Diamond Jubilee of a monarch. Her Majesty Queen Elizabeth II celebrates the 60th anniversary of her ascension to the throne. Thousands of well-wishers from around the world have flocked to London to witness the spectacle of the weekend's celebrations. The Queen along with all members of the royal family will participate in a River Pageant with a flotilla of a 1,000 boats accompanying them down The Thames. (Photo by Harry Engels/Getty Images)

The Prince of Wales attends the 'Big Jubilee Lunch' in Piccadilly, London, ahead of the Diamond Jubilee River Pageant. Picture date: Sunday June 3, 2012. See PA story ROYAL Jubilee. Photo credit should read: Chris Jackson/PA Wire

The Prince of Wales and Duchess of Cornwall attend the 'Big Jubilee Lunch' in Piccadilly, London, ahead of the Diamond Jubilee River Pageant. Picture date: Sunday June 3, 2012. See PA story ROYAL Jubilee. Photo credit should read: Chris Jackson/PA Wire

The Prince of Wales and Duchess of Cornwall attend the 'Big Jubilee Lunch' in Piccadilly, London, ahead of the Diamond Jubilee River Pageant. Picture date: Sunday June 3, 2012. See PA story ROYAL Jubilee. Photo credit should read: Chris Jackson/PA Wire

Previously unreleased photo of the ivory dress and coat, in white Boucle fabric and threaded throughout with silk ribbon, designed by Miss Angela Kelly MVO, which Queen Elizabeth II has worn for the Thames Diamond Jubilee Pageant. Picture date: Thursday May 31, 2012. The Bouclé has been embroidered with gold, silver and ivory spots and embellished with Swarovski crystals to reflect the River Thames. The outfit is finished with a silk organza frill. The Queen's hat has a swept up brim, the crown of which is made of the same material as the coat and details include feathers hand dyed in Buckingham Palace by one of Angela Kelly's team. More silk organza and Swarovski crystals have been used to decorate this uniquely shaped hat. See PA story ROYAL Jubilee Dress. Photo credit should read: Lewis Whyld/PA Wire

The Duchess of Cornwall attends the 'Big Jubilee Lunch' in Piccadilly, London, ahead of the Diamond Jubilee River Pageant. Picture date: Sunday June 3, 2012. See PA story ROYAL Jubilee. Photo credit should read: Chris Jackson/PA Wire

The Duchess of Cornwall attends the 'Big Jubilee Lunch' in Piccadilly, London, ahead of the Diamond Jubilee River Pageant. Picture date: Sunday June 3, 2012. See PA story ROYAL Jubilee. Photo credit should read: Chris Jackson/PA Wire

The Prince of Wales and Duchess of Cornwall attend the 'Big Jubilee Lunch' in Piccadilly, London, ahead of the Diamond Jubilee River Pageant. Picture date: Sunday June 3, 2012. See PA story ROYAL Jubilee. Photo credit should read: Chris Jackson/PA Wire

The Duchess of Cornwall attends the 'Big Jubilee Lunch' in Piccadilly, London, ahead of the Diamond Jubilee River Pageant. Picture date: Sunday June 3, 2012. See PA story ROYAL Jubilee. Photo credit should read: Chris Jackson/PA Wire

A crewman aboard the boat 'Havengore' stands waiting for the royal party at the start of the Thames Diamond Jubilee Pageant on the River Thames in London on June 3, 2012. Queen Elizabeth II was to sail on a ceremonial barge down the Thames on Sunday at the centre of a 1,000-boat pageant to mark her diamond jubilee, although heavy rain threatened to spoil the party. AFP PHOTO / POOL / LEON NEAL (Photo credit should read LEON NEAL/AFP/GettyImages)

A couple with their eyes painted with Britain's Union flag pose for pictures beside the River Thames in London, on June 3, 2012, as Britain celebrates the Queen's Diamond Jubilee. Queen Elizabeth II was to sail on a ceremonial barge down the Thames on Sunday at the centre of a 1,000-boat pageant to mark her diamond jubilee, although heavy rain threatened to spoil the party. AFP PHOTO / CARL COURT (Photo credit should read CARL COURT/AFP/GettyImages)

Royal supporters gather beside the River Thames in London, on June 3, 2012, as Britain celebrates the Queen's Diamond Jubilee River Pageant. Queen Elizabeth II was to sail on a ceremonial barge down the Thames on Sunday at the centre of a 1,000-boat pageant to mark her diamond jubilee, although heavy rain threatened to spoil the party. AFP PHOTO / CARL COURT (Photo credit should read CARL COURT/AFP/GettyImages)

Boats heads up the River Thames, London, ahead of the start of the Diamond Jubilee river pageant (Owen Humphreys/PA Wire)

Revellers queue to enter a Jubilee Party in Battersea Park on June 3, 2012 in London, England. For only the second time in its history the UK celebrates the Diamond Jubilee of a monarch. Her Majesty Queen Elizabeth II celebrates the 60th anniversary of her ascension to the throne. Thousands of well-wishers from around the world have flocked to London to witness the spectacle of the weekend's celebrations. The Queen along with all members of the royal family will participate in a River Pageant with a flotilla of a 1,000 boats accompanying them down The Thames. (Photo by Chris Jackson/Getty Images)

Jubilee revellers cross Chelsea Bridge ahead of the Diamond Jubilee River Pageant on June 3, 2012 in London, England. For only the second time in its history the UK celebrates the Diamond Jubilee of a monarch. Her Majesty Queen Elizabeth II celebrates the 60th anniversary of her ascension to the throne. Thousands of well-wishers from around the world have flocked to London to witness the spectacle of the weekend's celebrations. The Queen along with all members of the royal family will participate in a River Pageant with a flotilla of a 1,000 boats accompanying them down The Thames. (Photo by Chris Jackson/Getty Images)

People carrying umbrellas queue to enter Battersea Park festival on the route of the jubilee river pageant on June 3, 2012 in London. Britain's Queen Elizabeth II will sail on a royal barge down the River Thames as part of a huge pageant marking her diamond jubilee, in one of the biggest events of its kind in London's history. AFP PHOTO / JOHN MACDOUGALL (Photo credit should read JOHN MACDOUGALL/AFP/GettyImages)

A canal boat heads up the River Thames, London, ahead of the start of the Diamond Jubilee river pageant (Owen Humphreys/PA Wire)

Crowds brave the rain on the banks of the River Thames, near Tower Bridge in London, ahead of the start of the Diamond Jubilee river pageant (Owen Humphreys/PA Wire)

Members of the public wear royal masks near Tower Bridge during the Thames Diamond Jubilee Pageant on the River Thames in London on June 3 2012, where 1,000 vessels of all shapes and sizes will be part of the Diamond Jubilee river Pageant. Britain is celebrating the diamond jubilee of Queen Elizabeth II, marking 60 years on the throne during which she has set a number of landmarks. AFP PHOTO / IAN KINGTON (Photo credit should read IAN KINGTON/AFP/GettyImages)

Organisers start to dress the shops prior to the Jubilee street party in Marple Bridge, Stockport in Manchester on June 3, 2012. Britain kicks off four days of celebrations to mark Queen Elizabeth II's diamond jubilee, including a 1,000-boat river pageant and a star-studded concert. Britons nationwide will get out the bunting and hold street parties, sitting down to share lunch with their neighbours, reminiscent of the silver jubilee in 1977, when around 10 million people joined in the merriment. AFP PHOTO / ANDREW YATES (Photo credit should read ANDREW YATES/AFP/GettyImages)

Organisers start to dress the shops prior to the Jubilee street party in Marple Bridge, Stockport in Manchester on June 3, 2012. Britain kicks off four days of celebrations to mark Queen Elizabeth II's diamond jubilee, including a 1,000-boat river pageant and a star-studded concert. Britons nationwide will get out the bunting and hold street parties, sitting down to share lunch with their neighbours, reminiscent of the silver jubilee in 1977, when around 10 million people joined in the merriment. AFP PHOTO / ANDREW YATES (Photo credit should read ANDREW YATES/AFP/GettyImages)

A woman wearing an crown with the Britain's Union flags smiles while queueing up to enter Battersea Park before the start of the Battersee Park festival on the route of the jubilee river pageant on June 3, 2012 in London. Britain's Queen Elizabeth II sails on a royal barge down the River Thames as part of a huge pageant marking her diamond jubilee, in one of the biggest events of its kind in London's history. AFP PHOTO / JOHN MACDOUGALL (Photo credit should read JOHN MACDOUGALL/AFP/GettyImages)

Kibworth residents in Leicestershire use gazebos to cover tables from the rain before a street party, during the Diamond Jubilee celebrations (Rui Vieira/PA Wire)

Crowds gather on Westminster Bridge, London, ahead of the start of the Diamond Jubilee river pageant (Max Nash/PA Wire)

Revellers arrive to wait along the Thames river at the Southbank for the Jubilee celebrations, in London, on June 3, 2012, where 1,000 vessels of all shapes and sizes will be part of the Diamond Jubilee river Pageant. Britain is celebrating the diamond jubilee of Queen Elizabeth II, marking 60 years on the throne during which she has set a number of landmarks. AFP PHOTO/BEN STANSALL (Photo credit should read BEN STANSALL/AFP/GettyImages)

A royalist supporter wears a suit displaying the colours of the British Union flag as he walks beside the River Thames in London, on June 3, 2012, as Britain celebrates the Queen's Diamond Jubilee. Queen Elizabeth II was to sail on a ceremonial barge down the Thames on Sunday at the centre of a 1,000-boat pageant to mark her diamond jubilee, although heavy rain threatened to spoil the party. AFP PHOTO / BEN STANSALL (Photo credit should read BEN STANSALL/AFP/GettyImages)

Royal revellers wait in the rain on the south bank of the River Thames, London, for the start of the Diamond Jubilee river pageant. Picture date: Sunday June 3, 2012 (Lewis Whyld/PA Wire)

Visitors attending the Battersee Park festival wear masks featuring a likeness of (L-R) Prince Charles, Prince of Wales, Prince William and Britain's Queen Elizabeth II on the route of the jubilee river pageant on June 3, 2012 in London. Britain's Queen Elizabeth II sails on a royal barge down the River Thames as part of a huge pageant marking her diamond jubilee, in one of the biggest events of its kind in London's history. AFP PHOTO / JOHN MACDOUGALL (Photo credit should read JOHN MACDOUGALL/AFP/GettyImages)

Royalist supporters pose for pictures with Britain's Union flag wellington boots as they gather along the River Thames in London, on June 3, 2012, as Britain celebrates the Queen's Diamond Jubilee River Pageant. Queen Elizabeth II was to sail on a ceremonial barge down the Thames on Sunday at the centre of a 1,000-boat pageant to mark her diamond jubilee, although heavy rain threatened to spoil the party. AFP PHOTO / CARL COURT (Photo credit should read CARL COURT/AFP/GettyImages)

Spectators await the Royal Jubilee river Pageant near Tower Bridge in London, on June 3, 2012, where 1,000 vessels of all shapes and sizes will be part of the Diamond Jubilee river Pageant. Britain is celebrating the diamond jubilee of Queen Elizabeth II, marking 60 years on the throne during which she has set a number of landmarks. AFP PHOTO/ IAN KINGTON (Photo credit should read IAN KINGTON/AFP/GettyImages)

Royalist supporters gather along the River Thames in London, on June 3, 2012, to celebrate the Queen's Diamond Jubilee River Pageant. Queen Elizabeth II was to sail on a ceremonial barge down the Thames on Sunday at the centre of a 1,000-boat pageant to mark her diamond jubilee, although heavy rain threatened to spoil the party. AFP PHOTO / MIGUEL MEDINA (Photo credit should read MIGUEL MEDINA/AFP/GettyImages)

Crowds of revellers gather during the Thames Diamond Jubilee Pageant on the River Thames in London on June 3, 2012, as Britain celebrates the Queen's Diamond Jubilee River Pageant. Queen Elizabeth II is to sail on a ceremonial barge down the Thames at the centre of a 1,000-boat pageant to mark her diamond jubilee, although heavy rain threatened to spoil the party. AFP PHOTO/MIGUEL MEDINA (Photo credit should read MIGUEL MEDINA/AFP/GettyImages)

Crowds of revellers gather during the Thames Diamond Jubilee Pageant on the River Thames in London on June 3, 2012, as Britain celebrates the Queen's Diamond Jubilee River Pageant. Queen Elizabeth II is to sail on a ceremonial barge down the Thames at the centre of a 1,000-boat pageant to mark her diamond jubilee, although heavy rain threatened to spoil the party. AFP PHOTO/MIGUEL MEDINA (Photo credit should read MIGUEL MEDINA/AFP/GettyImages)

Crowds of revellers gather near Tower Bridge during the Thames Diamond Jubilee Pageant on the River Thames in London on June 3, 2012, as Britain celebrates the Queen's Diamond Jubilee River Pageant. Queen Elizabeth II is to sail on a ceremonial barge down the Thames at the centre of a 1,000-boat pageant to mark her diamond jubilee, although heavy rain threatened to spoil the party. AFP PHOTO/MIGUEL MEDINA (Photo credit should read MIGUEL MEDINA/AFP/GettyImages)

Crowds gather on Tower Bridge and along the bank of the River Thames in London, ahead of the start of the Diamond Jubilee river pageant. Picture date: Sunday June 3, 2012. See PA story ROYAL Jubilee Pageant. Photo credit should read: Owen Humphreys/PA Wire

Rowing boats begin to gather on the River Thames, London near Hammersmith Bridge, during the Diamond Jubilee river pageant. Picture date: Sunday June 3, 2012. See PA story ROYAL Jubilee. Photo credit should read: Anthony Devlin/PA Wire

A man wearing a Union Jack waistcoat onboard a rowing boat as they begin to gather on the River Thames, London, during the Diamond Jubilee river pageant. Picture date: Sunday June 3, 2012. See PA story ROYAL Jubilee. Photo credit should read: Anthony Devlin/PA Wire

Rowing boats begin to gather on the River Thames, London, during the Diamond Jubilee river pageant. Picture date: Sunday June 3, 2012. See PA story ROYAL Jubilee. Photo credit should read: Anthony Devlin/PA Wire