Microsoft has announced a new push to connect its Xbox gaming console with phones, tablets and PCs at the E3 gaming conference in Los Angeles.
Microsoft 'SmartGlass' will allow your phone and tablet to communicate with an Xbox 360, controlling games and displaying information about movies and TV shows while you're watching them.
Microsoft said:
"What if your tablet or phone knew what you were watching on TV and presented bonus features without you having to lift a finger? What if you could use your tablet to draw up a play in EA SPORTS' "Madden NFL" and then perform it to perfection on your TV? What if you could control your favourite websites on the TV with a simple swipe, pinch or zoom on your tablet's touchscreen?

Launching this year, Xbox SmartGlass is an application for Windows 8, Windows Phone and other portable devices that connects phones, PCs and tablets with your Xbox 360 console to make your entertainment smarter, more interactive and more fun.

"Xbox is on a mission to make the entertainment that you love even more amazing," said Don Mattrick, President of the Interactive Entertainment Business at Microsoft. "With Xbox SmartGlass, we are lighting up entertainment across your phone, tablet, PC and TV in a completely new way. If you love to play games, watch TV and movies, surf the Web or listen to music, there has never been a better time to be on Xbox."
SmartGlass will allow you to use tablets as games controllers - for instance using it to draw out team orders during games of Fifa, or starting multiplayer battles of Call of Duty.
Similar in some respects to the already announced Nintendo Wii U, which uses tablet-style controllers, industry watchers will be keen to see how Nintendo responds in its own keynote on Tuesday.
At the press conference, Microsoft also announced that Internet Explorer will be launched for the Xbox in autumn 2013, and will use Kinect voice controls and phone apps to make it more usable than previous attempts to bring the web to the living room.
Xbox Music, also unveiled at the event, will allow Windows 8 PCs and phones as well as Xbox 360 to share and play a massive music library of over 30m tracks - though details on how the system works were not given at the conference.
Microsoft also used the event to give details about a range of upcoming games:
Below are the best screenshots from one of the highlights - Halo 4.
Halo 4 E3 2012 Screenshots
Take a look at the announcements as they happened below.
04/06/2012 18:50 BST
Call of Duty: Black Ops 2
Microsoft shows a trailer for Call of Duty: Black Ops 2.
The story features the American president being transported by the Black Ops team amid some kind of apocalyptic futuristic drone attack.
"Get the president down there while I provide cover fire!," etc.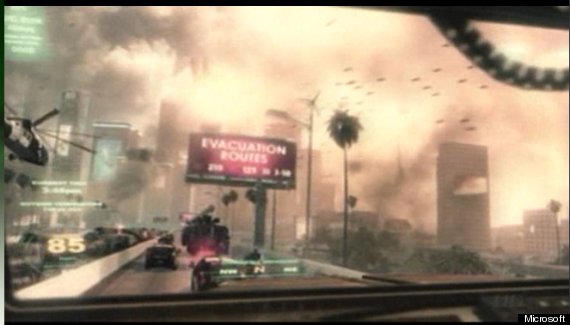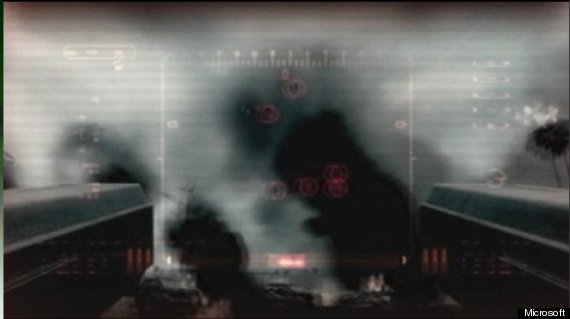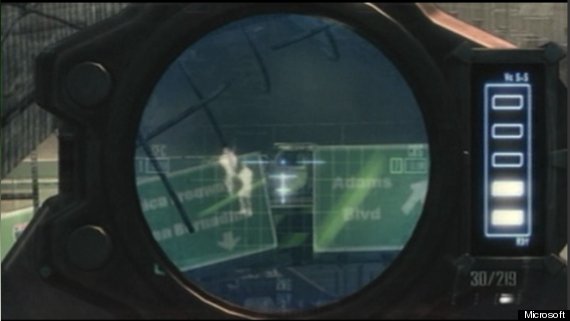 04/06/2012 18:45 BST
Dance Central 3... And Usher
Dance Central 3 is shown by developers Harmonix - Usher appears on stage to show how the moves for his new single go, which presumably you'll be able to do in the game.
"Dance Central 3" (Harmonix Music Systems Inc., Microsoft Studios). The bestselling dance game series on Kinect returns this fall with "Dance Central 3." It features dance hits from today and also sends players back in time to the '70s, '80s, '90s and '00s — hitting the dance floor to learn classic dances like "The Hustle," "Electric Boogie" and "The Dougie." Premier music video game developer Harmonix keeps the dance party going with a new multiplayer party mode for up to eight players and the hottest, most diverse soundtrack yet. Featuring Usher, Daft Punk, Gloria Gaynor, 50 Cent and many more, "Dance Central 3" is sure to get any dance party started.
04/06/2012 18:43 BST
South Park: Stick of Truth
A new South Park game 'Stick of Truth' - billed as the 'next South Park Adventure - is trailed.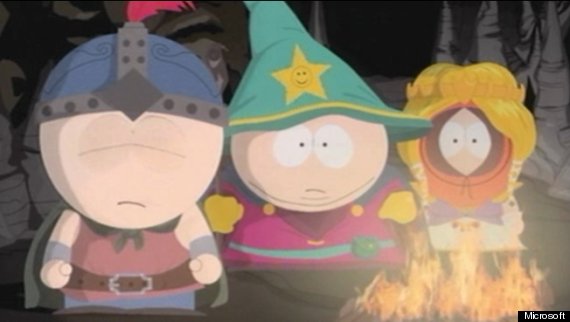 Trey Parker and Matt Stone - creators of South Park - come out to announce the game.
After making fun of SmartGlass they discuss the game, and their ambition of making the game look like the show. Which is "kinda crappy", they say.
"South Park: The Stick of Truth." Written and voiced by Trey Parker and Matt Stone, "The Stick of Truth" is the most epic South Park experience to date. Earn your place alongside Stan, Kyle, Kenny and Cartman, and aid them in a hysterical adventure to save South Park as only fourth-graders can. Recruit classic South Park characters to your cause, such as Professor Chaos or Jesus, armed with a machine gun. Arm yourself to the teeth with an arsenal of magical weapons and mystical armor to defeat crab people, underpants gnomes, hippies and other forces of evil. Succeed and you shall be South Park's savior, cementing your social status in South Park Elementary. Fail, and you will forever be known … as a loser.
04/06/2012 18:40 BST
Wrecketeer
A new Xbox Live game 'Wrecketeer'- which looks like a medieval version of Worms crossed with Angry Birds controlled by Kinect - is trailed. Doesn't look that amazing - but it's out this summer.
"Wreckateer" uses Kinect to put you in control of a massive castle-wrecking ballista. With the help of Wreck and Tinker, travel the land and destroy 60 goblin-infested castles using six magical projectiles. Aim and fire each shot and then control it in mid-air, motion-activating special powers and guiding them toward their target. Utilise an arsenal of Flying, Explosive, Splitting and rocketing Speed shots to explore the infinite ways you can wreak havoc with "Wreckateer"'s fully dynamic destruction.
04/06/2012 18:37 BST
Resident Evil 6
Capcom is up to show off gameplay from Resident Evil 6.
It looks very cinematic, but as with many of these gameplay trailers it's hard to tell where the game begins and the CG cut scenes end.
The trailer concludes with our hero kicking a zombie off his leg while clambering onto a helicopter in flight.
Oh and then the copter crashes. Into a train. And then a building. Later some desks, and an advertising board. Finally, it crashes into the ground.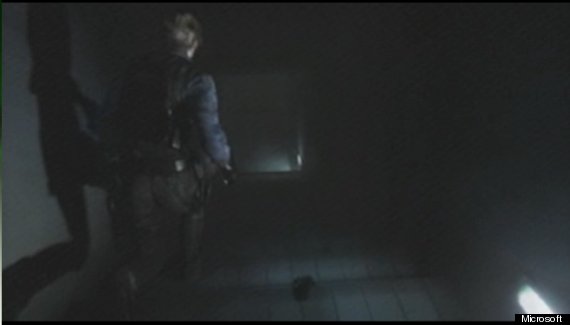 04/06/2012 18:32 BST
Three New Titles Announced
Phil Spencer is back on stage to announce three 'World Premier Exclusives'.
Ascend: New Gods - a fantasy-themed fighting action game.
Signal Studios, the developers behind the hit franchise "Toy Soldiers," is pleased to announce its new action role-playing game (RPG), "Ascend: New Gods." Enter the world as Caos, a gigantic breed of mighty warriors created to serve the will of the Gods. Combat the immortal Titans while fending off attacks from rival players and establishing your influence in the global Ascend conflict. Epic three-scale combat takes place across immense landscapes and limitless dungeons. "Ascend: New Gods" offers unprecedented connectivity across mobile and console Xbox LIVE platforms. Wage war against Xbox 360 players from your mobile phone, gain power and prestige, and transfer it all to your console — anywhere, anytime.
LocoCycle - a game featuring a cyborg motorbike named Iris.
Presenting I.R.I.S.: Two-time Valedictorian of the illustrious Big Arms Academy's School of Assassination. I.R.I.S. is proficient in more than 40 forms of unarmed combat, earning Sensei status in Jiu-jitsu, Aikido, Krav Maga and Jeet Kune Do. She is equally deadly with blades, handguns and the latest in nuclear technology. Fluent in more than 50 languages and virtually every local custom, I.R.I.S. can blend in and disappear at a moment's notice in any country around the world. She was the first female cadet to break the four-minute mile — by three minutes and forty seconds. All this won't even run down her batteries. Twisted Pixel Games proudly presents "Lococycle." Today's criminal requires tomorrow's hero.
Matter - a new game for Kinect apparently (?) based in the Tron universe.
Experience a hero's journey across a mysterious and visually stunning world. "Matter" brings the unique vision of Academy Award-winning director Gore Verbinski exclusively to Xbox 360 and Kinect.
04/06/2012 18:25 BST
Tomb Raider: New Gameplay Videos
A new gameplay video is shown for the upcoming reboot of Tomb Raider.
In it Lara attacks a few bad guys, falls into a river, lands inside a crashed plane, parachutes through a forest and lands outside - yes - a big old tomb.
It's busy stuff, and it looks good. If you missed the recent trailer check it out below.
The first DLC for Tomb Raider will be exclusive to Xbox 360, it is announced.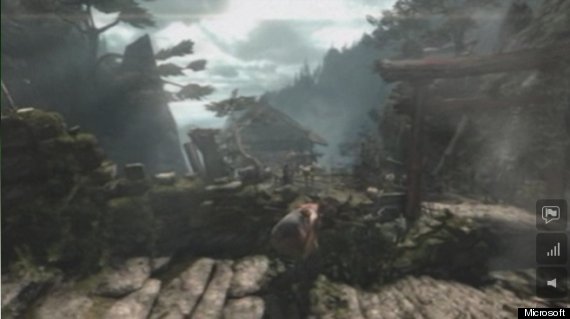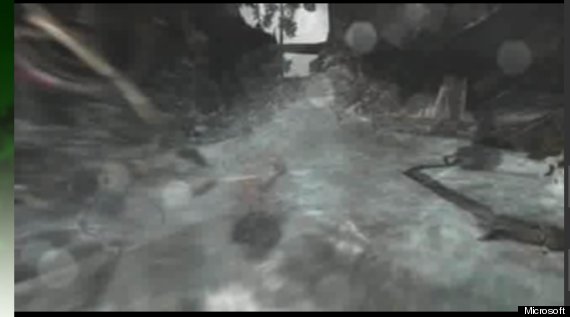 04/06/2012 18:22 BST
XBox Games For Windows 8
It is announced Xbox games will be brought to Windows 8 - though it's not clear exactly what that means.
SmartGlass will also be heading to PCs.
04/06/2012 18:21 BST
Internet Explorer Headed To Xbox
Using Kinect voice control Microsoft is promising to make the web usable on a TV even though "keyboards don't belong in the living room".
You'll be able to use your phone as a pointer, as well as watch videos in HD.
This will launch in autumn 2013.
04/06/2012 18:14 BST
Xbox SmartGlass: Connecting Phones & Tablets
Xbox announces Smartglass, a way to combine phones and tablets and your TV - including iOS and Android devices - to make them all more interesting.
One example sees your tablet (Windows 8) showing you info about a movie when you watch it on your Xbox.
When you watch Game of Thrones on TV, for instance, your tablet will show you additional information about the show.
When you play Madden on your Xbox you'll be able to select plays on your tablet, and Halo will use your other devices to show weapons information, lets you select multiplayer matches and other useful stuff.
Microsoft will also use SmartGlass to put the web on your TV - by adding Internet Explorer to Xbox.
SUBSCRIBE TO & FOLLOW UK DAILY BRIEF