Nintendo has unveiled a virtual theme park which it says will introduce its new gaming console to the world.
The park - 'NintendoLand' - will be the flagship title for the company's Wii U console, the successor to the popular Wii.
At its E3 keynote in Los Angeles, Nintendo said the theme park will feature 12 "experiences" or mini games which will show off the console at its best.
NintendoLand will include games based around the Legend of Zelda, Luigi's Mansion and Donkey Kong, the company said.
Nintendo also unveiled the latest Mario game which will be launched with the new console.
Super Mario Bros U will feature improved multiplayer and cooperative modes, and HD graphics. It will also utilise Nintendo's innovative "second screen" gamepad, as well as characters and levels familiar from previous games.
Super Mario Bros. U Screenshots
Nintendo's keynote followed similar events by Microsoft and Sony where they also unveiled new games and features - but no new consoles - at the world's largest video game conference.
Other announcements made at the press event included:
Batman Arkham City: Armoured Edition: A Wii U-specific version of the popular Dark Knight game.
Pikmin 3: A new strategy game for Wii U
Wii Fit U: A new fitness peripheral based on the popular Wii Fit.
WIi U: Lego City: A 'Grand Theft Auto' for kids based in the Lego universe.
Take a look below for more details on all the announcements via our liveblog.
05/06/2012 18:49 BST
Mass Effect 3 coming to Wii U
05/06/2012 18:44 BST
Nintendo E3: Wii U Roundup
05/06/2012 18:13 BST
@ timothydclark :

Response in the room to NintendoLand feels deathly. Of all the things you might lift from Sony, Home would not be high up the list
05/06/2012 18:01 BST
Wii U: NintendoLand
A new title - NintendoLand - is the Wii Sports for Wii U, Reggie says.
Katsuya Eguchi (Wii U software producer) explains that the game will feature 'attractions' from many of Nintendo's most popular IP.
You'll be a character in each world - but also your Mii - when you play each of the 12 attractions, including:
Legend of Zelda: Battle Quest
Luigi's Ghost Mansion
Animal Crossing
Donkey Kong's Crash Course
Takamuru's Ninja Castle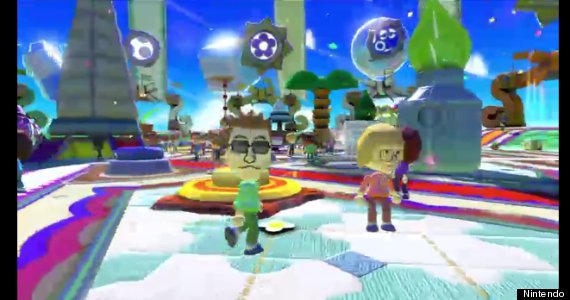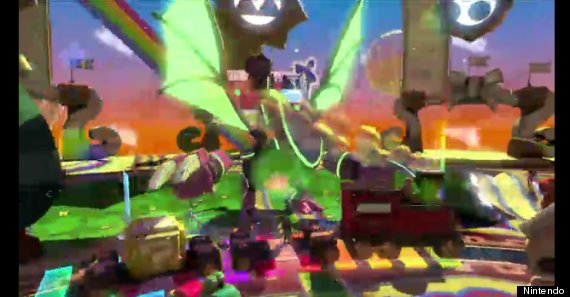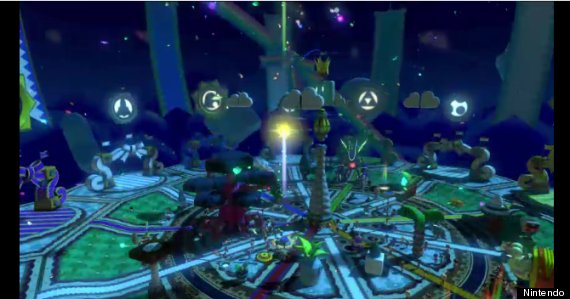 The below is from Luigi's Mansion - a game where four players have to hunt a ghost played by a player using the Wii gamepad with a screen. Like a co-op Pac Man.
It looks interesting - but not as obvious to understand as - say - Wii Tennis.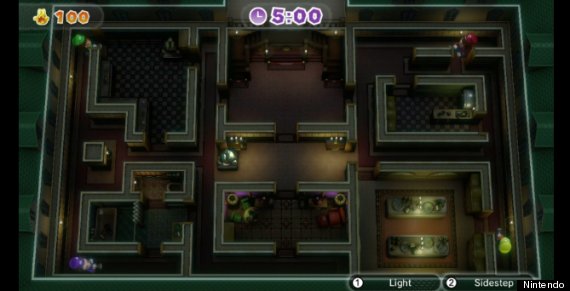 05/06/2012 17:56 BST
ZombiU
A cool-looking new Zombie game (ZombieU, actually shown at Ubisoft's presser yesterday) is shown off. It looks like an interesting new take on Zombie survival - and includes a level set on the London tube.
05/06/2012 17:51 BST
Ubisoft: Rayman Legends, Rabbids Land and ZombiU.
Yves Guillemot, CEO of Ubisoft is on stage to sing the praises the "innovative" Wii U.
He mentions Rayman Legends, Rabbids Land and ZombiU - all shown during its own press conference yesterday.
Now Xavier Poix, Ubisoft MD, is on stage to show off Just Dance 4.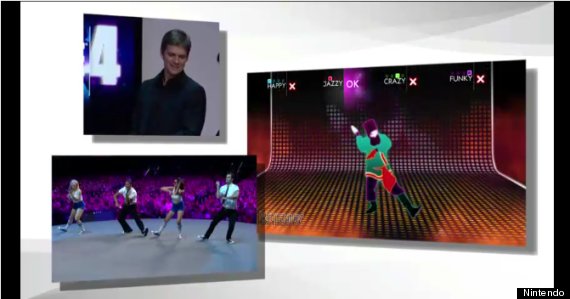 You'll be able to control what the dancers have to do via the Wii U controller - be the 'puppet master', as it were.
05/06/2012 17:48 BST
Wii U: Lego City
Lego City: Undercover for Wii U is announced - it looks a bit like GTA but in Lego. For kids, kinda.
If you're Lego fan you'll be into this. It's also heading to 3DS.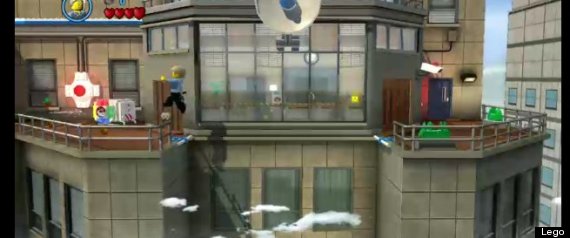 05/06/2012 17:44 BST
3DS News: Mario Bros, Paper Mario
"Where's the love?" asks Scott Moffitt, the vice president of sales and marketing from Nintendo and 3DS chief.
Fair question, given the 3DS's flagging sales.
First he introduces Super Mario Bros 2 - and says the details will be unveiled tomorrow in a separate 3DS event.
Then he intros a 'Sticker' feature for a new Paper Mario game ('Sticker Star') coming for the holidays in 2012.
Finally... Luigi's Mansion.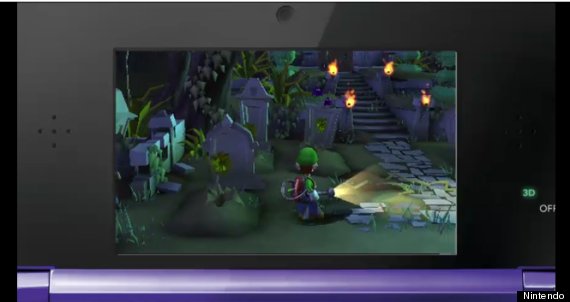 He also gives a glimpse of new third party games - Kingdom hearts 3D, a new Epic Mickey game, Scribblenauts and Castlevania.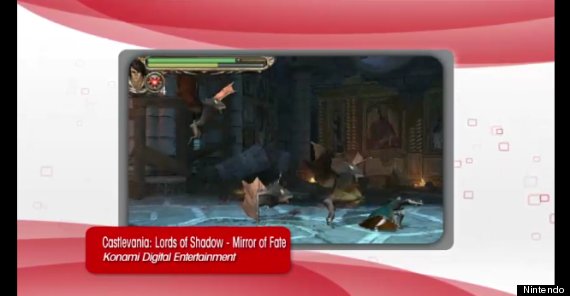 05/06/2012 17:38 BST
'Sing'
A new game for Wii U (codenamed 'Sing') is shown, which appears to be a sort of advanced karaoke game which is all about group participation.
05/06/2012 17:37 BST
Wii Fit U
Nintendo unveils a new version of the popular Wii Fit peripheral for Wii U.
Named... the Wii Fit U it looks similar - but also includes off-TV modes, an offline fitmeter and new actions and games.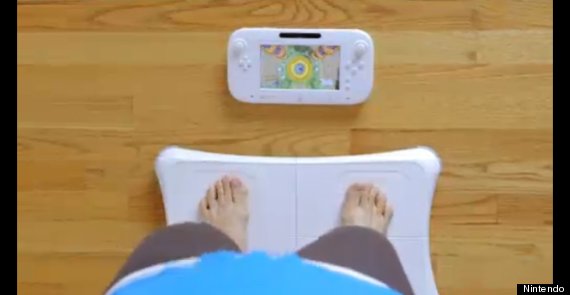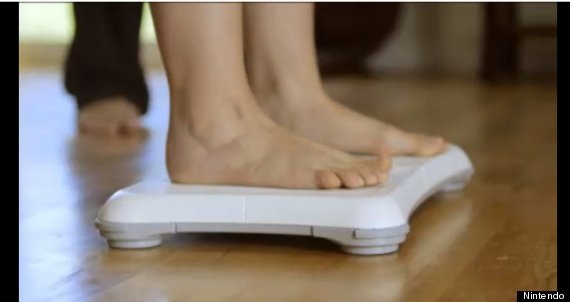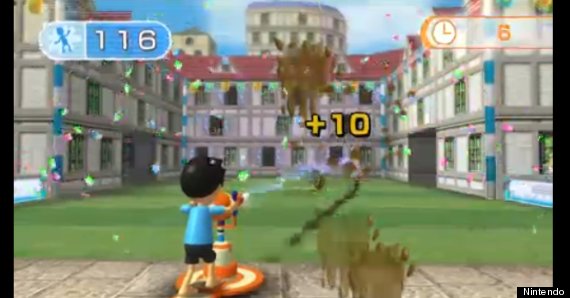 SUBSCRIBE TO & FOLLOW UK DAILY BRIEF