Britain's top supermodels are the latest to get involved with the London 2012 Olympics. No, they're not doing a sprint catwalk or using each other as javelins - although we can dream!
Catwalk queens Naomi Campbell and Kate Moss are among the big names who will strut their stuff in the London 2012 Olympic Closing Ceremony to showcase the best of British fashion.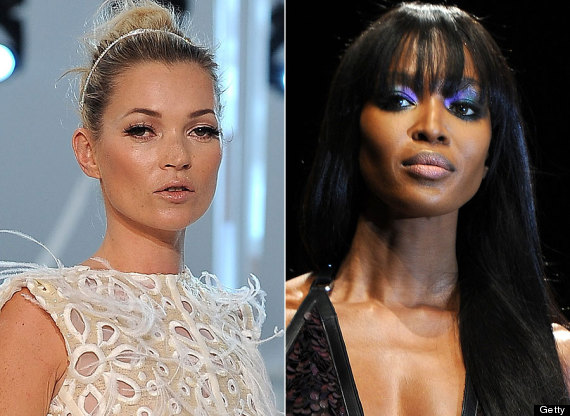 Another long-limbed lass by the name of Rosie Huntington-Whiteley - best known for her role in the Transformers film, relationship with Snatch's Jason Statham and her signature puffy-lipped pout - will also join them.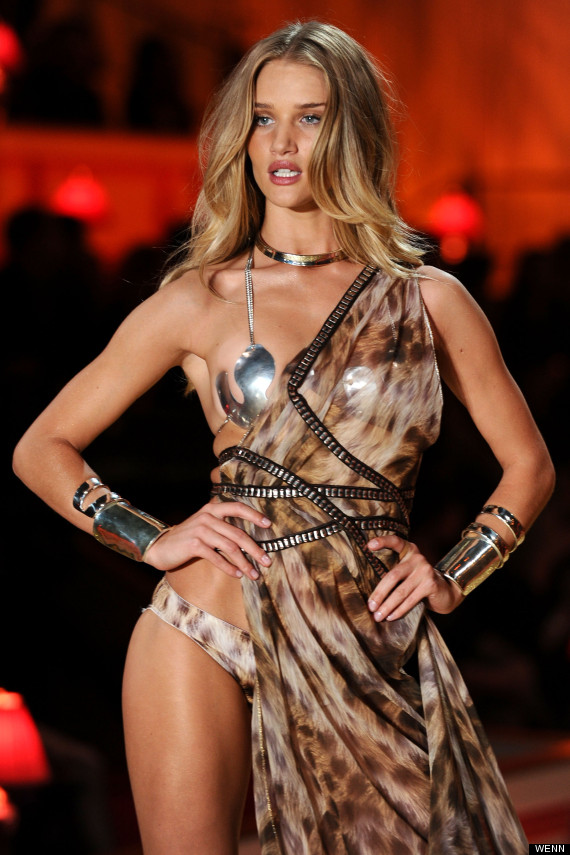 London 2012 just keeps getting more and more fash as the months go on - first Stella McCartney designed the GB kit and now Kate, Naomi and Rosie are involved.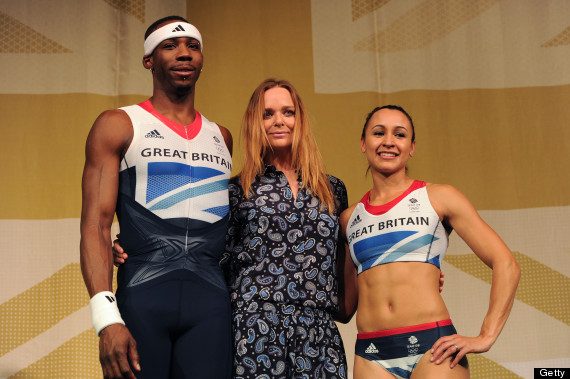 Stella presents her Team GB kit
Supermodels Through The Ages
Veruschka The aristocratic German model rose to fame in the 60s, and her Amazonian beauty (she towered over contemporaries like Twiggy and Jean Shrimpton at 6'1"), was photographed by the likes of Richard Avedon and Peter Beard, and captured on-screen in her memorable appearance in Antonioni's cult film Blow Up. She continues to inspire designers including Tom Ford, Michael Kors and Giles Deacon, and walked in Deacon's Spring 2011 show, aged 71.

Alek Wek Sudanese born Wek's striking features and long limbs make for a uniquely beautiful combination that were all the rage in the post-supermodel era 1990s. Wek has appeared in shows and campaigns for designers from Donna Karan to Christian Lacroix and was the first African model to land the cover of Elle.

Christy Brinkley The American beauty exploded onto the fashion scene in the late 1970s to become one of the most recognisable faces (and bodies) of the 1980s. Her surfer girl beauty - All-American good looks with blonde hair, blue eyes and a glowing smile - landed her a record 20-year contract with CoverGirl cosmetics, consecutive Sports Illustrated Swimsuit Issue covers, campaigns for Prell shampoo and Chanel and over 200 magazine covers. In 2011, Brinkley made her stage-debut as Roxie Hart in the musical Chicago.

Christy Turling The California girl's delicate features helped catapult her to international stardom alongside models Naomi, Linda and Cindy in the 1980s. A muse to Calvin Klein for two decades, she's also been the face of Versace and Maybelline and appeared on over 500 magazine covers.

Cindy Crawford American beauty Cindy Crawford is one of the most celebrated models of the 1980s and 1990s, and has been the face of brands including Versace, Revlon, Omega and Clairol. The 5'9" brunette stunner is known for her trademark mole above her upper lip. Her daughter Kaia recently made her modelling debut as the face of Young Versace.

Claudia Schiffer German-born Claudia Schiffer was one of the supermodels of the 1990s - often compared to Brigitte Bardot - whose blonde hair, blue eyes and enviable curves landed her a Guess? Jeans campaign before Karl Lagerfeld tapped her as the face of Chanel.

Crystal Renn Crystal Renn is in the unique position of having been a successful model at a variety of body weights, from model-slim to plus-sized to her current size 10 frame. She's appeared in campaigns for the likes of Jean-Paul Gaultier, Jimmy Choo and Chanel.

Daria Werbowy Ukrainian Canadian beauty Daria Werbowy holds the record for opening and closing the most catwalk shows in one season, and has appeared in campaigns for Lancôme, Prada and Louis Vuitton.

Elle Macpherson The Sydney-born model became a household name in the 1980s and 1990s, landing a series of top magazine covers and a string of appearances in Elle. Nicknamed "The Body," Elle went on to launch a lingerie business, Elle Macpherson Intimates, and is the current host of Britain and Ireland's Next Top Model.

Freja Beha Erichsen The Danish beauty is one of the top models of the Noughties, whose tough girl, androgynous appeal has landed her campaigns for Balenciaga, Jil Sander, Chanel and more.

Eva Herzigova The Czech-born model with the celebrated curves became an instantly recognisable face (among other body parts) when she starred in 1994's "Hello Boys" campaign for Wonderbra.

Gisele Bündchen Brazilian bombshell Gisele is credited with bringing sexy back after the era of the waifish model in the nineties. Known for her killer curves and bouncy hair, she has been the highest-paid model in the world since 2004, with an estimated fortune of $570million.

Heidi Klum The German beauty's celebrated curves have landed her numerous Sports Illustrated Swimsuit Issue covers and earned her a pair of Victoria's Secret Angel wings. Klum has propelled herself to international stardom as the host of Project Runway, and has designed maternity wear, makeup, jewellery, clothing and fragrances.

Helena Christensen Smouldering Danish supermodel Helena Christensen's good looks and sex appeal landed her a Revlon contract, numerous campaigns and magazine covers and a starring role in the music video for Chris Isaak's "Wicked Game," voted among the sexiest videos of all time.

Iman The Somali-born supermodel became a hit in the 1970s when she was discovered by photographer Peter Beard. Iman has served as muse to designers including Yves Saint Laurent, Valentino, Calvin Klein, Donna Karan and Versace in the 70s and 80s. The high-profile model is married to David Bowie and runs her own skincare line for women of colour, Iman Cosmetics.

Jean Shrimpton The British beauty and face of the Sixties was known for her doe eyes and slim figure, which earned her the nickname "The Shrimp." A muse and fiancée of David Bailey's, Shrimpton's frequent appearances on the covers of magazines like Vogue, Harper's Bazaar, Vanity Fair, Time and Glamour have landed her the title of world's first supermodel, and she's also credited with the birth of the miniskirt after appearing at Australia's Melbourne Cup wearing outfits cut above the knee.

Janice Dickinson The self-proclaimed "world's first supermodel" became known for her exotic looks, which graced the covers of magazines from Vogue to Sports Illustrated in the 1970s. The model returned to the spotlight in 2003 as a judge on hit reality series America's Next Top Model.

Jerry Hall The striking Texan's six-foot-frame and long, blonde hair was the perfect canvas for the decadent Seventies and the model's first catwalk show was for the legendary Yves Saint Laurent. Her 70s-glam aesthetic is still inspiring designers, and she often models alongside her daughter, Georgia May Jagger, a rising star in the modelling world.

Karen Elson The Manchester-born model's quirky good looks and flame red hair epitomised the post-supermodel era interest in unique and atypical types of beauty. That famous red hair isn't natural - Christina Hendricks encouraged Elson to try the shade after the two were on a shoot together.

Kristen Mcmenamy The American model had a successful catwalk and campaign career spanning the late eighties and 1990s, and made a successful comeback to the fashion scene in 2010, when she helped spark the trend for prematurely grey hair.

Linda Evangelista This fashion chameleon was known for her trademark short haircut (and ever-changing hair colours) and for uttering the immortal phrase: "We don't wake up for less than $10,000 a day."

Kate Moss Not only did Kate Moss define the waifish, heroin-chic look of the 1990s - a swing away from top models of the period with curvier frames like Cindy Crawford - her feline beauty and boho chick style ensure that she continues to act as muse and model for all the top labels, from Dior to YSL.

Miranda Kerr Australian supermodel Miranda Kerr became one of the Victoria's Secret Angels in 2007 - and the first Australian to land the coveted contract - and is known for her trademark dimples. She is also a high fashion model who has walked on the Balenciaga, Chanel, Stella McCartney and Lanvin catwalks and modelled for the likes of Prada and Jil Sander.

Nadia

Natalia Vodianova The Russian belle - who spent her early days selling fruit at a market stall - is one of the most recognisable faces of the 1990s and 2000s, and has acted as muse for designers like Calvin Klein and Stella McCartney.

Naomi Campbell The most famous black model of her time, Streatham-born Naomi Campbell broke racial barriers in the modelling industry and has been a muse for designers from Versace to Dolce & Gabbana. Known for her high cheekbones and muscular physique, Naomi also has a penchant for grabbing headlines for her dramatic brawls off the catwalk.

Paulina Porizkova The Czech-born model became one of the most recognisable faces of the 1980s, and shot to international fame after her consecutive appearances on the cover of Sports Illustrated's Swimsuit Issues. In 1988, Porizkova landed the highest-paid modelling contract of the period: A six-million-dollar deal as the face of Estée Lauder.

Amber Valletta & Shalom Harlow The two models with the regal looks quickly became favourites of photographers like Steven Meisel and Peter Lindbergh and designers like Karl Lagerfeld and John Galliano. The real-life besties were often shot together for covers and magazine spreads.

Penelope Tree With her trademark fringe and statement lashes, Penelope Tree's kooky beauty quickly established her as one of the leading faces of the Sixties and muse to photographer David Bailey, who credits her with helping propel the flower-power movement of the era.

Stella Tennant This aristocratic Brit caught the world's attention after she was handpicked by Isabella Blow for the £80,000 "Anglo Saxon Attitudes" shoot by Steven Meisel for British Vogue.

Stephanie Seymour The American model stormed down all the top catwalks, landed on covers from Sports Illustrated to Vogue and was one of the original Victoria's Secret models.

Twiggy Twiggy (née Lesley Hornby) caused a sensation with her androgynous beauty, complete with pixie haircut and tiny frame (she stands 5'6" and weighed eight stone at the height of her fame). Her adolescent physique perfectly suited the A-line dresses and unisex styles of the era. Twiggy, now in her sixties, continues to model in campaigns for M&S and Olay.

Tyra Banks California-born Banks is a celebrated model that has graced the major catwalks from Chanel to Fendi, appeared in campaigns for Dolce & Gabbana and Yves Saint Laurent and was the first African-American woman to land the cover slots of GQ and the Sports Illustrated Swimsuit Issue. Known for her enviable curves, Banks is one of the original Victoria's Secret Angels, and is now a successful producer and host of America's Next Top Model and The Tyra Banks Show.