UN monitors in Syria are being shot at with small arms and blocked from entering villages in Hama province where a reported massacre of up to 100 civilians has taken place, Reuters has reported.
UN observers were shot at with small arms, UN chief Ban-Ki Moon told the UN assembly in New York. He described the attack as "shocking and sickening" and of "unspeakable barbarity" saying that Assad has lost "all legitimacy" reports Sky News.
General Robert Mood said UN observers are being stopped at army checkpoints "and in some cases turned back", leaving them unable to confirm the reports.
People described as civilians are also said to be preventing monitors from entering an area near the west of Hama, the BBC reported. However Syrian state TV has said that UN observers have entered the village, reports the BBC.
Horrific reports of the attack on the farming villages of Qubair and Maarzaf, 12 miles north of Hama emerged from opposition activists emerged earlier on Thursday.
Activists close to the scene described the some of the alleged atrocities, including one of a three-month old baby burned to death and others of men being stabbed outside their homes.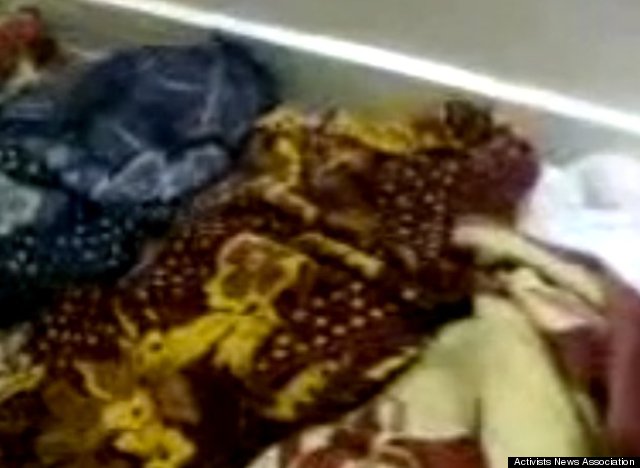 Taken from a video posted on the Facebook page for the Activists News Association this shows some of the bodies after the massacre. This has not been independently verified
Pro-government militia and security forces are being blamed for the deaths. However Syrian authorities have said that terrorists are responsible for the attack.
US Secretary of State Hilary Clinton described the "regime-sponsored violence" as "unconscionable" adding "Assad has doubled down on his brutality and duplicity and Syria will not, cannot, be peaceful, stable or certainly democratic until Assad goes." US Secretary of State Hilary Clinton called on President Assad to step down
Echoing David Cameron, Clinton said "the time has come for the international community to unite around a plan for post-Assad Syria."
She called on Assad to "transfer power and depart Syria" and reiterated the importance of intensifying the sanctions pressure as part of Kofi Annan's six-point peace plan.
At a meeting of the UN Security Council in New York UN-Arab League envoy Annan is expected to propose a contact group to try and revive the ailing plan, which was meant to see a ceasefire between opposition groups and Assad's regime in April.
Cameron said earlier: "If these reports are true, it is yet another absolutely brutal and sickening attack.

David Cameron has condemned the attacks, which is one of the bloodiest in the 15-month uprising against Assad
He called on the international community to "do much more" to "isolate Syria, to isolate the regime, to put the pressure on and to demonstrate that the whole world wants to see a political transition from this illegitimate regime and to actually see one that can take care of its people.
The council would include international and regional powers, including Russia and China, which would then negotiate with the government in Damascus.
However Russia and China are continuing to resist attempts to undermine Assad's regime, and refuse to support military intervention. In a joint statement issued on Wednesday, they said they are "decisively against attempts to regulate the Syrian crisis with outside military intervention, as well as imposing ... a policy of regime change" reports news agency AFP .
Meanwhile the exiled Syrian National Council called on the UN "to stop waiting out of hope that the Assad regime will abide by terms of the peace plan."
They added in a statement on their website: "It has become clear Assad is abusing the plan to kill more Syrians."
A statement from the government aired on the Syrian state TV denied the claims saying that what is reported is "completely false" reports Sky News.
"The reports by the media are contributing to spilling the blood of Syrians" it adds.
The massacre in the villages outside Hama follow some of the the worst bloodshed since the start of the U.N peace plan. An attack on Houla, in central Syria, resulted in the deaths of more than 90 people, including 32 children under the age of 10, according to United Nations observers, earlier in May.
Local activist Abu Yazan told the paper that the shelling killed 12 people, with 106 killed by pro-regime thugs called "shabiha".
Videos posted to an activist network appear to show the killings in Hama, but they have not been independently verified. The content is too graphic to embed in this article.
SUBSCRIBE AND FOLLOW
Get top stories and blog posts emailed to me each day. Newsletters may offer personalized content or advertisements.
Learn more