More than a month's worth of rain fell in just 36 hours in parts of England, the MET office have revealed.
Sussex and Surrey were among the areas worst hit, as low pressure gave way to persistent heavy rainfall.
Wiggonholt in West Sussex saw 72mm of rainfall, almost one and a half times the 52.9mm average for the whole of June.
The wet weather is set to continue throughout the week, and the MET office have severe weather warnings for Wales and southern England.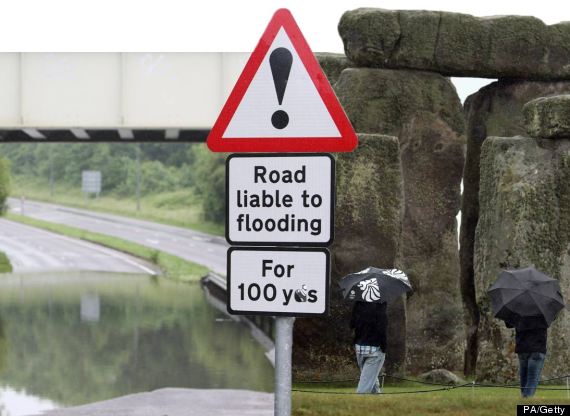 The Environmental Agency have issued a statement outlining the risk of potential flooding and have urged people to check their website for local flood warnings.
There are no severe flood warnings, the highest alert, which indicates an immediate danger to life.
Some 50 flood alerts have been issued across England and Wales and six flood warnings - for: River Ouzel at Leighton Buzzard; River Mole at Charlwood and Hookwood including Povey Cross Road and Gatwick Airport, West Sussex and Surrey; River Mole at Sidlow, Leigh and Betchworth including Kinnersley Manor, Surrey; The Barnham Rife at Barnham, including the B2233, Lake Lane, Orchard Way, and Downview Road, West Sussex; The Aldingbourne Rife at Bersted, including Addison Way, Riverside Caravan Park, and the South Bersted industrial estate, West Sussex; The Aldingbourne and Lidsey Rifes at Felpham, including the Whitfield Close, the A259, Links Avenue, and Butlins Holiday Centre, West Sussex.
The average June rainfall for south east, central and southern England is 50 millimetres.
In just a 12-hour period yesterday Otterbourne, in Hampshire, saw 39 millimetres of rainfall.
The flooding has already wreaked havoc across parts of the country, causing the closures of roads and a hospital.
Emergency cases at Worthing Hospital in West Sussex were diverted to neighbouring Brighton and Chichester for several hours overnight because of flooding.
Meanwhile, a special disaster fund is to be set up after more than 1,500 people were evacuated and 150 rescued in Mid Wales over the weekend.
Water up to five feet gushed through homes and businesses in Ceredigion, Powys and Gwynedd, with the clean-up and insurance costs expected to run into millions of pounds.
Nearby residents from the village of Pennal, near Machynlleth, Powys, mid Wales, were also evacuated last night following a breach in the dam of a quarry.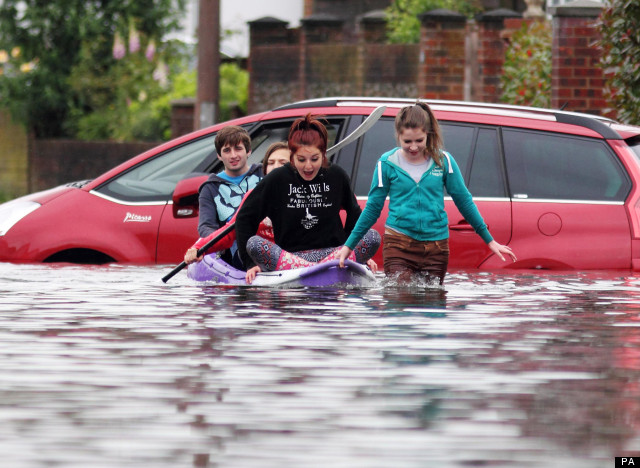 They were taken to Machynlleth Leisure Centre and other temporary refuges.
But despite the heavy rainfall, an Environment Agency spokesman confirmed areas of southern England remained in drought.
He said: "The rain we have had since the start of April - following the driest March for 70 years - has led to a huge improvement in water resources, putting us in a much more positive position for the summer.
"Water companies have seen reservoir levels rise, river levels are mostly back to normal, and many wildlife habitats that were suffering due to a lack of water have recovered.
"While the risk of drought with further water restrictions and associated environmental impacts this summer has reduced, the situation could deteriorate again next year if there is not enough rain this winter, particularly as groundwater levels are still low for this time of year." The Met Office said the UK was still below its average rainfall for the time of year. Between January and May, 392.5 millimetres of rain fell across the country, compared to an average of 439 millimetres.
In southern England - including drought-hit areas in East Anglia, the South East and the Thames Valley region - 281.8 millimetres of rain fell from January to May, compared to an average of 303.2 millimetres.
The Environment Agency warned people to remain vigilant and check its website and Twitter feed for the latest situation. The agency added that the public was "strongly" advised to stay away from swollen rivers and not to drive through floodwater.
The RSPCA said it was working closely with fire services to rescue stranded animals, including 20 cows at Cuckfield Road near Hurstpierpoint, West Sussex, left marooned on a river bank.
This morning the Environment Agency issued another flood alert, taking the figure to 51, and another flood warning - at River Colne in Colney Heath, Hertfordshire - taking the figure to seven.
Loading Slideshow
A man shelters from the wind and the rain on June 11, 2012 in Southsea, England. The Met Office has issued severe weather warnings for England and Wales for heavy rain and the Environment Agency has issued flooding alerts in more than 30 areas in south-east England, Wales and the Midlands. The UK's unseasonable weather is said to be due to the jet stream bringing low pressure further south than normal and forecasters say the wet and windy weather could continue for the next few weeks. (Photo credit: Matt Cardy/Getty Images)

Rain falls onto a icecream vendor's booth on June 11, 2012 in Southsea, England. The Met Office has issued severe weather warnings for England and Wales for heavy rain and the Environment Agency has issued flooding alerts in more than 30 areas in south-east England, Wales and the Midlands. The UK's unseasonable weather is said to be due to the jet stream bringing low pressure further south than normal and forecasters say the wet and windy weather could continue for the next few weeks. (Photo credit: Matt Cardy/Getty Images)

A jogger braves the wind and the rain on June 11, 2012 in Southsea, England. The Met Office has issued severe weather warnings for England and Wales for heavy rain and the Environment Agency has issued flooding alerts in more than 30 areas in south-east England, Wales and the Midlands. The UK's unseasonable weather is said to be due to the jet stream bringing low pressure further south than normal and forecasters say the wet and windy weather could continue for the next few weeks. (Photo credit: Matt Cardy/Getty Images)

Visitors to the UNESCO World Heritage site Stonehenge brave the wind and the rain on June 11, 2012 near Amesbury, England. The Met Office has issued severe weather warnings for England and Wales for heavy rain and the Environment Agency has issued flooding alerts in more than 30 areas in south-east England, Wales and the Midlands. The UK's unseasonable weather is said to be due to the jet stream bringing low pressure further south than normal and forecasters say the wet and windy weather could continue for the next few weeks. (Photo credit: Matt Cardy/Getty Images)

Visitors to the UNESCO World Heritage site Stonehenge brave the wind and the rain on June 11, 2012 near Amesbury, England. The Met Office has issued severe weather warnings for England and Wales for heavy rain and the Environment Agency has issued flooding alerts in more than 30 areas in south-east England, Wales and the Midlands. The UK's unseasonable weather is said to be due to the jet stream bringing low pressure further south than normal and forecasters say the wet and windy weather could continue for the next few weeks. (Photo credit: Matt Cardy/Getty Images)

A woman wades through water on the A33, which is closed due to flooding in Chineham near Bassingstoke, Hampshire.

Standing water on the A33, which is closed due to flooding in Chineham near Bassingstoke, Hampshire.

Cars splash through remaining flood water on the A63 outside Leeds after flash flooding in the area last night.

Workers survey the water on the A33, which is closed due to flooding in Chineham near Bassingstoke, Hampshire.

Standing water on the A33, which is closed due to flooding in Chineham near Bassingstoke, Hampshire.

Cars splash through remaining flood water on the A63 outside Leeds after flash flooding in the area last night.

A general view of water on the A33, which is closed due to flooding in Chineham near Bassingstoke, Hampshire.

Paul Burrow mops the floor in his water damaged kitchen at his home in Swillington, Leeds, after floods tore through the area over the weekend.

Gill West mops up after her home was flooded, in Tal-y-bont, Mid Wales, after floods tore through the area over the weekend.

A pedestrian jumps over a puddle left by persistent rain in central London on June 11, 2012. Persistent rainfall over much of southern England and the midlands has lead to the risk of flooding with the Met office issuing a severe weather warning. (Photo credit: CARL COURT/AFP/GettyImages)

Taxis drive past a puddle left by persistent rain in central London on June 11, 2012. (Photo credit: CARL COURT/AFP/GettyImages)

A picture shows the British Houses of Parliament seen through heavy fog and low cloud in London on June 11, 2012. Heavy rain fell over much of the south and central England on June 11, disrupting sporting events like the third Test at Edgbasten and the Aegon Championships and shrouding the captial in a pall of mist and fog. (Photo credit: ADRIAN DENNIS/AFP/GettyImages)

Isle of Wight Festival

Isle of Wight Festival