It seems to be the latest celebrity trend at the moment to tweet make-up free pictures of yourself.
Who could forget the slap-free snap of Katy Perry that Russell Brand tweeted or the one Rihanna posted a couple of months ago?
Now the latest star to go barefaced on Twitter is Kelly Osbourne who shared this photo of herself as she prepared to jump into bed.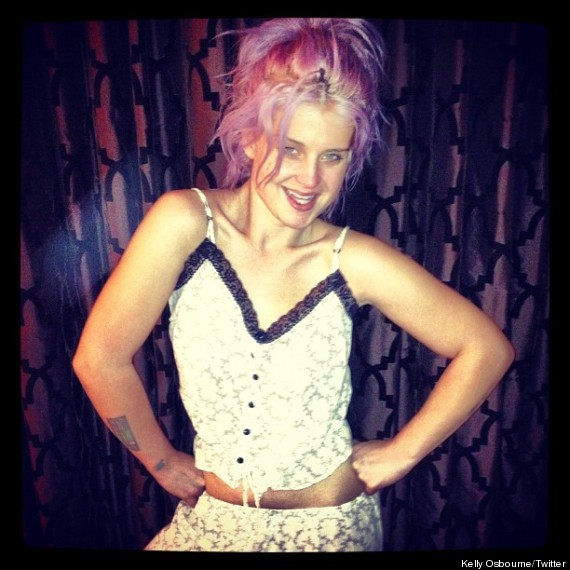 "Just found my favorite pj's! Got to be up at 5am for @e_fashionpolice thank god for my jet lag & comfy bed," she wrote alongside the pic.
@MissKellyO

Kelly Osbourne
Kelly copped some flack after posting it, with some being more than a little unkind about her appearance.
But Kelly is feeling more body confident than ever recently after she lost three-and-a-half stone during her appearance on Dancing With The Stars.
So we say two fingers to the haters. We wish we could look like that without make-up.
> IN PICS: STARS WITHOUTS SLAP

Loading Slideshow
Stars Without Make-Up

Pamela Anderson (Pic: WENN)

Stars Without Make-Up

Emma Watson (Pic: WENN)

Stars Without Make-Up

Jessica Alba (Pic: WENN)

Stars Without Make-Up

Myleene Klass (Pic: WENN)

Stars Without Make-Up

Kylie Minogue (Pic: WENN)

Stars Without Make-Up

Fearne Cotton (Pic: WENN)

Stars Without Make-Up

Amelia Lily (Pic: WENN)

Stars Without Make-Up

Marcia Cross (Pic: WENN)

Stars Without Make-Up

Eva Mendes (Pic: WENN)

Stars Without Make-Up

Edith Bowman (Pic: WENN)

Stars Without Make-Up

Helena Bonham Carter (Pic: WENN)

Stars Without Make-Up

Lesley Joseph (Pic: WENN)

Stars Without Make-Up

Carol McGiffin (Pic: WENN)

Stars Without Make-Up

Natalie Cassidy (Pic: WENN)

Stars Without Make-Up

Katy Perry (Pic: WENN)

Stars Without Make-Up

Vanessa White of The Saturdays (Pic: WENN)

Stars Without Make-Up

Beyonce (Pic: WENN)

Stars Without Make-Up

Kim Kardashian (Pic: WENN)

Stars Without Make-Up

Alexa Chung (Pic: WENN)

Stars Without Make-Up

Felicity Huffman (Pic: WENN)

Stars Without Make-Up

Gwyneth Paltrow (Pic: WENN)

Stars Without Make-Up

Mischa Barton (Pic: WENN)

Stars Without Make-Up

Sharon Osbourne (Pic: WENN)

Stars Without Make-Up

Madonna (Pic: WENN)

Stars Without Make-Up

Rihanna (Pic: WENN)

Stars Without Make-Up

Celine Dion (Pic: WENN)

Stars Without Make-Up

Kirsten Dunst (Pic: WENN)

Stars Without Make-Up

Kelly Brook (Pic: WENN)

Stars Without Make-Up

Kate Hudson (Pic: WENN)

Stars Without Make-Up

America Ferrera (Pic: WENN)

Stars Without Make-Up

Jessica Biel (Pic: WENN)

Stars Without Make-Up

Katie Holmes (Pic: WENN)

Stars Without Make-Up

Debra Messing (Pic: WENN)

Stars Without Make-Up

Jennifer Garner (Pic: WENN)

Stars Without Make-Up

Liza Minnelli (Pic: WENN)

Stars Without Make-Up

Claire Danes (Pic: WENN)

Stars Without Make-Up

Janice Dickinson (Pic: WENN)

Stars Without Make-Up

Whitney Port (Pic: WENN)
Also on HuffPost: