Actress Aishwarya Rai brought a touch of Bollywood glamour to London on Thursday as she attended the opening of Bulgari's new hotel.
The 38-year-old looked stunning in a Sabyasachi Mukherjee outfit and happily posed for pictures with Slumdog Millionaire actor Dev Patel.
The event comes after a similarly stylish appearance on the red carpet at Cannes, where she looked classically beautiful in a gold and brocade sari at the amFar Cinema Against AIDS Gala at the Hotel du Cap Eden-Roc, in Antibes, France. Aishwarya Rai and Dev Patel at London's new Bulgari Hotel
But while the former Miss World has handled recent controversy about her supposed weight-gain following the birth of her first child admirably, it appears the knives are still out.
Referring to her Bulgari appearance, India Today said: "The splendid net and tulle dress worked very well for the Bollywood beauty and hid her weight very well."
It added: "Aishwarya's dazzling appearance was also pleasantly surprising as she is looking less chubby."
Scroll down for more pictures of Aishwarya Rai and a video apparently revealing her 'shocking weight gain'

SEE ALSO: Rai wore a dress by Indian designer Sabyasachi Mukherjee
The pointed comments come in the aftermath of a media storm, whipped up after a picture of Rai sporting a double chin as she climbed into a car after a party emerged.
Since giving birth to daughter Aaradhya, Rai has publicly stated she is in no hurry to drop her extra pounds, preferring to "enjoy motherhood".
But the pictures sparked an intense debate about motherhood, weight, and the apparent "obligations" of those in the public eye.
The Sydney Morning Herald quoted showbiz columnist Shobhaa Dee: "Aishwarya is like a goddess. She is held up as the idea of beauty and so there is an expectation for her to look perfect at all times."
A video clip comparing pictures of Rai in her heyday and following the birth of her child was posted on YouTube, illustrated with the sound of a trumpeting elephant.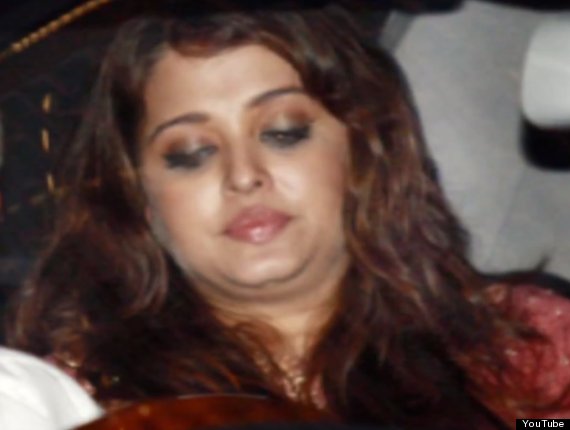 This picture of Rai sparked an intense debate in India about motherhood and weight gain
The accompanying blurb says she "seems to be looking rather plump instead of losing some of her flab after the baby's delivery."
It adds: "The Bachchan bahu seems to be taking motherhood very seriously and seems to have shockingly put on at least five to six kilos."
While many of the comments branded the video "disgusting" and "pathetic", others expressed agreement with the sentiments.
One wrote: "The woman is in the public eye. Her baby is seven months old and she looks like she gave birth yesterday! Not to mention the double chin! Sorry, many of us have had kids and worked hard to lose it. Motherhood doesn't give you license to be overweight."
Cinema professor Shohini Ghosh told The Guardian: "There is a glorification of motherhood in India and Indian cinema. But people are confused because they don't know whether to glorify Aishwarya in her new motherhood or lament that she is not looking like a runway model."
Loading Slideshow
Actress Aishwarya Rai Bachchan attends the premiere of 'The Pink Panther 2' at the Ziegfeld Theater in New York City, USA.

Aishwarya Rai at the premiere of her film Fanfan La Tulipe, the Cannes Film Festival 2003. Headshot, jewellery, necklace. ©Doug Peters/allaction.co.uk

Aishwarya Rai pictured at Madame Tussauds in London where they have launched an Bollywood For Beginners interactive experience. The star of Bride & Prejudice has also been honoured with a waxlikeness of herself. ©Jean/allactiondigital.com

Aishwarya Rai leaves the 'Martinez Hotel'. 2006 Abaca/EMPICS Entertainment

Aishwarya Rai poses for photographs. 2006

Aishwarya Rai arriving at the premiere of On Tour, part of the 63rd Cannes Film Festival, Palais des Festivals, Cannes.

Aishwarya Rai Bachchan arriving at the Cannes Film Festival Opening Night Premiere of Midnight in Paris, Festival De Palais, Cannes.

Aishwarya Rai Bachchan on the Majestic Pier, part of the 64th Cannes Film Festival, Palais De Festival, Cannes.

Aishwarya Rai attends the Prix de Diane 2011 horse racing at Chantilly horsetrack near Paris, France, on June 12, 2011.

Miss India Aishwarya Rai, 21, sits on her throne shortly after being crowned at the Miss World pageant at Sun City, Nov. 19, 1994. (AP Photo/Adil Bradlow)

Aishwarya Rai-Bachchan and Francesco Trapani attend the ' Bulgari Hotel and Residences London Official Opening' on June 12, 2012 in London, England. (Photo by Venturelli/Getty Imagesfor Bulgari)

Aishwarya Rai-Bachchan attends the ' Bulgari Hotel and Residences London Official Opening' on June 12, 2012 in London, England. (Photo by Venturelli/Getty Imagesfor Bulgari)