Official projections indicate that the Conservative New Democracy party have won the Greek election by 2%.
Greek radical left head Alexis Tsipras has conceded the election. He said he has congratulated conservative leader Antonis Samaras.
According to the Greek Interior Ministry, New Democracy won 29.5% of the vote.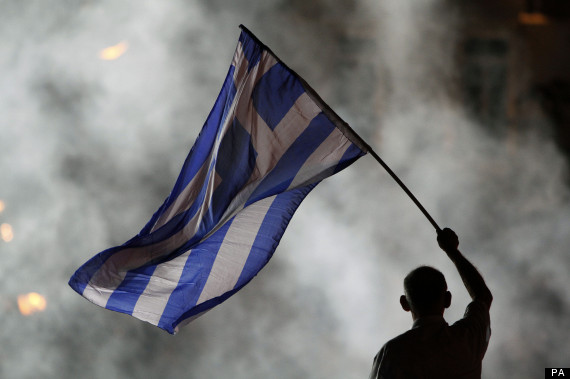 New Democracy's win could be vital for the future of the eurozone
Behind them the left-wing Syriza party took 27.1%. The former ruling party Pasok secured 12.3% of the vote. The projection would mean New Democracy wins 127 seats, Syriza 72 and Pasok 32.
New Democracy leader Antonis Samaras said: "The Greek people today voted for Greece to remain on its European path and in the eurozone," and promised "policies that will bring jobs, growth, justice and security".
The pro-bailout New Democracy party is now likely to be asked to form a government in coalition with Pasok, or a grand coalition with both Pasok and Syriza, although the latter are less likely to be willing to join a national agreement having campaigned against the eurozone austerity measures.
To form a coalition government, a majority of 151 seats would be required and both Pasok and New Democracy have said they are willing to work with the eurozone nations to stay within the currency union.
The winning party receive an additional 50 seats in the 300-seat parliament.
Following announcement of the projections, Greek socialist Pasok party chief Evangelos Venizelos proposed a unity government of four parties.
Earlier on Sunday, Lord Mandelson warned that Greece "faces a very long and a very painful road back" and called on European leaders to take swift action to tackle wider economic turmoil in the single currency.
Former prime minister Tony Blair said the only way the euro was likely to survive, regardless of Greece's future within it, was for Germany to throw its financial weight behind the currency.
Earlier this week, Chancellor George Osborne warned Britain faces dire consequences if Greece leaves the eurozone without an "ambitious" plan to deal with the fallout.
Voters returned to the ballot boxes just six weeks after the last election, which left no party with enough votes to form a government.
Parties potentially face a fresh round of coalition talks in the hope of forming an administration. Failure could mean a third round of elections later this year.
German chancellor Angela Merkel has warned Greece it cannot dodge austerity measures by renegotiating its bailout agreement.
She said: "We will have to speak to any government. I can only warn everyone against leaving the currency union. The internal cohesion of the eurozone would be in danger."
Central banks, including the Bank of England, Bank of Japan and US Federal Reserve, are expected to launch emergency support measures to cushion the blow of an implosion in the eurozone.
A chaotic Greek exit from the single currency would fuel a run on the banks, with the population likely to want to avoid having its euros converted to drachma or savings frozen.
The same could happen to banks in countries which have lent heavily to Greece, such as France, triggering a domino effect known as contagion, which could spread to banks in non-eurozone countries, including the UK.
Prime Minister David Cameron will fly out to Mexico overnight for the G20 summit of leading nations where the ramifications of Sunday's result are expected to be top of the agenda. He will be in touch with London via satellite phone.
The German chancellor, French president Francois Hollande and Italian premier Mario Monti are expected to delay their travel to Los Cabos until tomorrow to be in place to deal with the immediate aftermath of tonight's results.
Greeks go to the polls:
Loading Slideshow
Evangelos Venizelos

Evangelos Venizelos

Greece's Socialist leader Evangelos Venizelos casts his ballot during the elections in Thessaloniki, Sunday, June 17, 2012. Greeks voted Sunday for the second time in six weeks in what was arguably their country's most critical election in 40 years, with the country's treasured place within the European Union's joint currency in the balance. (AP Photo/Nikolas Giakoumidis)

A woman walks up to the polling station to vote during the elections in Thessaloniki, Sunday, June 17, 2012. Greeks voted Sunday for the second time in six weeks in what was arguably their country's most critical election in 40 years, with the country's treasured place within the European Union's joint currency in the balance. (AP Photo/Nikolas Giakoumidis)

A child looks on from a polling booth as her mother prepares to vote at a polling station during the elections in Thessaloniki, Sunday, June 17, 2012. Greeks voted Sunday for the second time in six weeks in what was arguably their country's most critical election in 40 years, with the country's treasured place within the European Union's joint currency in the balance. (AP Photo/Nikolas Giakoumidis)

A Police officer helps a woman to find a polling station during the elections in Thessaloniki, Sunday, June 17, 2012. Greeks voted Sunday for the second time in six weeks in what was arguably their country's most critical election in 40 years, with the country's treasured place within the European Union's joint currency in the balance. (AP Photo/Nikolas Giakoumidis)

An elderly woman is helped to access the poling station after voting during the elections in Thessaloniki, Sunday, June 17, 2012. Greeks voted Sunday for the second time in six weeks in what was arguably their country's most critical election in 40 years, with the country's treasured place within the European Union's joint currency in the balance. (AP Photo/Nikolas Giakoumidis)

A Greek man leaves the booth after voting during the elections in Thessaloniki, Sunday, June 17, 2012. Greeks voted Sunday for the second time in six weeks in what was arguably their country's most critical election in 40 years, with the country's treasured place within the European Union's joint currency in the balance.(AP Photo/Nikolas Giakoumidis)

An elderly woman passes next to a bust of Alexander the Great as she is helped to leave the poling station after voting during the elections in Thessaloniki, Sunday, June 17, 2012. Greeks voted Sunday for the second time in six weeks in what was arguably their country's most critical election in 40 years, with the country's treasured place within the European Union's joint currency in the balance. (AP Photo/Nikolas Giakoumidis)

Evangelos Venizelos

People vote inside booths during the elections in Thessaloniki, Sunday, June 17, 2012. Greeks voted Sunday for the second time in six weeks in what was arguably their country's most critical election in 40 years, with the country's treasured place within the European Union's joint currency in the balance. (AP Photo/Nikolas Giakoumidis)

Evangelos Venizelos

Greece's Socialist leader Evangelos Venizelos casts his ballot during the elections in Thessaloniki, Sunday, June 17, 2012. Greeks voted Sunday for the second time in six weeks in what was arguably their country's most critical election in 40 years, with the country's treasured place within the European Union's joint currency in the balance. (AP Photo/Dimitri Messinis)

Evangelos Venizelos

Greece's Socialist leader Evangelos Venizelos talks to a man as he leaves the poling station after voting during the elections in Thessaloniki, Greece, Sunday, June 17, 2012. The Greek people are voting Sunday for the second time in six weeks in what may be their country's most critical election in 40-years. (AP Photo/Dimitri Messinis)