Although the average woman spends around £9,000 on cosmetics in her lifetime, a leading skincare brand believes that money is no object when it comes to a glowing complexion - after unveiling its more-expensive-than-gold £8k face cream.
According to a study by Superdrug, spending £131 on cosmetics a year is enough to satisfy the average woman's grooming needs.
However, a new face cream by Shiseido Co costs a whopping £169 per gram – over four times more expensive than gold (which costs around £33 per gram).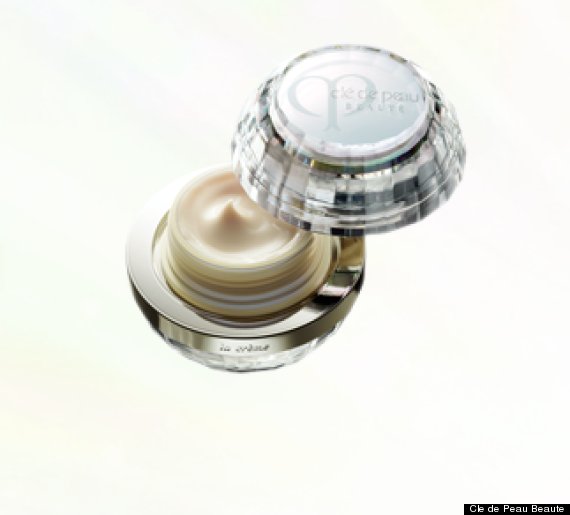 Japanese skincare brand Shiseido Co is planning to release the limited edition 'La Crème' face cream in September to mark the 30th anniversary of its most luxurious beauty line, 'Cle de Peau Beaute', reports The Japanese Daily Press.
SEE ALSO:
'La Crème' is believed to be the most expensive face cream in the world as it comes with a hefty £8,440 price tag.
But why is it so costly? 'La Crème' isn't your average pot of cream or face serum. The jar alone is a handcrafted by expert glassmakers and crystal specialists and is made up of 30 layers of crystals and three platinum rings.
The cream itself is said to have powerful anti-ageing ingredients that will both "lift and tighten the skin", reports the Telegraph.
Think this is over the top? Take a look at other bizarre anti-ageing regimes from around the world...
Loading Slideshow
Snail Slime Cream

Carefully collected snail's slime is a potent anti-ageing ingredient that helps reduce scars, stretch marks and acne, as well as smoothing out wrinkles. The rich snail secretion is packed with regenerative compounds. Now this anti-ageing treatment isn't as unusual as it sounds, as it's already a staple beauty product in Britain's <a href="http://www.hollandandbarrett.com/pages/product_detail.asp?pid=869&searchterm=snail&rdcnt=1" target="_hplink">Holland and Barrett</a>.

Emu Oil

Rendered from from the fat of an emu bird, emu oil is a lesser known anti-ageing oil that has been used for centuries in the Aboriginal communities for its healing powers. Mixed with eucalyptus oil, it containing bundles of vitamin E and A, the oil's antioxidants help repair wounds and thickens skin against ageing. The cream also soaks moisture into the skin, which avoids dehydrated, saggy looking skin.

Pigs Trotters

Definitely not one for vegetarian beauty fans, but pigs trotters are a popular anti-ageing solution in Japan, as the trotters are a great source of collagen - the vital ingredient for boosting elasticity in the skin.

Bee Sting Venom

The bee sting venom facial doesn't involve a her of bees pricking your face, but instead, the venom from the sting is transferred into a gel and then rubbed on the face as part of an intensive facial. According to researchers in South Korea, the venom helps prevent the skin from sun damage and restores collagen production.

Sperm Facial

Spermine is a powerful antioxidant in human sperm and some beauty goers swear by its anti-ageing super powers. This treatment first surfaced in New York where the 'cream' is applied over the skin and then ultrasound and infrared light is used to penetrate through the skins lipid barrier. It's believed this 'sperm facial' leaves the skin looking blemish and wrinkle-free. And you don't have to have the treatment done in a salon, as a Norwegian company, Bioforskning, sell sperm-based products.

Breast Milk Soap

Breast milk soap claims to be a great alternative to ordinary soap as it doesn't dry up the skin and is good for reducing the appearance of facial scarring and wrinkles. However, the only snag is - it's best to make the soap yourself if you're breastfeeding. The ingredients? Olive oil, palm oil, coconut oil, heat-treated breast milk, and purified water.

Anti-Sagging Lips

Possibly the wackiest of them all - the 'Face Slimmer', originates from Japan but is (unsurprisingly) yet to take off in the UK. This rubbery-looking mouthpiece, created by cosmetic company Glim, is designed to keep the facial muscles pert by keeping the cheeks and mouth stretched in a permanent 'trout pout' position. The mouth guard comes with various face exercise ideas to keep the dreaded sagging jowls away. Image: <a href="http://www.flickr.com/photos/cool3c" target="_hplink">Flickr/ cool3c</a>

Baby's Foreskin

A treatment developed by British biomedical company <a href="http://www.intercytex.com/" target="_hplink">Intercytex</a>, created an anti-ageing treatment using microscopic skin cells from babies' foreskins. This unusual treatment is believed to rejuvenate and restructure ageing and damaged skin, by repopulating the lower layers of skin with millions of healthy skin cells from the foreskin that are packed of collagen and human dermal fibroblasts.

'Platza' Treatment

This alternative and somewhat painful-looking anti-ageing massage is designed to stimulate the blood flow, creating a youthful glow. The 'platza' treatment involves the bare back being thwarted with a 'broom' made of oak-leaf branches. The harsh brushing technique is also said to help tone up muscles and invigorate sluggish energy levels.

Placenta Cream

It's long been known that the placenta has great nutritional benefits (who can forget the '<a href="http://www.huffingtonpost.co.uk/2012/01/24/midwife-sells-placenta-pills-to-new-mothers_n_1227327.html" target="_hplink">placenta pills</a>') but it is also available in a face cream too. Skincare company <a href="http://www.lanocreme.com/en/Placenta/Default.aspx" target="_hplink">Lanocrème</a> sell a range of placenta-based creams that promise to nourish the skin using its 56 bio-stimulant proteins that help encourage skin replenishment.
The high-end cream is set to be unveiled in the Shiseido's flagship store in Tokyo from August 30 and is initially selling just three jars to see how popular it proves.
"We do not usually make limited editions of our products, but this is to mark a special occasion for the Cle de Peau Beaute line," said Megumi Kinukawa, reports the Telegraph.
"We hope it will appeal to our loyal customers and people who are interested in gorgeous brands."
The skincare brand is also celebrating 140 years in the business. Take a look at its journey here.
Are you a beauty junkie? Take a look at HuffPost Lifestyle's round-up of the most innovative skincare products that promise to repair ageing skin...
Loading Slideshow
La Prairie Cellular Power Infusion

This wonder serum provides a protective layer over the skin, which shields it from external stress and free radicals from the environment. It works by targeting the primary cause of ageing (the loss of cellular energy) and its potent ingredients rejuvenate the skin by working with its natural renewal cycle. The only snag is that you must use this consistently for 28 to 40 days but if you follow the instructions, it promises to restore the skin at any stage of the ageing process. Well worth the hassle we'd say.. <a href="http://www.cellularpowerinfusion.com/" target="_hplink">La Prairie Cellular Power Infusion</a>.

111 SKIN

This potent 'astro aqua physics' skin care range has taken five years to develop and is the result of 20 years of research. Developed in collaboration with space scientists, 111 SKIN combines Dr. Alexandrides' knowledge of accelerating the skin's healing process with the scientists' expertise in discovering ingredients that limit the effects of environmental damage on skin - whether in space, high altitude or urban conditions. <a href="http://www.111skin.com/index.html" target="_hplink">111 SKIN</a>.

Nutriganics 'Drops Of Youth'

If your prefer your skincare regime to contain natural ingredients (and without all the science jargon), head to this miracle product - a plant-based serum that contains essential skin renewal stem cells that halt the first signs of ageing. <a href="http://www.thebodyshop.co.uk/_en/_gb/catalog/product.aspx?ParentCatCode=C_SkinCare&CatCode=C_SkinCare_Serums&prdcode=89333m" target="_hplink">The Body Shop</a>.

Fake Bake Platinum Face

When you can combine fake tanning and shaving off the years on your skin - what's not to love? Fake Bake's Platinum Face is the world's first anti-ageing tan and contains cell renewal PhytoCellTecTM Malus Domestica stem cells extracted from the rare Swiss apple, Uttwiler Spätlauber. <a href="http://www.fakebake.co.uk/" target="_hplink">Fake Bake</a>.

Freeze 24.7 Instant Wrinkle Treatment

You can literally 'freeze time' with this cream that promises to provide the same results as Botox - without the use of needles or having your skin penetrated with muscle-relaxant. The revolutionary technology releases a natural topical muscle relaxer into the skin and works from the inside out to yield a smoother, plumper, even complexion...all within minutes. <a href="http://www.freeze247.com/" target="_hplink">Freeze 24.7</a>

Rodial Glamoxy Snake Serum

This viper-inspired serum had beauty junkies lining up to bag this age-dying wonder, as it contains a potent concoction of syn-ake; a neuropeptide chemical that mimics the effects of a snake's venom. Why would you want to pump this in your face? The venom instantly fills out fine lines and wrinkles and makes the face look fuller, that's why. <a href="http://www.rodial.co.uk/product/prescriptions-anti-ageing/glamoxy-snake-serum/256" target="_hplink">Rodial</a>.

Dove Spa Anti-Ageing Supplements

Working with the mantra 'beauty is from within', Dove Spa has created a supplement that, after five years research, has been clinically proven to reduce the signs of ageing. Packed with Omega-3 fatty oils, Soy isoflavones, vitamin C, E and Lycopenes, these vitamins all help repair flagging collagen levels, keeping skin looking plump and youthful. <a href="http://www.dovespa.co.uk/Strength-Within-4-for-99-P474.aspx" target="_hplink">Dove Spa</a>.

Dr Sebagh Supreme Night Secret

A clear example of intelligent beauty, this night cream 'tricks' the skin cell's nucleus into behaving like a young skin cell - all while you sleep. <a href="http://www.drsebagh.com/" target="_hplink">Dr Sebagh</a>.

Nanoblur

You know a product is pretty special when it promises to make you look 10 years younger in less than one minute. What's better is that it doesn't have any mod-cons - the Nanoblur does exactly what it says on the tin. By this we mean that it literally blurs out fine lines, flaws and blemishes with a simple dab. One of these sell every 10 seconds in the UK, so we're guessing it works.. Nanoblur's technology was originally developed to help stars look better in high-definition motion picture. Are you ready for your close-up? <a href="Nanoblur's technology was originally developed to help stars look better in high-definition motion picture." target="_hplink">Nanoblur</a>.

Skeen+ Regenerating Anti-Ageing Night Fluid

Originally created for men, this skincare range has expanded into the women's market - and thank goodness it did! Another intelligent form of skincare, Skeen contains salicylic acid which stimulates skin cell renewal and repairs damaged cells while you sleep. An added bonus is that it contains a decongestant, which purges the skin creating a glowing complexion when you wake up in the morning. Genius. <a href="http://uk.spacenk.com/SKEEN/Skeen,en_GB,sc.html" target="_hplink">Skeen</a>.