Fearne Cotton is more usually seen showing off her array of amazing clothes from her ridiculously stylish wardrobe, either as she totters out of the Radio 1 building everyday, or strutting up the red carpet at showbiz bashes.
But we saw a whole lot more of Fearne as she holidayed with boyfriend Jesse Wood in Barbados last week. Getting her tats out... Fearne Cotton
The presenter showed off more than just her beach body when she stripped down to her bikini as she hit the beach.
Fearne's vast collection of tats were on show, including a fern design (see what she did there?) on her rib cage, and a bird design on her side.
She engaged in some serious PDA with Jessie too. Ronnie Wood's son, who Fearne has been dating since June last year, could not take his eyes off her as they froliced in the sea.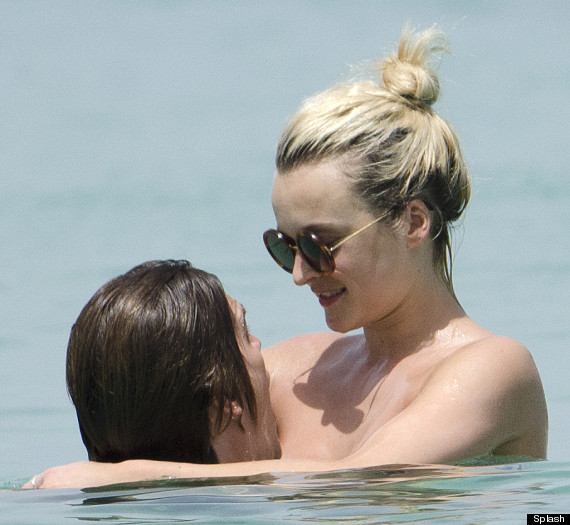 Get a room... Fearne and Jesse
The Radio 1 DJ has been taking some time out following her recent troubles - She faced a barrage of criticism about her presenting skills during the coverage of the Diamond Jubilee earlier this month.
The BBC received 2,400 complaints from the public about some of the live broadcasts including a segment where Fearne and singer Paloma Faith discussed a jubilee-themed sickbag.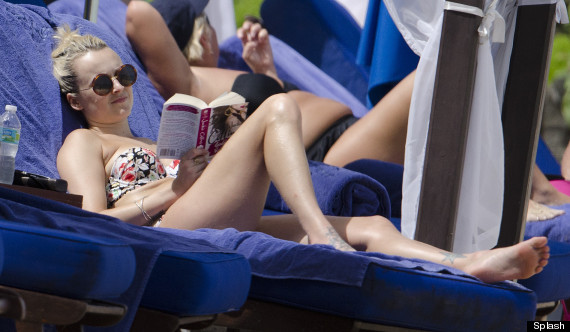 The Diamond Jubilee controversy looked to be far from Fearne's mind as she chillaxed on the beach
Fearne then took to Twitter to express her anger at the people who had been less than kind about her.
"People who sit lazily and judge others will never grow. They'll never take a look at themselves or feel content. Shame so many do," she tweeted.
In another tweet, she said: "Grown men who slag me off in articles/online are huge bullies. I love my job and wouldnt be doing it if i wasnt any good at it.
"I'm a positive person who believes in treating people kindly. I don't understand the mentality of others who think differently."
She added: "I'm from a working-class family and have worked hard to get to where I am today. Others will just sit and do nothing but judge."
The 30-year-old even personally tweeted one member of the public after he wrote: "You were pretty rubbish on the Pageant day, love. And if you can't see why, then maybe you should find a new career..."
She then replied: "Right this is what I'm talking about. YOU=bully. Take a look at yourself. I have been working non-stop for 15 years thank you."
> IN PICS: CELEB BEACH BEABES

Loading Slideshow
Gisele

Pic: Big Pictures

Kelly Rowland

Pic: X17

Halle Berry

Pic: Big Pictures

Vanessa Hudgens

Pic: WireImage

Alexandra Burke

Pic: Big Pictures

Beyonce

Pic: JPI

Geri Halliwell

Pic: Bauergriffin

Paris Hilton

Pic: X17

Eva Longoria

Pic: Big Pictures

Hedi Klum

Pic: Rex

Jennifer Aniston

Pic: Big Pictures

Kate Bosworth

Pic: Big Pictures

Michelle Heaton

Pic: Big Pictures

Miley Cyrus

Pic: Big Pictures

Reese Witherspoon

Pic: Big Pictures
Also on HuffPost: