A couple helped clear up their local community which had been hit by floods unaware that they had just scooped £2.1 million on the Lottery.
Robin and Lesley Palmer, from Swillington, Leeds, did not check their Lotto numbers for six days after winning a share of the jackpot on 9 June.
So when flash floods hit the village the following night, the pair found themselves mopping up in a working men's club instead of enjoying their new-found gains as millionaires.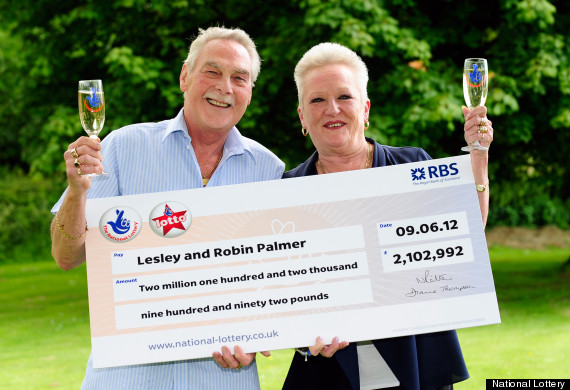 Robin and Lesley Palmer
The couple were stranded in their home when nearby streets flooded, unable to make it on foot to the Swillington Miners Sports and Social Club. When they finally got to the club, where Mrs Palmer is president and director, they discovered rain pouring through the ceiling.
Mr Palmer, 65, speaking about the win at the Holiday Inn in Garforth, said: "Only the weekend before we'd been stuck in the house due to the floods in the area, waiting for a lift from our daughter to take us to the local working men's club for the evening. Little did we know that we could have hired a helicopter."
Mrs Palmer, 62, said: "When we got to the club, there was water pouring through the ceiling, all the lights had fused. I didn't know at that point I was a millionaire and so I was mopping up although I would have done that anyway."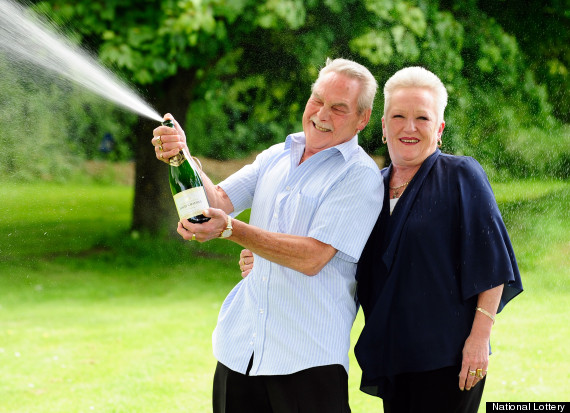 The couple celebrate
The couple used the same random Lotto numbers since 1994 and play five lines twice a week. They found out they won £2,102,992 after Mrs Palmer had a dream about becoming a millionaire.
When she checked her account while her husband of 43 years was at the dentist, she thought she had received a spam email.
"I thought it was £2,100 and thought: woop-de-doo! But I couldn't get my head round the figures. I thought it was spam," she said.
It was only when her eldest daughter Helen checked the numbers that Mrs Palmer realised she had actually won £2.1 million.
Mr Palmer, who retired from his 50-year career in research and development five weeks ago, said: "I'm only just coming round to it now. It's unreal. You think you know how you would react but you don't. I think now, what have I got to worry about?"
The couple have three daughters, Helen, 41, Lisa, 39, and Kerry, 34, five grandchildren and two great-grandchildren. They said they will treat themselves to a new car, a holiday and some renovations to their dormer bungalow.
Mrs Palmer, who helps raise money to pay for trips and activities for children in the area, will continue to volunteer at the working men's club and said she is continuing to play the Lottery.
The winning numbers in the Lotto draw on Saturday 9 June 2012 were 5 , 14, 24, 26, 37, 44 and the bonus ball was 30.