Amy Childs isn't exactly what one may call the sharpest tool in the toolbox, so it's little surprise her navigational skills aren't great.
Somehow she's managed to get herself lost en route to the salon and has ended up at the House Of Commons, which is apparently where all those politicians be all political and stuff.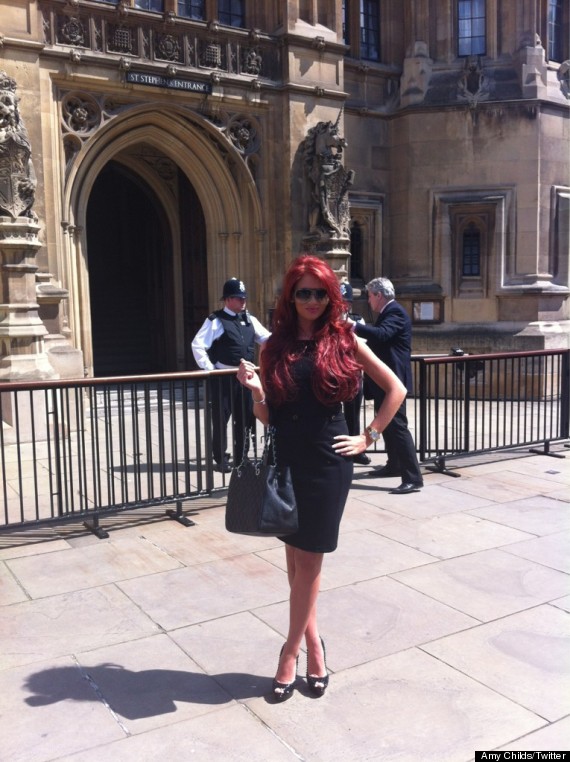 *Checks notes* Oh, she's meant to be there. Shuu'uup!
Amy followed in the esteemed footsteps of fellow celeb Alex Reid and made an appearance at Westminster earlier today.
It was all in aid of a good cause though as the former TOWIE star was raising awareness for the charity Cure Cancer.
"I'm at the House of Commons with @curecancerucl@biancasobell @carolesobell @nadiaatcan today to raise awareness for Cure Cancer xxx," she tweeted.
> CELEB PICS OF THE DAY

Loading Slideshow
Celeb Pics Of The Day

Andrew Garfield and Emma Stone at a photocall for "The Amazing Spider-Man" at Adlon hotel in Mitte. Berlin

Celeb Pics Of The Day

Cheryl Cole 'A Million Lights' album signing at HMV in Newcastle

Celeb Pics Of The Day

Kristen Stewart and Chris Hemsworth Australian premiere of 'Snow White and the Huntsman' at Event Cinemas Bondi Junction - Arrivals Sydney

Celeb Pics Of The Day

Matt LeBlanc and Lisa Kudrow Showtime celebrates Season Two of 'Episodes' at The London Hotel West Hollywood

Celeb Pics Of The Day

Hayden Christensen wearing a baseball cap and checked shirt, shops at a local liquor store for cigarettes Los Angeles

Celeb Pics Of The Day

Justin Bieber at a cd signing for 'Believe' at JR Music World New York

Celeb Pics Of The Day

Kate Winslet on the movie set of 'Labor Day' Boston

Celeb Pics Of The Day

Rihanna leaving her hotel in tiger print shorts London

Celeb Pics Of The Day

Paris Hilton Elysium Industry Presents The Los Angeles "Sunset Strip" Premiere and After Party held at Lure Nightclub Hollywood, California

Celeb Pics Of The Day

Elle Macpherson, Julien Macdonald, Whitney Port, Tyson Beckford Britain and Ireland's Next Top Model - press launch held at Claridge's. London

Celeb Pics Of The Day

Dita Von Teese leaving the Arts club London
Also on HuffPost: