A British company has offered tourists the chance to go the Moon - for the low, low price of £100m.
Excalibur Almaz, an aerospace company based on the Isle of Man says it is ready to blast travellers off to our planet's satellite for the very premium price aboard a fleet of second-hand Russian space equipment.
The plan - enthusiastically reported on by the press, but criticised by some experts - would be the first of its kind.
And despite critics claiming that the figures don't add up, Art Dula, CEO of the company, said he is "ready to sell the tickets".
He describes the trips as less 'space tourism' and more 'private expedition'.
"It's exactly in the same vein as the historic exploration that was done by Europe and the British Isles over the last several centuries that resulted in so much growth," he said at a meeting in London, where he announced the plan.
"The EA fleet has previously flown to space several times and will undertake many more missions. It contains vessels of a design that has spent thousands of hours in space successfully. This is scientific fact, not fiction."
Intrepid travellers would have to board a converted Soviet space station for the trip.
The 30-tonne space station would be launched by a Proton rocket from Kazakhstan, and once in orbit will be joined by three crew at a time, arriving via Reusable Re-entry Vehicle pods on separate flights.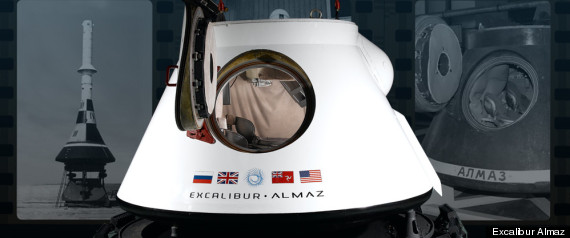 Above: the RRV pods used to supply the space stations with crew and send them to the moon
The Almaz stations will be converted for long-distance travel by the addition of thrusters, the company said - and will then head to the Moon.
The company will not be attempting to land people on the moon, but instead will allow them to orbit its surface and then return to earth via a capsule attached to a parachute.
The company is based on the Isle of Man partly for tax reasons - it offers zero tax on space companies and an income tax rate of just 10%. More than half of the world's top international space companies are based on the island.
SUBSCRIBE TO & FOLLOW UK TECH