WikiLeaks founder Julian Assange has applied for political asylum at the Ecuadorian Embassy in London after failing in his bid to avoid extradition to Sweden to face sex crime allegations.
The 40-year-old Australian is currently inside the building in Knightsbridge, having gone there on Tuesday afternoon to request asylum under the United Nations Human Rights Declaration.
In attempting to get asylum in Ecuador, Assange has breached his bail conditions and is subject to arrest, Scotland Yard said on Wednesday.
Conditions in his bail decree that the Australian is at a fixed address between 2200 and 0800.
Ecuador's foreign minister Ricardo Patino told a press conference in the South American country that it was considering his request.
In a short statement on Tuesday night, Mr Assange said: "I can confirm that today I arrived at the Ecuadorian Embassy and sought diplomatic sanctuary and political asylum. This application has been passed to the Ministry of Foreign Affairs in the capital Quito.
"I am grateful to the Ecuadorian ambassador and the government of Ecuador for considering my application." The Ecuadorian embassy in central London, where Assange is asking for political asylum
The computer expert, who was on £200,000 bail after failing in several attempts to halt extradition, attracted several high-profile supporters including Ken Loach and socialite and charity fundraiser Jemima Khan, who each offered £20,000 as surety.
Khan, who paid towards his £200,000 bail, said she was not aware that he planned to ask Ecuador asylum.
Asked on Twitter by the Guardian's deputy editor Ian Katz whether she stood to lose money she contributed to bail, Khan said: "I had expected him to face the allegations. I am surprised as anyone by this."
@iankatz1000

ian katz
@Jemima_Khan

Jemima Khan
@iankatz1000
Yes. I had expected him to face the allegations. I am as surprised as anyone by this.
The Swedish authorities want him to answer accusations of raping a woman and sexually molesting and coercing another in Stockholm in August 2010 while on a visit to give a lecture.
The lawyer representing the two women, Claes Borgström, said on Wednesday that Assange's move could be a "tragedy" for the women.
"They know that all they can do is wait. I have told them I am not sure, but I think he will still be extradited," Borgström told The Guardian.
"It is a tragedy for the women. I don't know how long it will take for him to be extradited now. Victims want to put these things behind them in order to be able to get on with their lives. The tragedy is that he doesn't take his responsibility. He should have come to Sweden."
Assange, whose WikiLeaks website has published a mass of leaked diplomatic cables that embarrassed several governments and international businesses, says the sex was consensual and the allegations against him are politically motivated.
The Supreme Court last month ruled in favour of a High Court ruling that his extradition was legal. Last week the Supreme Court refused an attempt by him to reopen his appeal against extradition, saying it was "without merit".
He had until June 28 to ask European judges in Strasbourg to consider his case and postpone extradition on the basis that he has not had a fair hearing from the UK courts.
READ MORE: Timeline of Assange's case
Anna Alban, the Ecuadorian ambassador, said in a statement: "This morning I had a meeting with representatives of the British Government at the Foreign and Commonwealth Office to discuss the application of Mr Julian Assange for diplomatic sanctuary and political asylum. The discussions were cordial and constructive.
"I welcome the statement from the UK Government last night in which they stated that they (the UK Government) would work with the Ecuadorian government to find a resolution.
"I also took the opportunity to explain that the decision on Mr Assange's application would be assessed by the department of foreign affairs in Quito and would take into account Ecuador's long and well-established tradition in supporting human rights.
"I also emphasised to the UK Government that it was not the intention of the Ecuadorian government to interfere with the processes of either the UK or Swedish governments.
"I have made clear that I will make myself available to meet with the UK Government's representatives at any time so that we can find a just and fair solution to this situation." Mr Patino, speaking at a press conference in Ecuador yesterday, said that Assange had written to the country's president, Rafael Correa, saying he was being persecuted and seeking asylum.
He told the press conference that the Australian had argued that "the authorities in his country will not defend his minimum guarantees in front of any government or ignore the obligation to protect a politically persecuted citizen".
He added that Assange had written that he could not return to his home country because it would not block his extradition to "a foreign country that applies the death penalty for the crime of espionage and sedition".
Assange's move to claim asylum is the latest twist in a marathon legal battle played out in the glare of worldwide publicity.
Last November, the High Court upheld a ruling by District Judge Howard Riddle - sitting at Belmarsh Magistrates' Court in south London the previous February - that the computer expert should be extradited to face investigation.
The High Court declared that it would not be unfair or unlawful to extradite Assange, a decision backed by the Supreme Court, which ruled by a 5-2 majority that his extradition was lawful and could go ahead.
He was given 14 days on June 14 to consider the Supreme Court judgment before making a final decision on his next move.
His lawyer, Dinah Rose QC, told the Supreme Court's justices that Assange was considering an application for his case to be reopened on the basis that there had been a flawed hearing, in which case European judges had the power to issue a direction to the UK Government that he should not be surrendered to Sweden if it decides to consider his claim.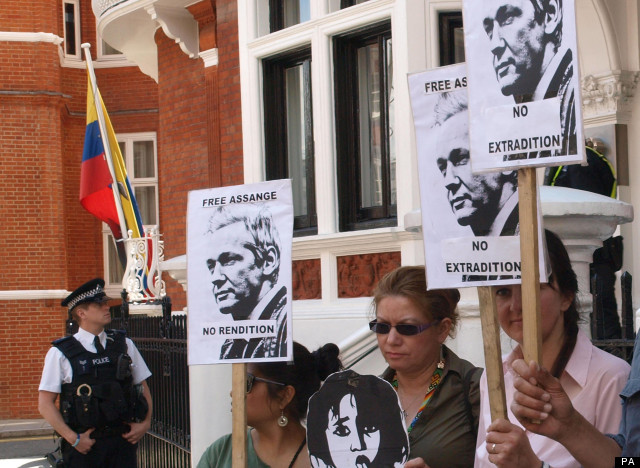 A small band of protestors in support of Assange assembled outside the embassy
Shortly after midday on Wednesday, a small group of protesters arrived at the embassy in Knightsbridge, waving placards that read "Free Assange, No Rendition" and "Free Assange, No Extradition", and a large sign reading: "Free Assange! Free Manning! End The Wars."
Christian activist Roland Gianstefani, 49, from Melbourne, Australia, one of the protesters outside the embassy, said: "I am here because I identify with what Julian Assange has done, because he is challenging people and sharing truth.
"He has been unjustly persecuted because he has shed light on these issues.
"The US are trying to destroy him."
Gavin Macfadyen, from the Centre for Investigative Journalism at City University, who emerged from the embassy at around 12.30pm, said of Mr Assange: "He is fine, he is in very good humour and grateful for the hospitality of the embassy.
"He is meeting with the lawyers now to discuss all of it.
"It's a very fluid situation, he is in good humour and the generosity of the embassy is impressive and moving."