Downing Street is struggling to come up with an explanation for why David Cameron criticised Jimmy Carr's tax arrangements but has remained curiously silent about Gary Barlow, who appears to have invested in similar tax-avoiding schemes.
Number 10 has been accused of cronyism because Barlow, recently awarded an OBE in the Queens Birthday Honours, is seen as close to David Cameron.
The Prime Minister has said he won't give a "running commentary" on the tax affairs of celebrities, but it was Cameron's decision to attack Jimmy Carr in the first place. Some Tories are questioning David Cameron's judgement in starting the row at all.
Speaking on Thursday lunchtime the Labour MP Catherine McKinnell appeared to suggest that Barlow should hand back his OBE, which he received last Saturday when the Queen's Birthday honours were published.
She's the first MP to be explicit in calling for the gong to be handed back - but it follows comments by several Lib Dem MPs who suggested it was wrong for Barlow to be honoured when he didn't pay the full rate of tax. Gary Barlow with David and Samantha Cameron in January 2012
Earlier on Thursday Jimmy Carr apologised for investing in a financial product known as K2, which means his income was transferred to an offshore account in Jersey and then returned to Carr in the form of a loan. It meant Carr paid a small fraction of the tax he would have been liable for had the money remained in Britain.
Downing Street was supportive of Carr, saying his apology was "obviously welcome."
"[HM Revenue and Customs] are working hard to investigate the sort of scheme that Jimmy Carr had been reported to be involved in to ensure that they are not aggressively avoiding tax, and, if they are, they are closed down," said a Downing Street spokeswoman. But she refused to comment on Gary Barlow's tax arrangements, which are thought to involve donations to a music charity in exchange for tax breaks.
"What is important is that everybody pays the taxes that they should do. HMRC are looking into that particular scheme," the spokeswoman said.
She also defended the PM's decision to single out Jimmy Carr for criticism after Cameron described his tax arrangements as "morally wrong".
"The Prime Minister was expressing what probably lots of people felt after reading the coverage," she said.
But Westminster journalists and Twitter users were unimpressed with the explanation offered by Downing Street over Gary Barlow.
@david_singleton

David Singleton
Lobby briefing this AM after Cam's attack on Jimmy Carr tax affairs. No 10 not commenting on Gary Barlow's tax affairs. Watch this space...
@kevinbakhurst

Kevin Bakhurst
This is where it gets tricky for Downing St - the PM happy to talk about Jimmy Carr; no comment on Gary Barlow
#taxavoidance
Gary Barlow emerged as a Tory supporter in the 2010 General Election campaign and recently composed a song to mark the Queen's diamond jubilee which spent two weeks at number one in the charts.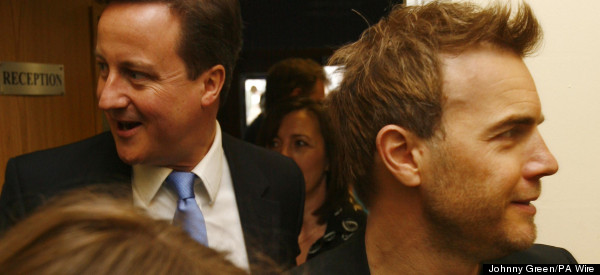 Gary Barlow with David Cameron a month before the 2010 General Election

The Shadow Leader of the Commons Angela Eagle told MPs "The Prime Minister rushed to the TV studios to condemn the tax avoidance scheme used by Jimmy Carr.
"Oddly he did not take the opportunity to condemn as morally repugnant the tax avoidance scheme used by Conservative supporter Gary Barlow, who has given a whole new meaning to the phrase 'Take That'. If he is also morally repugnant, why is he just been given an OBE in the Birthday Honours?
Speaking at a news conference on Thursday afternoon David Cameron said: "I'm not going to give a running commentary on different people's tax affairs."
Cameron claims he spoke out about Jimmy Carr because: "It was a particularly egregious example of an avoidance scheme that seemed to me to be wrong."
The Tory MP David Ruffley suggested David Cameron was wrong to intervene in the financial affairs of Jimmy Carr in the first place.
He told The World at One on BBC Radio 4: "It's probably best for politicians to steer a wide berth and is instead focus on having a clear and tight tax law where everyone knows where they stand, and where moral prescriptions are left to priests and philosophers."
Loading Slideshow
JamesLyons

SimonNRicketts

Patrick Wintour

Nicholas Watt

Kevin Schofield

David Singleton

kevin mitchell

Kevin Bakhurst

Michael Moran

Paul Waugh

Dan Rebellato

Political Animal

Alexi Mostrous

Callum May

Caitlin Moran